Bangkok Spends Big on Public Transit
The Thai capital is undertaking a range of efforts to keep pace with the rapid growth in private vehicle ownership.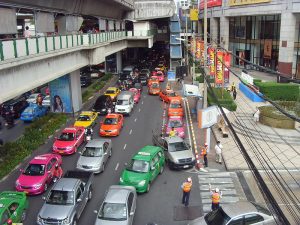 Several years ago I was in Bangkok and tried hailing a cab from the Sukhumvit area to Ratchadamnoen Stadium, a trip of about 9 kilometers, according to Google Maps. It was the middle of rush hour and when I told the driver where I wanted to go, he just shook his head and drove off without saying a word. This is not uncommon in many Southeast Asian megacities, where traffic can get so bad that it's basically impossible to go even short distances during rush hour. Taxi drivers don't want to make the trip lest they idle in traffic for hours losing out on more profitable fares.
The causes are pretty well understood: migrant inflows, under-investment in public transit, and poor planning have led to haphazard urban sprawls where the infrastructure can't handle the density. The solutions, on the other hand, are less obvious. For its part, Jakarta has been busy building toll roads and expanding its bus rapid transit system, while the long-awaited MRT finally went into operation in 2019 (just in time for the pandemic to cut into ridership). They are making an effort, and putting real money behind it, but I don't think anyone feels good about it if they need to travel in Jakarta after 5 p.m.
Compared to some of its neighbors, Bangkok has a bit of a head-start in the public transit arms race, having begun investing heavily during the 1990s. The Asian Financial Crisis slowed these efforts (the concrete pilings from the abandoned Hopewell elevated train project remain to this day as monuments to some of these dashed ambitions), but the BTS Skytrain went into service in 1999, followed in 2004 by the MRT Blue Line. By 2010, the Skytrain had an average weekday ridership of over 500,000.
But in the race against urban density and traffic congestion, existing infrastructure is never enough. There were 4.98 million private cars and nearly 4 million motorcycles registered in Bangkok in 2019, almost double the amount from 10 years ago. As long as the population keeps growing, the system needs to keep expanding. And it is. The Skytrain has seen regular extensions over the years, while a major extension of the Blue Line was completed in 2020.
In addition to extending existing lines, the Mass Rapid Transit Authority of Thailand has kicked off a flurry of big new projects in Bangkok: the Yellow, Pink, and Orange lines which together will add about 87 kilometers to the system at a value of 190.7 billion baht (approximately $5.76 billion at current exchange rates). All three lines are in some stage of construction, and are expected to be open within the next few years. There are several additional lines being mooted, but even if they never happen, the current projects under construction, once completed, would leave Bangkok with one of the larger and more comprehensive mass transit systems in Southeast Asia.
Whether that will unclog major thoroughfares like Sukhumvit in the long run remains to be seen, and we cannot make any realistic assessment of these efforts until after the COVID-19 pandemic is behind us and major cities have returned to full mobility. But it will at least give the Bangkok Metropolitan Administration more options as it considers the best way to tackle chronic traffic.
When I looked at this issue a few years ago for Inside Indonesia, I concluded that better public transit infrastructure has to be coupled with policies that target private vehicles and reduce their usage. Singapore is the gold standard for this, auctioning a limited number of vehicle ownership certificates every year. This keeps supply limited, while using a well-designed market pricing mechanism to make vehicle ownership prohibitively expensive. Singapore can do this, of course, because they offer extensive public transit options.
Will Bangkok ever take serious steps to reduce the number of cars and motorcycles on its streets? Maybe. Maybe not. Such policies are unpopular and politically fraught, especially in a country where auto manufacturing is a major engine of economic growth. But at least by investing heavily in public transit the city is giving itself more options as it stares into the void of urban sprawl, options which neighbors like Jakarta probably wish that they had.