Thailand's Real Estate Boom: The Impact of Chinese Investment
A boom in Chinese investment has pushed up property prices. Does the new Thai government have a plan to manage the impact?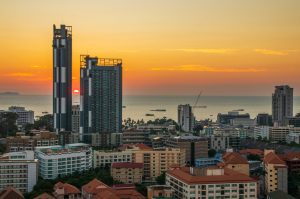 Thailand's real estate market has recently grown significantly, which can be credited to the previous government's policies. Despite being in office for just a month, the new Prime Minister Srettha Thavisin has been proactive in collaborating with China, particularly in tourism, trade, and investment. Attracting private Chinese investments into Thailand's real estate sector is vital for this bilateral relationship. However, it may not directly address the issue of affordable housing for Thai citizens. These investments, while economically significant, are just one aspect of the broader economic relations between the two countries. Addressing affordable housing and other socioeconomic challenges may necessitate separate policy considerations beyond foreign investments.
The Real Estate Landscape
To fully comprehend the current situation, it's crucial to examine statistics from the Real Estate Information Centre (REIC) and the Government Housing Bank (GH Bank). In the first half of 2023, the transfer of condominiums to foreign clients in Thailand surged by 14.7 percent compared to the previous year, with foreign buyers now constituting 10.8 percent of this sector.
Chonburi, a scenic coastal province, leads with 43.4 percent of foreign condominium transfers, followed closely by Bangkok with 37.7 percent. Chinese buyers dominate, accounting for 47.0 percent of units transferred to foreign buyers and 48.3 percent of the total transaction value, highlighting Thailand's continuing appeal to Chinese investors. Russians also play a significant role, with 9.6 percent of units transferred and a 7.3 percent of the total transaction value. While these developments may not directly impact broader diplomatic relations, they promote economic interdependence and cooperation, potentially creating more trade and investment opportunities between Thailand and China.
Why the Chinese Focus?
The substantial influx of Chinese money into Thailand's real estate sector reflects the government's long-standing goal of bolstering economic ties with China.
This aligns with past practices of prioritizing Chinese investments for their capacity to create jobs, enhance infrastructure, and boost tourism, all of which contribute significantly to Thailand's economic growth and stability. However, there is also a need to address Thai citizens' housing needs.
Thailand is currently grappling with a severe housing crisis as property prices outpace income growth, pushing many into precarious living conditions. This crisis could worsen due to increased foreign investment, notably from China, which has already inflated property prices and worsened the scarcity of affordable housing.
While just over one in 10 condominiums are purchased by foreigners, this has the potential to indirectly impact the entire housing market. It is difficult to assess these impacts comprehensively, but the central concern is that growing foreign investment may worsen the shortage of affordable housing. This raises a critical question: Can the Thai government effectively balance economic growth with efforts to address the housing crisis? Neglecting housing concerns in favor of economic growth risks widening social inequality and discontent, potentially undermining the nation's stability and prosperity.
Influence of Chinese Private Investors
The surge of Chinese private investors in Thailand's real estate market has raised significant concerns among Thai property buyers due to the evident impact on property prices.
One of the most noticeable consequences has been a substantial increase in property values, especially in prime urban and scenic areas. Chinese investors have shown a strong preference for luxury properties in sought-after locations like Bangkok and coastal provinces such as Chonburi. Their demand for high-end condominiums, villas, and prestigious residences has driven property prices to record levels in these regions. This surge in demand has made it increasingly difficult for local buyers to afford homes in areas they once considered accessible.
Additionally, the impacts of foreign and Chinese investment extend beyond directly acquired properties, often causing a spillover effect in which price appreciation spreads to nearby areas. As property prices rise in Chinese-favored locations, adjacent neighborhoods also witness an increase in property values.
Moreover, the concentration of Chinese investors in the luxury property market has reshaped the overall property landscape. Many developers have shifted their focus to catering to Chinese demand, resulting in a scarcity of affordable housing options. This makes it increasingly challenging for middle-class and lower-income Thai buyers to find suitable properties.
Transparency and robust regulation are key. Enforcing stricter rules on foreign property ownership can help control the impact of foreign investment on property prices while maintaining fairness. Social housing programs for lower-income citizens should be initiated to bridge the housing gap and improve Thais' quality of life. Simultaneously, policies boosting local economic development and citizens' purchasing power in the real estate market can create a more resilient and self-sustaining economy, benefiting both locals and foreign investors.
Thailand's surging real estate market, fueled by Chinese investment, offers economic benefits, and strengthens international ties. However, it has also contributed to the shortage of affordable housing for locals. Balancing economic growth with social welfare is a central challenge for Thailand. The government must take decisive action to address the housing crisis, prioritizing policies that ensure inclusivity and well-being for its entire population. This is vital to maintain Thailand's appeal for foreign investment while securing the nation's long-term prosperity.