Can ASEAN's Special Envoy Resolve the Crisis in Myanmar?
Brunei's Erywan Yusof faces an uphill struggle in bringing the country's contending factions into a process of dialogue.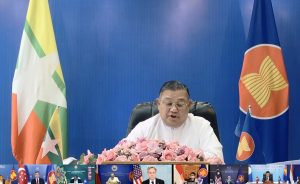 Yesterday, the Association of Southeast Asian Nations (ASEAN) finally announced the appointment of its special envoy to Myanmar, naming Erywan Yusof, Brunei's second minister for foreign affairs, to the post.
The announcement was made in the joint final communique issued after Monday's ASEAN Foreign Ministers' Meeting, which stated that the 10-nation bloc "welcomed the appointment" of Erywan by Brunei, ASEAN's current chair. According to the communique, Erywan will be tasked with "building trust and confidence with full access to all parties concerned" with the aim of  ending violence in Myanmar and opening dialogue between the military junta and its opponents.
Erywan will also oversee the delivery of a humanitarian aid package, with the communique calling for the ASEAN Coordinating Centre for Humanitarian Assistance to begin work on "policy guidance." According to one report, the special envoy will fly to Myanmar next week to begin talks with the various contending parties, including ousted leader Aung San Suu Kyi and other political prisoners.
The long-awaited appointment of a special envoy was one of the five points of consensus reached at a special ASEAN Leaders' Summit that was convened on April 24 to address the turmoil that has gripped Myanmar since the military's coup in February. Among other things, the Five-Point Consensus called for the "immediate cessation of violence" in Myanmar and "constructive dialogue among all parties concerned to commence to seek a peaceful solution."
The appointment of an envoy was the first and most straightforward of the five points of consensus but was delayed for months as ASEAN member states sparred over the proper candidate, and struggled to gain the consent of Myanmar's military junta, which held de facto veto over the appointment.
Erywan was approved after long and difficult negotiations this week. The issue was a subject of contention at the 54th Foreign Ministers' Meeting on Monday, during which Myanmar's military junta voiced its opposition to Erywan's appointment. (Junta leader Sen. Gen. Min Aung Hlaing said earlier this week that he preferred a Thai candidate.) Its obdurate attitude reportedly led Indonesian Foreign Minister Retno Marsudi, who has spearheaded ASEAN's diplomatic efforts on Myanmar, to question the military government's status in the Southeast Asian bloc. Following further negotiations and an unscheduled meeting yesterday, Erywan was finally confirmed as the special envoy.
His appointment marks the end of a long period of negotiating and cajoling, but the beginning of a devilishly complex diplomatic process. While ASEAN has been widely pilloried – with some justification – for its sluggish progress in resolving the crisis, it is questionable whether Myanmar's complex and multifocal crisis is presently amenable to any straightforward resolution.
What began as an outraged reaction of the Myanmar public to the military coup has coalesced into a broader struggle to defang the Tatmadaw and revoke its self-claimed special role in Myanmar's politics. In this increasingly existential fight, neither the junta nor its opponents have shown any inclination to compromise, or even recognize the other as a legitimate interlocutor.
As the author and historian Thant Myint-U noted this week that ASEAN's eventual choice of envoy "will fail miserably unless they are willing to give up their existing lives, work 24/7, talking to everyone, traveling everywhere, to remote parts of the country." Even then, he added, "chances of success will be slim."
The biggest obstacle will be the attitude of the military junta, upon whose cooperation the special envoy will depend. On this front, few of the signs are good. Shortly after agreeing to the Five-Point Consensus at the special summit in April, Min Aung Hlaing announced that the implementation of the consensus was contingent on the junta's need to "maintain law and order," and said that his own administration's five-step roadmap would take precedence over ASEAN's consensus.
In a similar way, the military government's representative reportedly helped water down the language of the final ASEAN communique during negotiations this week. While eventually acceding to the appointment of Erywan as special envoy, the junta's foreign minister, Wunna Maung Lwin, reportedly resisted requests from ASEAN members to grant humanitarian workers freedom to deliver aid to areas they believed needed it most.
According to Aaron Connelly of Singapore's International Institute for Strategic Studies, he was also able to veto two key clauses: a reference by name to Aung San Suu Kyi and President Win Myint with regard to calls for the release of political detainees; and a reference to a June 18 U.N. General Assembly resolution that condemned the coup and called for a swift return to democratic rule.
All of this suggests that Myanmar's military government will approach the Five-Point Consensus and the ASEAN-led diplomatic process a la carte, alternately stalling and cooperating with the envoy, with the aim of buying time and strengthening its hold on power.
Erywan's greatest challenge as special envoy may be to ensure that his achievements outweigh any benefits that the junta is able to wring from the diplomatic process. As former Thai Foreign Minister Kasit Piromya, a Board Member of ASEAN Parliamentarians for Human Rights, said in a statement yesterday, "The Envoy must act promptly, and show skillful diplomacy to ensure he does not become a pawn in the junta's game to pretend it is taking action, all the while maintaining its grip on power and subjecting the people more and more to its oppressive rule."
Can he manage it? The weeks and months to come should offer at least a partial answer.