Despite COVID-19, Indonesia-China Relations Continue to Develop
Bilateral cooperation is slowly beginning to move beyond the economic realm that has long been its foundation.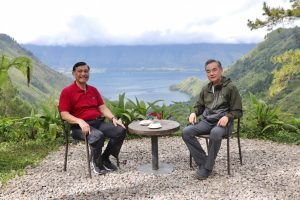 In the midst of high cases of COVID-19 in Indonesia, despite the spread of negative news about Chinese investments in the country, relations between Jakarta and Beijing have witnessed several positive developments over the past three months.
This month, for example, it was reported that Indonesia's total bilateral trade with China reached $53.5 billion in the first half of 2021, an increase of 50.3 percent compared to the same period last year. Indonesia's exports to China were recorded at $26.2 billion, growing 51.4 percent, while the value of Indonesia's imports from China also increased 49.3 percent to $27.3 billion.
In early June, Indonesia held a high-level meeting in Yunnan with Chinese Foreign Minister Wang Yi, to discuss a number of areas of cooperation, including trade, health, investment, and maritime affairs. In the meeting, Indonesia was represented by Coordinating Minister for Maritime Affairs and Investments Luhut Pandjaitan and State-Owned Enterprises Minister Erick Thohir.
The meeting, which the two governments hailed as a commitment to the further strengthening of bilateral cooperation, resulted in a number of important agreements on making Indonesia a regional hub for COVID-19 vaccine production, constructing a factory for pharmaceutical raw materials, and bolstering research and development on herbal medicines.
In addition, the two countries also agreed to increase infrastructure and maritime projects with a specific focus on Indonesia's less developed eastern islands. Following the meeting, President Joko Widodo's government described its ties with Beijing as being guided by "a commitment and a joint effort to contribute in improving all sectors post-pandemic."
A month after the recent meeting, China expressed its commitment to strengthen cooperation on the COVID-19 vaccine. It also agreed to continue providing assistance and support for Indonesia's coronavirus response, amid a runaway spate of infections.
To date, the pharmaceutical companies Sinovac and Sinopharm have exported vaccines to Indonesia in 16 batches, amounting to 6.4 million ready-to-use vaccines and 115.5 million doses of semi-finished vaccines. According to Xinhua, China was also the largest supplier of medical equipment to Indonesia during the period from May 3 to July 3, offering donations worth $8.67 million, or 25 percent of Indonesia's total imports during that period. This equipment included PCR test kits, rapid test kits, and ventilators. One company headquartered in Shenzhen is also reportedly ready to meet Indonesia's growing demand for oxygen, supplies of which have been squeezed by the recent surge in COVID-19 cases.
Moreover, Djauhari Oratmangun, Indonesia's Ambassador to China, said recently that he had reported to the central government about the potential cooperation with a number of Chinese companies for the supply of additional necessary medical equipment to Indonesia. Currently, China-based Cansino is said to be discussing further vaccine purchases with Indonesia, while Anhui Zhifei Longcom has also started a new Phase 3 clinical trial in Indonesia for its COVID-19 vaccine.
China has also agreed to cooperate on clinical trials, commercial purchases, production, and the transfer of vaccine technology, in an effort to assist Indonesia not only in dealing with the pandemic, but also in building regional vaccine production centers.
In addition to vaccines and other COVID-19 support, developments have also moved forward on the financial front. Following the agreement between China and Indonesia in promoting the use of Chinese Yuan in their transactions last year, Bank Indonesia this month reported that technical requirements related to the Local Currency Settlement between Beijing and Jakarta have been completed. Bank Indonesia has also conducted socialization efforts to ensure that ministries and business players are familiarized with the settlement.
The purpose of implementing the LCS is to encourage the use of local currency in the settlement of bilateral trade transactions and investments, as well as to increase the use of local currency and reduce both nations' dependence on the U.S. dollar. The development marks a key milestone in strengthening bilateral financial cooperation between the two countries.
Of all the recent developments in Sino-Indonesian relations, perhaps the most interesting movement has been seen on the military front, which has taken place despite the ongoing standoff between Jakarta and Beijing in the South China Sea.
On May 8, the Indonesian and Chinese navies conducted a joint military exercise in the waters near Jakarta to improve coordination during emergencies at sea. Two of China's guided-missile frigate ships and two Indonesian warships were reportedly conducting joint exercise. Earlier, the Chinese navy assisted Indonesia to search for the wreck of the Indonesian submarine KRI Nanggala-402, which sank in the waters north of Bali island in April.
The developments above show that Indonesia's high number of COVID-19 cases, and the ongoing confrontation between China and Indonesia in the South China Sea, as well as the growing anti-China sentiment in Indonesia during the pandemic, have been unable to prevent the two nations from strengthening their bilateral relations.
In addition to the aforementioned progress, Indonesia and China are planning to triple bilateral trade, currently around $31 billion, to $100 billion over the next three years. Moreover, the two countries are in the process of turning the Bilateral Economic and Trade Cooperation agreement, signed in 2011, into a Trade and Investment Framework Agreement. Despite areas of tension in the relations between Jakarta and Beijing, all of these developments point to much fruitful progress in the years to come.