How a German Frigate in the South China Sea May Upend Beijing-Berlin Relations
As Merkel's lengthy term comes to an end, the frigate deployment may be the beginning of a sea change in Germany's China approach.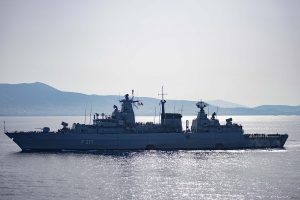 Signs are growing in number that relations between China and the European Union are experiencing serious troubles, and in some cases Chinese diplomacy with specific EU members, such as Lithuania and Sweden, has become outright icy in nature. However, the largest of the EU's economies, Germany, has long sought a balancing policy between China and its Western friends and allies, with the government of Angela Merkel ever-cognizant of both U.S.-led pressure to develop a stronger multilateral approach to countering Chinese power, while at the same time ensuring the stability of robust German trade relations with Beijing.
However, with the Merkel administration soon to be coming to a close, there will be considerable early pressure on her successor to clarify the country's China policies, and the question is now whether, based on both domestic politics and foreign pressures, Germany can maintain its current "hedging" policy toward Beijing in the near term. The announcement late last year that Germany would be sending a frigate to the Asia-Pacific region for the latter half of this year, in an operation that will include a transit of the politically tempestuous South China Sea, is the strongest indication yet of the conundrum Germany is facing. Berlin is trying to demonstrate solidarity with Europe and the U.S. in addressing Chinese assertiveness, while avoiding being targeted by Beijing's retaliatory "wolf warrior diplomacy," which has recently affected other governments seen as "insulting the Chinese nation."
The German Navy's Brandenburg-class frigate Bayern (Bavaria), departed the base at Wilhelmshaven this week, and will be operating in the Asia-Pacific region until early next year. The vessel is scheduled to make calls in several regional ports, including in Australia, India, Japan, Singapore, South Korea, and Vietnam, and is also planning to traverse the South China Sea this December. German authorities have stressed that the Bayern will be using traditional sea lanes in the South China Sea, and will avoid entering the Taiwan Straits. This will mark the first time in almost two decades that a German naval vessel has entered the South China Sea, with the country's Defense Ministry framing the mission as one of support for Asia-Pacific regional partners as well as demonstrating German commitments to freedom of the seas.
China's response to this news has so far been cautious, with a Chinese Foreign Ministry comment in March of this year including a reminder that while the South China Sea is subject to international law, other governments should view that status as an "excuse to undermine the sovereignty and security of littoral countries." The nationalist Global Times Chinese news service recently reiterated this stance, stating that as long as the German vessel respected international law and avoided "willful actions" in the South China Sea, there would be no diplomatic damage caused. The Chinese government has also deferred a decision on whether the Bayern can dock in Shanghai during its regional tour until it receives further information regarding the specific "intentions" of the vessel's mission. It was also suggested by a Chinese military news service that the ultimate decision to allow the Shanghai port visit may wait until after Germany's September elections.
As a commentary by Chatham House this past March explained, the fact that the proposed Shanghai call would take place before the Bayern would enter the South China Sea could give the impression that Germany was seeking permission from Beijing to enter the waterway. The move would thus, at best, be sending mixed signals about what the German government's intentions in that part of the Indo-Pacific actually are. For the majority of Merkel's 16-year long chancellorship, Berlin had been putting forward a China policy that was ambivalent, if not outright naïve at times. Merkel, arguably, is one of just a few world leaders who maintained seemingly unbroken amicable relations with the Chinese leadership. After all, until COVID-19 travel restrictions forced much of the globe into a lockdown, Merkel had travelled to China at least once every year – often accompanied by powerful business delegations. This adamant desire to emphasize lucrative economic relations, and to achieve "change through trade" (Wandel durch Handel), however, already reached its limits a few years ago. Although mounting public pressure over the last few years resulted in a degree of top-level efforts to call out China's wrongdoings – from human rights abuses to Beijing's ever expanding claims in the South China Sea – these often stopped just short of upsetting the Chinese political establishment unnecessarily.
Against this backdrop, the Bayern's Indo-Pacific journey is, indeed, a historic moment for the overly guarded Merkel administration. Yet, as much as the mission is historic, the fuzzy contours of the scheduled sailing merely exposed that even as the chancellor is about to depart, her government will do anything to stay out of trouble with Beijing. This time around, however, patience with Berlin's perpetual equivocalness is not only running low, but is becoming a major electoral issue for the opposition parties. These have long called for Merkel to finally stand up to a more menacing Beijing, and argued that critiquing China's human rights violations subtly is no longer portable. Whereas Merkel's own party, the Christian Democratic Union (CDU), is slated to priorities policy continuity and, in its electoral program, merely calls to "meet China at eye-level," the Greens, the Social Democrats (SPD), and the Liberal Democrats (FDP) have all unequivocally called for actions to sanction China for human rights abuses.
With the Bayern now officially on its way into contested territory, Merkel and her entourage are facing another round of harsh critiques. Ulrich Lechte, member of the German Bundestag for the FDP, tweeted that he hopes to finally see a change in the country's China policy in the post-Merkel era. In a televised debate among the three candidates seeking to replace Merkel, the Green Party's candidate, Annalena Baerbock, has called for "toughness" toward China. Even among the general public, a rising number appears to have had enough of Merkel's lurching. In a recent survey by the Körber Foundation ahead of the September elections, a staggering 76 percent polled wished to see the German government support European sanctions against China, while only 18 percent favored prioritizing good business relations.
Now that seemingly even Beijing is growing increasingly impatient with Berlin's foreign policy tottering, we might ultimately witness an end of the once-cozy relationship between the two governments.