Japan's COVID-19 Vaccination Drive Success Is an Opportunity for Global Leadership
Tokyo is battling a surge in COVID-19 cases, but its initially slow vaccination campaign has surged ahead too.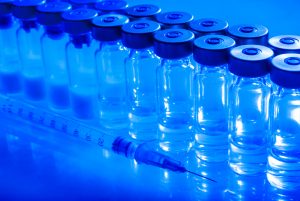 One of the quiet surprises of the summer is that Japan has been running one of the world's most effective COVID-19 vaccination programs. Japanese doctors have been getting shots in arms at a faster rate than any other major, industrialized country over the past month. As a result, the fully vaccinated proportion of the Japanese population should eclipse that of the United States by mid-September. 
Yes, Japan is battling its largest-ever surge in COVID-19 cases, with upward of 20,000 new infections daily. It was also painfully slow to roll out vaccines. At the start of June, with the Tokyo 2020 Olympics looming, just 3 percent of Japan's population was fully vaccinated. Concerns over receiving vaccines also heightened when two people died after receiving the Moderna vaccines.
However, Japanese doctors administered more than 1 million doses a day throughout most of the summer. By the end of August, 45 percent of the population had received two shots, and in a few weeks, Japan is likely to pass the United States, which currently has fully vaccinated around 52 percent of its population. Close to 90 percent of seniors in Japan are fully vaccinated, more than in many countries that started their campaigns much earlier. 
Maybe this should not come as a surprise. Even though many Japanese have been frustrated with the government's domestic response to the pandemic, Japan has consistently done a far better job on COVID-19 than most other rich countries. It has suffered fewer than 16,000 deaths so far, the lowest rate among the G-7 countries — and nearly one-14th the deaths per capita of its G-7 partners. 
One question that looms, though, is whether Japan can build on this domestic success by providing more leadership for the global COVID-19 campaign. It is clear that the longer the pandemic is allowed to spread uncontrolled anywhere in the world, the greater the chance that variants will emerge that are even more dangerous than Delta, threatening Japan and others. 
Unfortunately, the global response has been a major disappointment. Barely 2.5 percent of Africans have been able to get fully vaccinated, while rich countries have locked down enough vaccines to immunize their populations twice or three times over and now are authorizing booster shots. Low-income countries have also struggled to obtain the lifesaving diagnostics, medical oxygen, and PPE that become even more necessary as vaccines are delayed and the Delta variant spreads. 
The global campaign has centered around the Access to COVID-19 Tools (ACT) Accelerator, a coalition of health organizations that are providing COVID-19 diagnostics, therapeutics, vaccines, and health system support to low- and middle-income countries. To date, this international collaboration has mobilized $18.1 billion from a range of donors, but it is still $16.6 billion short of its 2021 budget, to say nothing of next year. 
To its credit, Japan has pledged $1.2 billion to ACT Accelerator organizations, primarily for the COVAX initiative's procurement of vaccines, as well as to UNITAID for therapeutics and to UNICEF to operate immunization programs. It has also provided bilateral funding to Asian and African countries and donated more than 8 million vaccine doses to Taiwan and five Southeast Asian countries.
Notably, many of these efforts have involved Japan-U.S. cooperation. At the urging of the Biden administration, Japan hosted the June 2021 international pledging summit for COVAX. Japan is also working with the United States, as part of the Quad, to distribute 1 billion vaccines within the Indo-Pacific region.
But these efforts have not been enough to help turn the tide globally. Japan's $1.2 billion commitment is barely half of the "fair share" estimate of what it should contribute to ACT Accelerator's 2021 funding needs, a lower proportion than every other G-7 country except for France. 
Expectations are high for Japan to now step up further and demonstrate greater global leadership. There is talk of a U.S.-led global COVID-19 summit this autumn, perhaps on the sidelines of the U.N. General Assembly. Given the growing consensus that the global campaign needs a new infusion of energy and leadership, Japan can help provide that. 
As a first step, Japan can pledge an additional $1.2 billion to ACT Accelerator organizations to fully fund its "fair share" for the remainder of 2021. There is a particularly pressing need for more funding for diagnostics, therapeutics, and to subsidize operations of immunization campaigns in poorer countries. Second, Japan can work more intensively with the United States to rally rich countries to better fund and coordinate the global campaign, and also to set ambitious targets help low-income countries vaccinate at least 70 percent of their populations in 2022. Third, it can also do more bilaterally, as well as cooperatively with the United States and other partners, to support the COVID-19 responses of other Indo-Pacific countries. Finally, Japan should continue to strengthen inter-agency coordination among its health, foreign affairs, and finance ministries in order to more strategically align its public health, national security, and development assistance efforts.
Japanese leaders claim that their country should be seen as a leader in global health. Now, Japan's overlooked success on the home front gives it a golden opportunity to work with its single-most important ally, the United States, to demonstrate this global leadership.