Malaysia's Youth Step Up Protests As Political Crisis Deepens
Young protestors gather momentum as calls for Prime Minister Muhyiddin Yassin's resignation grow louder.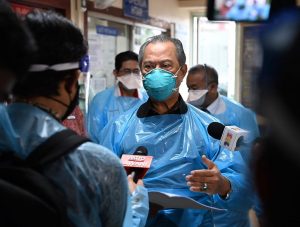 Hundreds of young people in Malaysia gathered in the streets of Kuala Lumpur on Saturday to demand the resignation of Prime Minister Muhyiddin Yassin over the government's botched handling of the COVID-19 pandemic, a sign that youth protestors are becoming increasingly organized.
Black-clad demonstrators in masks marched along Jalan Tun Perak in the city center with placards wielding messages such as "enough with incompetent leaders" and "we stand for those who cannot." Others made references to pop culture with placards that read "this Cabinet does not spark joy," an allusion to Japanese tidying expert Marie Kondo's decluttering mantra.
Some carried black flags and effigies of dead bodies wrapped in white cloth to signify the high daily COVID-19 death tally in Malaysia.
Civil rights workers were present to monitor and report on the protest, while lawyers were on standby to provide pro bono legal services and intervene in arbitrary arrests or detention.
The police were out in force as hundreds of people chanted "hidup rakyat" (long live the people) and made their way to Merdeka Square, a historic site where the nation declared independence from British rule in 1957.
However, protestors were denied entry to Merdeka Square by the police, forcing them to stage a sit-in outside the barricade near Kuala Lumpur City Hall for about an hour before dispersing. It wasn't long before police called up the rally's organizers for defying a ban on large gatherings.
Nationwide protests led by young people have been gathering momentum over the past week, with thousands of youth protestors staging sporadic rallies throughout the year on issues like voting rights, job security, and democracy.
Their struggle follows large-scale protests in neighboring Thailand, Myanmar, and Hong Kong, where youthful crowds are pitted against autocratic regimes that are willing to arrest, intimidate, and even kill to hold on to power.
On July 26, hundreds of junior contract doctors all over Malaysia revolted by walking off their jobs in state-run hospitals amid a worsening COVID-19 outbreak, demanding permanent roles and opportunities to further their education.
The strike came as the country's number of confirmed coronavirus cases surged above 1 million and deaths nearing the 8,000 mark. Organizers of the protest said the walk-out had limited effect on hospital operations as it was carefully planned.
Such movement carries huge risks as public health care workers are under gag laws that prevent them from making public statements that are critical of government policies.
The Malaysian Medical Association (MMA), the country's largest association of doctors, later said that doctors at the Malaysia Agro Exposition Park Serdang quarantine center were questioned by police about the strike until the early hours of the morning about the strike.
"The authorities should be more understanding of the work of these doctors who are treating COVID-19 patients. The center is overflowing with patients at this time and this can be stressful for all healthcare workers there," MMA president Dr. Subramaniam Muniandy said.
Separately, in March, young people gathered peacefully in front of parliament to push for the implementation of the country's voting reforms, which would introduce an automatic voter registration system and lower the voting age to 18, allowing younger voters to take part in the next election.
Malaysians aged between 18 and 20 may have to wait until September 2022 to register as voters if enforcement of the new voting laws is further delayed. In the event that a snap election is called, these youth may not be eligible to vote.
These youth-led movements add to growing calls for Muhyiddin to step down after King Sultan Abdullah Sultan Ahmad Shah made a rare rebuke of the government for misleading parliament by incorrectly implying that the monarch had assented to revoking COVID-19 emergency laws.
The palace insisted that Muhyiddin's administration did not obtain royal consent to withdraw the ordinances under the state of emergency which the king, who serves as the country's constitutional head of state, proclaimed in January. The emergency laws end on August 1.
The king's expression of "utmost disappointment" has thrown the embattled leader's administration into disarray, with the government's decision to postpone parliamentary sitting indefinitely due to "COVID-19 risks" seen by many as another delaying tactic, enabling Muhyiddin to hold on to power.
The special parliamentary sitting was scheduled to run for five days from July 26 until August 2
National emergency laws have also been extended in the eastern state of Sarawak until February 2022 to suspend state elections to prevent the spread of COVID-19, according to a proclamation signed by the King on July 30.
The Sarawak legislative assembly's term had ended on June 6 and elections are required to be held within 60 days of the dissolution of the assembly. The national emergency from January 12 to August 1, however, prevented an election from being held and allowed the term to be extended.
Muhyiddin's unelected government is facing severe backlash and a trust deficit as these political maneuvers appear to take precedence over a worsening coronavirus outbreak that has left many unemployed – particularly among the youth – and thousands in the country dead.
A recent survey by local pollster Institut Darul Ehsan showed that Muhyiddin's approval ratings have fallen to a new low as 85 percent out of nearly 8,000 people surveyed voted for him to resign. Only 12 percent said he should remain as prime minister.
"The people are tired of staying at home but nothing has changed," said Amir Abdul Hadi, an activist and one of the co-founders of the Malaysian United Democratic Alliance, a party led by former youth and sports minister Syed Saddiq Syed Abdul Rahman.
"I believe if the government fails to take heed of the people's demands, a lot more protests like the one carried out today (July 31) will take place."