North Korea's Public Security Gets Lessons From China
North Korea's Ministry of Social Security is receiving training from China's Ministry of Public Security.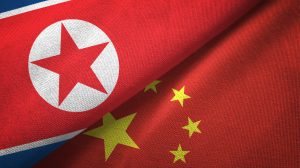 North Korean authorities have reportedly received training on the organizational systems of China's public security apparatus and have decided to implement some of what they have learned. Ostensibly, the move aims to protect North Korean lives and property by adopting China's advanced disaster response capabilities, but it also appears aimed at bolstering Pyongyang's ability to put down unrest by force.
According to a high-ranking Daily NK source in North Korea on Monday, high-ranking cadres of North Korea's Ministry of Social Security are undergoing training on working-level systems of China's Ministry of Public Security, including its administrative and organizational systems. The Foreign Ministry is cooperating in this endeavor, with the North Korean embassy in China transferring educational materials and providing translation and interpretation services.
North Korea had initially planned to send leading Ministry of Social Security cadres to China to undergo training. However, due to the COVID-19 pandemic, the authorities switched to providing educational materials and online classes. The training is scheduled to last until August 15.
Broadly speaking, the training can be divided into two parts: the Chinese Ministry of Public Security's criminal justice system and its disaster response strategy. Cadres are learning about Chinese systems regarding law and order preservation, cracking down on illegal acts, and investigating, arresting, confining, and trying criminals. The authorities reportedly plan to adopt some of what they learn to North Korea's policing system.
In terms of disaster response, the cadres are receiving intensive training in rescue operations during disasters such as typhoons, monsoon rains, and fires.
Additionally, North Korean authorities want to learn how the Ministry of Social Security's recently created helicopter unit can better work with public security and emergency response departments, the source said.
According to a Daily NK investigation, North Korean authorities in March ordered the formation of a helicopter unit in the Ministry of Social Security. A battalion-strength unit was created using former air force helicopters.
North Korean authorities mentioned putting down "schemes and demonstrations by reactionary elements" as one of the reasons for the unit's formation.
There is speculation that the recent expansion of the role of the Ministry of Social Security and aggressive reorganization of the country's public security apparatus, including the introduction of Chinese systems, is at least partially aimed at strengthening the state's control over the people.
A source familiar with the internal workings of the ruling Workers' Party of Korea said there are calls for the Ministry of Social Security to "change the way it cracks down on and controls the people" because "the law [anti-reactionary thought law] was recently changed." He said the recent cooperation with China's Ministry of Public Security "took place against this background."
The law codified ways to control the people and strengthened punishments, which reportedly led to calls to reform the Ministry of Social Security's judiciary system. The ministry is tasked with enforcing the law.
North Korean authorities plan to train cadres at agencies affiliated with the Ministry of Social Security in China's public security system starting from August 15. The authorities have reportedly finished putting together an organization to manage the lectures.
Due to COVID-19, however, cadres based in areas outside of Pyongyang will likely listen to lectures via teleconferencing instead of assembling in Pyongyang for face-to-face training.
This article first appeared on Daily NK, which contacts multiple sources inside and outside North Korea to verify information. The Diplomat was not able to verify the claims independently.