The China-US Arms Trade Arms Race
For all its military technology advances, China remains far behind the U.S. in arms exports. The example of Nigeria helps explain why.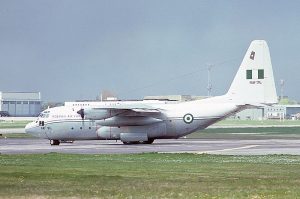 China has chipped away at the United States' qualitative military edge in many respects over the last few decades, building up competitive or asymmetric capabilities at a substantial clip. But for all its progress in modernizing its own military, it has not yet reached parity with the U.S. – or Russia or Europe – in terms of selling its domestically-produced arms to foreign customers.
Arms sales are not a straightforward stand-in for geopolitical influence, of course. But they are not a simple commercial exchange, either. There are legal, ethical, and strategic considerations to the sale of weapons, which do not apply to other forms of trade. And most modern weapons require ongoing support, which ties provider and client states together and can be used as leverage to deepen other aspects of a political or strategic alliance.
Take, as an example, Nigeria, the largest (by population) and richest country in Africa. Nigeria is a useful case for understanding the dynamics of the global arms trade in part because it is not formally aligned with either the United States or China, but both countries maintain close ties there, and both have made sales of high-end equipment there in recent years.
Despite its wealth, Nigeria faces numerous overlapping security problems, including Islamist insurgency, banditry, piracy, mass kidnapping, and an unravelling social and political contract between the federal government and its subsidiary regions. Given the demands on the military – and the attrition it has faced – it is unsurprising that Nigeria has been in the market for a variety of new arms, even if the fundamental solution to those problems will require much more than that.
Even leaving aside the – admittedly profound – questions of training, morale, and tactics, the military's Cold War-era legacy systems have significant limitations. One particularly important shortcoming, for a country primarily fighting irregular opponents amongst its own population, is a lack of precision, which makes civilian casualties a more frequent occurrence. That, in turn, makes the fundamental job of counterinsurgency – preventing the civilian populace from siding with the insurgents – far more difficult than it already is.
As the Nigerian military updates its flagship systems, it has been drawing from the catalogs of both Chinese and Western suppliers. The Air Force is replacing its old Chengdu J-7s with much newer JF-17 Thunder multirole fighters; a joint product of China and Pakistan, but simultaneously introducing Embraer Super Tucanos designed in Brazil and produced in the United States. The Navy's principal surface combatants are an odd mixture: one German-designed frigate, a pair of ex-U.S. Coast Guard cutters, and a pair of new Chinese-made Type 056 corvettes.
Part of this is down to political considerations. The United States explicitly, if inconsistently, links arms sales to fealty to human rights norms – an area where the Nigerian military has a generally poor record. The Super Tucano sale, for example, was originally agreed and then put on hold by the Obama administration after the Nigerian Air Force bombed a refugee camp. The Trump administration restarted the deal, and while the Biden administration did not prevent the first six aircraft from being delivered, the Senate has put a hold on a proposed sale of secondhand AH-1 Super Cobra attack helicopters.
There are some advantages in pursuing a mixed approach to military procurement. Even states that produce the full spectrum of exportable military hardware – a rarified category that China entered only recently – do not necessarily produce the right hardware solution for every strategic or tactical problem. For example, the U.S., which has enjoyed air superiority in every conflict it has fought for more than half a century, produces a far sparser range of ground-based anti-aircraft weapons than does Russia or China. So a country facing a particular set of strategic circumstances might find that the best possible mix of equipment comes from a nationally diversified mix of suppliers.
On the other hand, a mixture of systems from different national suppliers might require far more effort to work together. Chinese-made precision-guided weapons can't simply be mounted on U.S. helicopters, for example; and U.S.-caliber ammunition can't be fired from Russian guns. Those high-end systems also require maintenance, spare parts, upgrades, crew training, and repairs. And as those systems become more complex, and particularly as they become more computerized and networked, the amount of leverage that the supplier can exert increases.
Iran, for example, has managed to keep its pre-revolutionary U.S.-built fighter, transport, and helicopter fleets flying and fighting through extremely creative sourcing and local industrial work. But a country that buys F-35s and then switches its affiliation away from the U.S. might find them completely inoperable in short order, thanks to a combination of extreme technical complexity and their need for software updates, which present exploitable vulnerabilities.
China's advantage in this cutthroat world is that its weapons are offered at a lower price point than those of the U.S.. This is a key factor for developing countries like Nigeria. Their disadvantage is that the majority of their equipment – especially the newer, higher-end systems – are not yet combat-proven; and are pressured at the low end by the availability of large quantities of secondhand but still highly functional U.S.-made gear.
Beijing seems willing to sell, and eager to add military hardware to its infrastructural and commercial investments in the developing world. But even if its defense industry has the advantage on value for money and willingness to sell regardless of human rights issues, the example of Nigeria shows that China remains some ways away from matching its arms export ambitions to the pace of its domestic military modernization.