The Normalization of Communal Politics in India
From being an aberration, hate crimes are becoming an ugly daily occurrence in the country.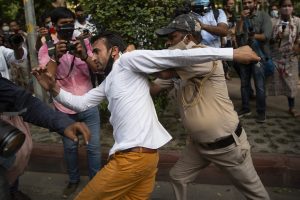 A hate rally that took place on August 8 at the Jantar Mantar, a stone's throw away from India's parliament building in the heart of New Delhi, which saw participants openly calling for the killing of Muslims, has sent shockwaves through the Indian capital.
The mob of Hindutva supporters shouted slogans demanding that all religious minorities who reside in India should chant the name of the Hindu deity, Ram. They heckled reporters who tried questioning them. Public outrage over the viral video clip stirred the Delhi Police, who were mute spectators during and after the rally, to arrest some suspects. Surprisingly, the organizer of the rally, a former spokesperson of the ruling Bharatiya Janata Party (BJP) and advocate, Ashwini Upadhyay, was granted bail within hours of his arrest. This is not an isolated incident.
In another viral video, a 45-year-old Muslim man can be seen being assaulted by a mob in Kanpur, in the BJP-ruled state of Uttar Pradesh, and made to chant "Jai Shree Ram" (Victory to Ram). His little daughter can be seen in the video clinging to her father and begging his attackers to desist.
Far from being an aberration, hate crimes are becoming an ugly daily occurrence in India. What makes them more distinct now is how this imposition of the majoritarian Hindutva agenda is being normalized by authorities and law enforcers.
In both of the above incidents, the mob descended on the local police station and was assured of clemency.
Ever since the Narendra Modi-led BJP government swept to power in 2014, buoyed by its Hindutva agenda, militant Hindu nationalism has seen a surge in the country, only to be further consolidated when Modi won a second term in 2019. What is striking is the impunity with which the lumpen Hindutva elements take law and order into their hands, confident in the knowledge that there will be no reprisal against them.
Incendiary hate speeches by a young BJP leader, Kapil Mishra, in February last year fueled horrific riots in northeast Delhi in which 53 people were killed, the majority of them Muslims. Incidentally, the charge sheet filed by the Delhi Police, which reports to the Union home ministry, makes no mention of Mishra and other political leaders who had incited the mob, thereby emboldening the Hindutva brigade and its divisive politics.
In the absence of a strong opposition that demands accountability from the government, communal politics have flourished in India with the benign backing of those in power. Something that was once considered as "fringe element" is now being mainstreamed. Hindutva groups and affiliates like the Hindu Raksha Dal brazenly call for the genocide of Muslims in the heart of New Delhi, with no condemnation from the BJP-led central government (expectedly) or even the local Delhi government, led by the Aam Aadmi Party (AAP). The latter is all the more surprising since Delhi Chief Minister Arvind Kejriwal represents the New Delhi constituency where Jantar Mantar, the site of the hate speech rally, is located.
While the BJP and its affiliates firmly believe in Hindu hegemony, the AAP originated as a platform of alternative politics but now peddles "soft Hindutva"; it refrains from condemning communal politics with many political observers describing it as the BJP's "B team."
It is no coincidence that while the Taliban were capturing Afghanistan and declaring the re-establishment of an Islamist state, here in India the hashtag #Hindutva was trending on Twitter. Indulging in full-blown fear mongering, Hindutva supporters have cited the horrors being committed by the extremist Taliban, with several tweeting, "Hindutva stands between Delhi becoming Kabul."
This relentless fanning of communal hatred has resulted in a series of mob lynchings by right-wing Hindu groups on Muslims on various pretexts, be it cow protection, beef bans, or forced religious conversions. In May of this year, Asif Khan, a 27-year-old gym instructor from Nuh, a rural district of Haryana, was killed by a group of Hindu villagers. While Asif Khan's family alleges that he was lynched and that it was a communal crime, the local police maintain that it was the result of an "old enmity."
With the law enforcers treating these violent crimes with kid gloves, acts of vigilantism continue unabated. No wonder then that Asaduddin Owaisi, the chief of the All India Majlis-e-Ittehadul Muslimeen (AIMIM), lashed out at Mohan Bhagwat's statement that cow vigilantes were against Hindutva. Bhagwat is the leader of the Rashtriya Swayamsevak Sangh (RSS), the ideological mentor of the BJP.
"This hatred is the product of Hindutva and these criminals have the patronage of a government backing Hindutva," Owaisi said.
It would be a mistake to assume that violence, intimidation, and uncivilized behavior are recurrent features in rural societies and communities alone. In fact, minority women, especially Muslim women, are the favorite targets of the right-wing troll army on social media. One of the drawbacks of the social media explosion through Twitter and Facebook has been the anonymity which it lends its users, allowing religious bigots to stalk, threaten, and intimidate women.
In a shocking incident last month, more than 80 Muslim women in India who are powerful voices on Twitter, with a large number of followers, found they had been put up "for sale" online on an app called "Sulli Deals." Their pictures obtained through their social media profiles had been put up with the caption, "Deals of the day." (Sulli is an expletive used to describe Muslim women.)
Hana Mohsin Khan, a commercial pilot who was put up for "auction" on the Sulli Deals app, lodged a police complaint. Khan said, "The only reason I was targeted was because I was a Muslim woman and a voice that when spoke (sic), was listened to."
Although the offensive app and website have been pulled down, no arrests have so far been made. It was at the behest of Delhi Commission of Women chief Swati Maliwal that the complaint was lodged in the case but the delay by the police in taking action has raised questions.
In the meanwhile, Congress leader Rahul Gandhi's trenchant critique of the BJP's communal agenda never fails to rile the ruling party. When a 72-year-old Muslim man was attacked and his beard cut by a group of men in Ghaziabad, Uttar Pradesh, in June, Gandhi tweeted, "I am not ready to believe that true devotees of Shri Ram can do this. Such cruelty is far from humanity and is shameful for both society and religion."
In retaliation, Uttar Pradesh's saffron robed chief minister Yogi Adityanath dismissed Gandhi's accusations as a pack of lies and an attempt to "defame people of Uttar Pradesh."
Significantly, with the Uttar Pradesh State Assembly elections on the horizon, communal politics is certainly poised to reach its crescendo by 2022. For the BJP, Uttar Pradesh has to be won at all costs.
Its attempts to polarize the electorate in the eastern state of West Bengal backfired, resulting in Trinamool Congress chief Mamata Banerjee winning a third term as chief minister based on her secular credentials.
With the construction of a Ram temple at Ayodhya underway, nothing will stop the BJP from playing its divisive politics to the hilt in the battle for Uttar Pradesh next year, its stepping stone to another victory at the 2024 general election.