What Does the Taliban Takeover Mean for Violent Extremism in Indonesia?
The impact of Taliban rule on the country's security situation is unclear, but is likely to be less marked than in the 1980s and 1990s.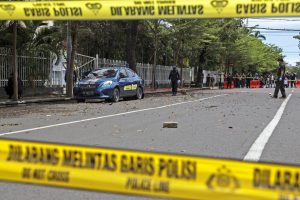 As the Taliban retakes control of Afghanistan, the United States Department of Defense is warning that terrorist networks in the war-torn country could make rapid gains. The major concern will be a return to the safe-haven days of the late 1990s, when militant Islamists with transnational ambition were accommodated for training and the planning of overseas operations.
Dozens of Indonesian extremists trained with the Afghan mujahideen from the 1980s, and some went on to wage a terrorist campaign back home during the 2000s, including the devastating 2002 nightclub bombings in Bali, which claimed more than 200 lives. But today's violent extremists in Indonesia are on the back foot, following effective police investigations and amended legislation associated with the Islamic State (IS)-inspired resurgence in militant activity.
While the Taliban's gains may well provide a shot of enthusiasm and potential long-term opportunities for subversive Islamists from Indonesia, the danger should not be overblown. With years of experience and constructive international partnerships, Indonesia's counterterrorism capacity is now well-developed, and the shortcomings of the nation's pro-IS leaders suggest it will be difficult for aspiring terrorists to achieve the same results as previous generations.
The extent to which the Taliban will ultimately host international terrorists remains unclear. U.S. Secretary of State Antony Blinken appears confident the threat is overblown, and that strategic calculations will deter the Taliban. "They know what happened the last time they harbored a terrorist groups that attacked the United States," he said. "It's not in their self-interest to allow a repeat of that."
Others disagree. Former State Department Coordinator for Counterterrorism Nathan Sales called the U.S. withdrawal from Afghanistan "the best news al-Qaida has had in decades" and said it was "virtually certain that al-Qaida will re-establish a safe haven in Afghanistan."
In a June 2021 report, the United Nations Monitoring Team estimated there were around 8,000-10,000 "foreign terrorist fighters" currently in Afghanistan, mostly comprising militants from the wider region who are affiliated with the Taliban, but also many who support al-Qaida or the Islamic State.
The U.N. Team also pointed to a document attributed to the Taliban which was uncovered in September 2020 and provided guidelines for the treatment of foreigners. The Taliban Intelligence Commission has been tasked with the "general oversight, training, and well-being" of foreign militants, who may be counted in a census (noting their affiliations) and eventually issued identity cards.
Another one-page document with official insignia posted on social media in early 2021 apparently prohibited all Taliban from inviting or providing shelter to foreign militants. But the timing and certain features of the script raised suspicion, and observers suspected it was intended for a specific audience, as the Taliban negotiated its way through the Doha Agreement.
While the Taliban's intentions may be uncertain, a small number of Indonesian extremists have already attempted to make their way to Afghanistan in the past few years, some with children in tow. According to the Jakarta-based Institute for Policy Analysis of Conflict there were 23 pro-IS Indonesians known to be in Afghanistan as of June 2021, 11 of whom were in prison at the time.
But the difference between the intrepid veterans of the 1980s and 1990s and the travelling IS supporters of today is that the older generation were single-mindedly upskilling to bring the fight back home, which some proceeded to try following the end of the Suharto regime.
The current crop has been motivated to contribute to projects abroad, such as the establishment and maintenance of the so-called caliphate. Many Indonesians have also been attracted by IS' embrace of an end-times prophecy, in which Afghanistan features prominently as part of the historic Khorasan region. Both dynamics likely help to explain the involvement of family members and children.
Although many travelers may not have planned to return to Indonesia, they have still sought to engage in conflict and terrorism back home. Analysts have suggested that one experienced militant from West Sumatra, who is currently in Afghanistan, may be poised to become more of a conduit between the IS leadership and potential assailants in Southeast Asia.
This is certainly possible, but similar efforts in recent years have not found much success. Senior Indonesian members of IS have attempted to coordinate operations in Indonesia while the organization still controlled territory in Syria and Iraq.
Some failed outright, like the suicide bombing of a Solo police station orchestrated by a Syria-based militant named Bahrun Naim. While others likely fell short of expectations, such as the January 2016 assault in central Jakarta, which killed the assailants and four others. The most destructive attacks associated with IS in Indonesia were more inspired by than directed from the caliphate.
Meanwhile, Indonesia's counterterrorism police unit Special Detachment 88 (Densus 88) has gone from strength to strength during this wave of pro-IS activity. Bolstered by updated legislation in 2018, which extended powers of investigation and opened new paths for prosecution, the unit has arrested hundreds of suspects on terrorism-related charges over the past three years.
The significance of the Taliban takeover in Afghanistan may well have more bearing on the pro-al-Qaeda (and anti-IS) ideologues associated with Jemaah Islamiyah (JI), which is now thought to prefer a longer game of recruitment, indoctrination, and strategic patience.
While the organization ostensibly relinquished violence as a domestic tactic in 2007, JI reportedly sent people to train with Islamist militias active in the Syrian civil war between 2014 and 2016. A long elusive JI leader was arrested in late 2020, representing the most prominent capture of renewed Indonesian law enforcement attention on the once infamous terrorist group.
The U.N. Monitoring Team wrote that links between the Taliban and al-Qaida have "grown deeper as a consequence of personal bonds of marriage and shared partnership in struggle, now cemented through second generational ties." Senior members of JI share a similar history in this struggle, and it's hard to imagine that it won't involve a future.
Ultimately, the developments in Afghanistan should be a stark reminder that the international Salafi-Jihadi movement is alive and well. It will most likely remain a source of inspiration and ideological violence for years to come. Twenty years of "Global War on Terror" have proven the movement cannot be eliminated by force, but the damage can be mitigated and potentially managed.
Indonesia's counterterrorism policing capabilities have become highly effective over the past decade, and the nation continues to experiment with social initiatives to prevent violent extremism. The key will be maintaining these strengths and enthusiasm through the inevitable peaks and troughs of future militancy.