19 Months Into the Pandemic, China Is Still Shutting Out US Students
Beijing's lack of foreign student reciprocity poses a major threat to the long-term future of the China-U.S. relationship.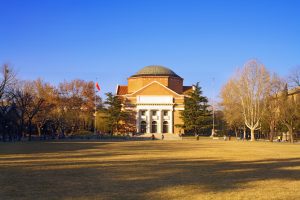 The morning of January 29, 2020 began with an unscheduled wake-up call. For some of us, it came directly: an email notification eclipsing the usual morning alarm. "We are requiring that current students leave China for the US as soon as possible," read the message from Washington, D.C. For others, the decision arrived virally. News of COVID-19's impact on student programs in China evolved at blinding speed, fueled by WeChat groups and Facetime calls with the intensity only limited comprehension can induce.
Altogether, our year-long study abroad plans ended in less than 12 hours. After leaving China in the first act of the pandemic, a door shut behind us. Nineteen months later, it remains locked.
Now, despite the United States issuing visas for Chinese students returning to campus this fall, Beijing continues to stall. This decision to withhold student visas is a case of political wants distorting legitimate public health needs. Well before a vaccine was developed, Beijing agreed with South Korea to resume visa-issuing for students looking to study in China. In a December 2020 press conference, China's Foreign Ministry spokesperson Wang Wenbin stated, "While taking effective epidemic prevention and control measures, China will assess the situation concerning resumption of studies in China for foreign students." Well over a semester later – despite the U.S. and China both surpassing a 55 percent vaccination rate – that re-assessment remains stagnant.
On July 6, another Foreign Ministry spokesperson, Hua Chunying, tweeted, "Over 500 Chinese #students' visa applications were denied by the US. Is this what the #US called freedom and openness? Is this the positive steps of the US to promote people-to-people exchanges?" Ironically, Beijing's tone only illuminates the current lack of reciprocity. Recent estimates show there are between 250,000 and 300,000 Chinese students studying in the United States – visa rejections remain an exception experienced by only 1-2 percent of applicants. But, for foreign students like us looking to return to China, critical X1/X2 student visas have all but disappeared. Despite Hua's objections, this lack of reciprocity is the true barrier to people-to-people exchange.
One of the more daunting (and less obvious) consequences of this visa freeze is a growing student acquiescence, leading many to pivot away from China. Faced with the reality of virtual study abroad and China's opaque visa process, many of our peers have walked away from their initial curiosity about China, instead opting for the transparency of Tokyo or Taipei, or wider areas of focus, such as international development. The Hopkins-Nanjing Center, Princeton in Beijing, and the Chinese Flagship Program, representing just a few China-based study programs that send countless policymaking alumni to Washington, remain in the dark.
The result renders an unsettling trend: As China-U.S. relations grow increasingly significant, access to immersive Mandarin classes and study abroad opportunities have begun to decline. If these twin trendlines continue, Washington will be forced to make world-changing decisions about a country it only recognizes from afar. More consequently, the U.S. concept of China will become increasingly derivative, reduced to a bubble of trending headlines and tweets. As the trajectory of China-U.S. rhetoric veers into Cold War territory, it's imperative that the next generation of China-U.S. relations is led with nuance. Such nuance cannot be learned behind a laptop screen 7,000 miles away.
Since 1978, academic exchange between the two countries has remained a consistent point of cooperation. Chinese students annually represent the highest international student population in the United States. In the 10 years prior to the pandemic, the number of Americans studying abroad in China increased by over 500 percent. Regardless of how adversarial the China-U.S. relationship has been or becomes, avoiding conflict requires cultural understanding, lived experience, and Mandarin proficiency – all of which come best with in-person learning.
We are not calling for open borders and unrestricted travel to China. We merely recognize that while the pandemic is not going anywhere, neither is China-U.S. tension. The current academic lock-out will precipitate a dangerous narrowing of U.S. understandings of China, as a country and a concept. The weight of such consequences, as well as the rich tradition of China-U.S. student exchange, merit a renewed effort by both sides to reach a visa agreement.
Specifically, within the Biden administration, the State Department and its Bureau of Educational and Cultural Affairs must begin pushing for student visa reciprocity with Beijing. January's tense China-U.S. summit in Alaska was but the latest sign that we are in desperate need of common ground. Collaboratively designing a blueprint for pandemic-era international student exchange can be just that.