AUKUS Without Us: New Zealand's Responses to a New Indo-Pacific Alliance
What does the Australia-U.K.-U.S. alliance mean for New Zealand?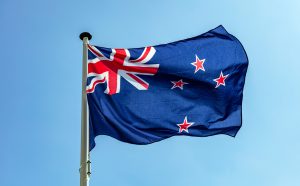 A cornerstone of Aotearoa New Zealand's foreign policy, one which has been in place for decades and was only strengthened after the Cold War, has been the concept of "independence." The term not only reflects the country's distinct geography but also a desire to eschew any policy of overt alignment toward any single great power or bloc. This is despite New Zealand's long history of engagement with the West, and especially the three states that just announced the fledgling Australia-United Kingdom-United States (AUKUS) security alliance.
That New Zealand was not invited to join this strategic arrangement, a pact which will be partially based on plans to construct nuclear-powered submarines for Canberra, was likely a source of disquiet, but also inevitably produced some relief in Wellington. Membership in AUKUS, given the group's military foundations, would have been difficult to reconcile with New Zealand's foreign policy tenets. Nevertheless, as this trilateral agreement evolves, New Zealand may feel the gravitational pull of AUKUS for some time, especially if the alliance results in a marked drop in the diplomatic temperature between next-door Australia and China.
There are two major reasons why New Zealand was unlikely to be included in the AUKUS process. The first is that the country has maintained a staunch anti-nuclear power policy since the 1980s, a stance that precipitated the decision by the United States to downgrade Wellington's status within the 1951 ANZUS Treaty. (Thus, Australia's nuclear powered subs, whenever they are deployed, would also be unwelcome in New Zealand waters).
Although the 2010 Wellington Declaration, signed by New Zealand and the United States just as the Asia-Pacific "pivot" or rebalancing policy under the Barack Obama administration was taking shape, restored much of that bilateral relationship, New Zealand has maintained its opposition to nuclear weapons or vessels in its waters. This stance is unlikely to change. Even New Zealand Prime Minister Jacinda Ardern acknowledged that her country's stance against nuclear power made it difficult to square the circle of potentially being invited into the AUKUS arrangement.
The second reason is the growing concern in New Zealand about the nation being forced to openly choose between China and the United States, given that Wellington has traditionally sought to balance between both powers, as well as its other major trading partners. An oft-cited key accomplishment in the history of New Zealand foreign policy has been the country's "four firsts" with Beijing, namely being the first developed state to conclude bilateral negotiations regarding China's admittance to the World Trade Organization (in 1997), to recognize China as a market economy (2004); to start free trade negotiations with Beijing (2004); and to successfully conclude a free trade deal with China (2008). China is New Zealand's largest trade partner, and the Ardern government has been averse to inviting the same sort of economic pressures that China has placed on other states over diplomatic disagreements, including Australia but also, in recent times, Canada, Lithuania, and Sweden.
The rebooting of the Quad security arrangement, which includes the U.S. and Australia, along with India and Japan, has enhanced Chinese engagement policies in the Pacific Islands, long seen as Australia and New Zealand's sphere of interest. Now the AUKUS announcement has underscored the problems that lie ahead. New Zealand will continue to try to strike a balance between Beijing and Washington even as new security clusters continue to manifest.
New Zealand remains part of the venerable "Five Eyes" intelligence-sharing agreement, along with the AUKUS states and Canada, and has joined many other governments in condemning Beijing's crackdown in Hong Kong and human rights abuses in Xinjiang, as well as expressing concern over Chinese activities in the South China Sea, including via a joint statement between Ardern and her counterpart in Canberra, Scott Morrison, in May this year. However, Wellington has been comparatively more wary of taking a harder stance against Beijing, and has recently been seen as an outlier in the Five Eyes quintet with regard to China policy.
In a major policy speech in April this year, Foreign Minister Nanaia Mahuta noted the importance of business ties with China, but also called for a more diversified set of trading partners, reflecting a tendency in many New Zealand policy circles to view China as more of an economic challenge than a strategic one. One pressing question is how AUKUS will affect future Five Eyes activities, given that Canada and New Zealand are not members of the former grouping. Faced with this new regional strategic reality, Wellington may seek to better associate its China policies with AUKUS, or may be prompted to pursue tacit strategies more consistent with greater non-alignment.
Another test of this balancing act will shortly take place in the wake of Beijing's confirmation, on the heels of the AUKUS announcement, that it would seek to join the Comprehensive and Progressive Agreement for Trans-Pacific Partnership (CPTPP), an 11-member trade agreement that includes Australia and New Zealand. The United States under the Trump administration opted to withdraw from an earlier version of the CPTPP, and there had been longstanding speculation that China would soon seek to step in. New Zealand was a founding member of a small state free trade pact, the P4, in 2006, which would eventually become the CPTPP, and it remains the Asia-Pacific's loudest supporter of regional liberalized trade. However, the process to admit China to the CPTPP may well be overshadowed by the regional splits caused by AUKUS.
There will be a considerable time lag been now and when the specifics of the AUKUS agreement are more well known, and a much longer interval before the promised submarines for Australia actually appear. In the interim, however, the effects of AUKUS on those governments outside of the pact, including New Zealand, will also be important, given concerns that a more defined cold war in the Asia-Pacific region may be quickly coalescing. The submarines aside, the stage has now been set for the intensification of overall military activity in the Asia-Pacific, not only by AUKUS but also due to the power balancing measures by Beijing that will inevitably follow.
While New Zealand may benefit in some ways from being excluded from AUKUS, it will now have to seriously rethink how it can maintain its foreign policy of independence at a time when lines are being more visibly drawn throughout the Pacific Rim.