AUKUS Door Held Ajar for New Zealand
Could nuclear-free New Zealand join an alliance centered on nuclear submarines?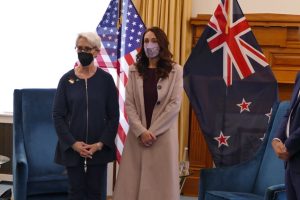 Last week's visit to New Zealand by U.S. Deputy Secretary of State Wendy Sherman was another in a series of high-level calls on the country by top U.S. military and political figures this year.
Sherman's trip to Wellington came soon after a stop in New Zealand's capital by Admiral John Aquilino, the head of the U.S. Indo-Pacific Command, and only two months after a visit by Mark Lambert, a U.S. deputy assistant secretary of state with responsibility for East Asia and the Pacific.
A tangible outcome of Sherman's trip was the signing of a new "Framework Agreement" to underpin cooperation between New Zealand and the United States in the space sector.
On the surface, this might appear to be largely unrelated to growing geopolitical tensions. But Rocket Lab, New Zealand's main player in the space industry, is carrying out a growing number of satellite launches and reportedly undertakes a third of its activities on behalf of U.S. military agencies.
In early August, Rocket Lab launched a satellite for the National Reconnaissance Office (NRO), the U.S. government agency responsible for constructing and operating the country's spy satellites.
Unsurprisingly, the company prefers to highlight its more science-focused missions, such as its June launch for NASA of a mini "CubeSat" satellite bound for the moon.
The significance of New Zealand-U.S. space cooperation is such that New Zealand Prime Minister Jacinda Ardern laid the groundwork for the space deal when she met U.S. Vice President Kamala Harris as part of Ardern's trip to Washington, D.C. at the end of May.
Away from the goings on in outer space, Sherman would have had much to discuss with Ardern in private when it comes to New Zealand's immediate neighborhood.
A brief State Department account of the meeting said the Sherman and Ardern "highlighted the importance of coordinating U.S.-New Zealand efforts in the Pacific."
Notwithstanding recent recalibration attempts by Ardern, New Zealand has this year more closely aligned itself with U.S. and Australian positioning when it comes to China's ambitions, especially in relation to the Pacific.
As Sherman was keen to point out, New Zealand recently joined the United States' new "Partners in the Blue Pacific" grouping, which also includes Australia, Japan, and the United Kingdom.
Still, New Zealand remains outside the "harder" security-focused arrangements such as the Quad and AUKUS.
To this end, comments by Sherman on AUKUS – the new pact involving Australia, the United Kingdom and the United States – provide some insights into the U.S. strategy with regards to New Zealand's potential future role.
Ardern's original line on AUKUS when it was launched in September 2021 was that it had little to do with New Zealand, given that its main aim was to supply Australia with nuclear-powered submarines.
When asked at the time whether New Zealand had been asked to join, Ardern reiterated New Zealand's nuclear-free policy and said, "We weren't approached, nor would I expect us to be."
Last week, Sherman appeared to recognize New Zealand's nuclear-free roadblock, but when asked about New Zealand's potential participation she told an interviewer that there could be "scope for others to join" when "other emerging technologies" were considered.
The potential place that Sherman sees for New Zealand within AUKUS is not without foundation. New Zealand's views on AUKUS have always been more ambiguous than they appeared on the surface. While Ardern seemed to rule New Zealand out of the group when it was unveiled last year, she also said, "[W]e welcome the increased engagement of the UK and US in the region."
And last November, Annette King, New Zealand's high commissioner to Australia, said New Zealand could potentially join AUKUS to cooperate on cybersecurity technologies. In December, Defense Minister Peeni Henare appeared to endorse this approach when he cited the "technology gains" that AUKUS would generate. At the time, Henare expressed a willingness to "leverage off that particular opportunity."
But by accepting, welcoming and even considering signing up to AUKUS – or at least elements of it – for pragmatic reasons, New Zealand is arguably turning a blind eye to wider nuclear proliferation concerns that arise from the pact.
Helen Clark, a former Labor prime minister who is closely identified with New Zealand's nuclear-free policy, last week called the original nuclear-powered submarine purpose of AUKUS a "defining reason for NZ never joining."
Australia and its U.S. and British allies have been at pains to emphasize that AUKUS deal only involves supplying Australia with nuclear-powered submarines, not nuclear weapons.
However, as Indonesia – an AUKUS skeptic – pointed out in a submission to this month's U.N. review of the Treaty on the Non-Proliferation of Nuclear Weapons (NPT), the submarine deal effectively exploits an NPT loophole and sets a poor precedent for others.
In theory, the highly-enriched uranium in the nuclear-powered submarines being purchased by Australia from the U.S. and U.K. could also be repurposed for nuclear weapons.
New Zealand's nuclear-free principles motivated it to sign the U.N. Treaty on the Prohibition of Nuclear Weapons (TPNW) in 2017, one of only a handful of Western countries to do so. After receiving ratification from 50 countries, the TPNW officially entered into force on January 22 this year.
Despite this success, 2022 is shaping up as a bleak year for nuclear proliferation and safety.
In Ukraine, the Zaporizhzhia nuclear power plant – Europe's biggest – is currently a target for shelling and is serving as cover for Russian tanks and rocket launchers, in part thanks to the plant's strategic location on the banks of the Dnipro river.
Meanwhile, Russian President Vladimir Putin is poised to shift nuclear weapons into neighboring Belarus, which is assisting Russia in its war on Ukraine. A referendum held in Belarus in February approved the revocation of the country's non-nuclear weapons status.
Elsewhere, prospects for the revival of the Iran nuclear deal seem mixed at best, despite some progress by EU negotiators who have reportedly brokered a final draft. The draft supposedly contains workarounds for sticking points, such as the status of Iran's Islamic Revolutionary Guard Corps (IRGC). But it is far from clear that these compromises will be acceptable to the U.S. side, especially after an apparent plot by an IRGC member to kill former U.S. National Security Advisor John Bolton was revealed.
Phil Twyford, New Zealand's disarmament minister, noted the dangers of the Iranian and Russian nuclear threats – along with risks posed by North Korea – in a speech to the NPT review conference held at the U.N. in New York earlier this month.
In his address, Twyford warned that the world was "in real danger of moving backwards" when it came to a goal of zero nuclear weapons, adding that "more nuclear weapons – whether in the hands of the existing nuclear weapons states or others – will not make us safer."
Twyford made no mention of the nuclear proliferation problem posed by AUKUS.
There is no doubt that the AUKUS arrangement is of a very different nature and caliber to the nuclear programs run by the likes of Iran, North Korea, and Russia. Despite this, real nuclear risks remain from Australia's AUKUS deal.
Surprisingly, nuclear-free New Zealand may be inching toward becoming part of it.
This article was originally published by the Democracy Project, which aims to enhance New Zealand democracy and public life by promoting critical thinking, analysis, debate, and engagement on politics and society.