Australia-India 2+2 Dialogue: Converging Interests
New Delhi and Canberra have had to bear the brunt of increasingly belligerent Chinese behavior in the Indo-Pacific, pushing their bilateral relationship to new heights.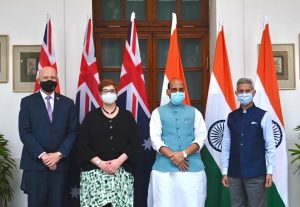 India and Australia last week held their inaugural 2+2 Ministerial Dialogue. Australian Minister of Foreign Affairs Marise Payne and Defense Minister Peter Dutton traveled to India for an in-person meeting. That the two countries have kickstarted this new format of engagement suggests the growing trust and comfort level between India and Australia. Given that both New Delhi and Canberra have had to bear the brunt of increasingly belligerent Chinese behavior, including the use of force against India and trade coercion against Australia, these fast-paced strategic developments are understandable.  
Indian Prime Minister Narenda Modi and Australian Prime Minister Scott Morrison met for a virtual summit in June 2020, at which the two sides elevated their relationship to a Comprehensive Strategic Partnership (CSP). The Australian foreign minister during a recent statement to the press said that the 2+2 dialogue is a direct result of the elevation of the relationship.
During their meeting, the joint statement noted, the four ministers reiterated "their commitment to fully implement the CSP based on mutual trust and understanding, common interests and shared values of democracy and rule of law." Further they highlighted "the importance of advancing their shared objective of an open, free, prosperous and rules-based Indo-Pacific region, in line with India's increasing engagement in the Indo-Pacific region through the Indo-Pacific Oceans' Initiative and Australia's Indo-Pacific approach and Pacific Step-Up." The 2+2 dialogue will be held at least once in two years to maintain the traction in the relationship.  
Some of the major takeaways from the Australia-India Ministerial Dialogue include enhancing supply chain resilience and strengthening cooperation in the maritime domain. The latter that would enable deeper partnership between the two countries on a range of maritime-related themes such as maritime domain awareness, broadening linkages between maritime agencies, combating challenges like marine litter, and focusing on illegal, unreported and unregulated (IUU) fishing. The ministers also appreciated the presence of a liaison officer from Australia at the Information Fusion Centre – Indian Ocean Region, based in Gurgaon. 
The ministers used the opportunity to reinforce "their commitment to maintaining a free, open, inclusive and rules-based Indo-Pacific region" and emphasized the need for the South China Sea Code of Conduct, currently under negotiations between China and ASEAN, to be consistent with international law, especially the United Nations Convention on the Law of the Sea (UNCLOS). The ministers reiterated their commitment to strengthen their work through a number of trilateral and other minilateral platforms in the Indo-Pacific, including the Quad. Other areas that found prominent mention in the press statement include defense trade cooperation, including continued dialogue between the Defense Research and Development Organization (DRDO) of India and Defense Science and Technology Group of Australia, information sharing, and strengthening interoperability through augmented number of bilateral and multinational exercises.
Australia-India relations have been improving for several years, but relations have seen a dramatic shift in the last couple of years, evident in the number of high-level engagements between the two sides. With worsening relations between India and China as well as Australia and China in recent years, both New Delhi and Canberra have been realigning their interests and partners, and those connections will likely grow manifold in the coming years. After many years, Australia was finally invited back to the Malabar naval exercise last year. For Australia, even as the U.S. security alliance remains central to their security, Canberra has been expanding its Asian partnerships in the Indo-Pacific.  
India, for its part, long avoided taking sides between the U.S. and China. While Sino-Indian relations have been in trouble for several years, the Galwan confrontation in 2020 brought the relationship to an all-time low. India had attempted to reset and improve relations with China after the Doklam confrontation in 2017, though that went nowhere. The Indian response to Galwan has been very different and much tougher, partly because 20 Indian soldiers died. As a result, India has decided to pursue closer strategic engagements with a number of like-minded partners in the Indo-Pacific, especially Australia.
Australia has also seen more than its fair share of bullying behavior from China, much of it because Morrison asked for an independent inquiry into the origins of the COVID-19 pandemic in April 2020. Since then, China has engaged in severe economic and trade coercive practices against Australia, targeting everything from barley, beef, seafood, wheat, and wine to coal, cotton, copper, education, and timber.  
Augmented Australia-India ties within bilateral, trilateral, quadrilateral, and other minilaterals and multilateral institutions are a reality that is unlikely to slow down for the foreseeable future. The convergence of strategic interests in ensuring an Indo-Pacific order that is free of hegemonic and muscular policies is a glue that will bind India and Australia further in the coming years. The two will likely also expand their partnership both in pursuing strategic partnerships and thematic ones like supply chain resilience initiative.