India's Family Planning: Moving the Needle from 'Control' to 'Choice'
India's family planning program focuses on birth limitation rather than planning, is skewed toward female sterilization, and excludes youth from the conversation.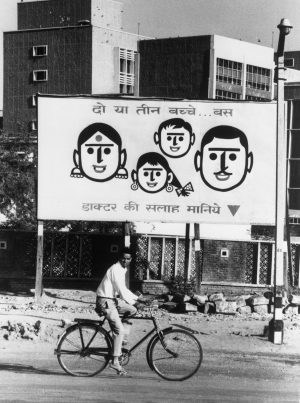 India, which has the oldest family planning program in the world, is a key stakeholder in various global commitments on the matter. However, it has not always been successful in moving the needle from family planning to contraception.
With changing times, technology, and needs, family planning should be viewed in the larger context of choice as well as sexual and reproductive rights. However, at present the focus is on birth limitation rather than planning, which completely excludes youth and young people from the conversation on sexual and reproductive health and rights (SRHR).
The needs for modern methods of contraception of 13 percent of the population are unmet, whereas the basket available in public health is limited and current contraceptive practices are heavily skewed toward female sterilization. When it comes to Long Acting Reversible methods of Contraception (LARC), the only LARC available in the public health sector are Intra-Uterine Contraceptive Devices (IUCDs), which have not seen much use in spite of being available for many decades.
National Family Health Survey (NFHS)-V phase-1 data of 22 states/union territories shows that out of the 61.3 percent of women currently using Family Planning Methods, only 50.9 percent reported use of modern methods. Female sterilization accounts for 30.1 percent and merely 3.6 percent of women in the reproductive age group prefer IUCDs.
In recent years, the private sector has introduced new contraceptives such as hormonal IUCDs and injectable DMPA. However, the lack of investments by private marketers to create a demand for these options, the lack of access to them, and affordability at which they are offered are some of the issues affecting the popularity of LARCs. Less than 1 percent of women have used injectable contraception for family planning as per NFHS-V phase-1 data. On the one hand, their high costs have restricted their reach to Tier-I towns only and on the other, contraceptive implants are not available in the public sector to date.
The private sector plays an important role in improving access to contraceptives and family planning services. Mission driven organizations, social marketing organizations, and NGOs have been able to reach the marginalized population with crucial sexual and reproductive health services and contraceptive options. Data from NFHS-IV shows that the private sector accounts for 24 percent contraceptive provision in India.
In the case of implants, data from various medical and global research studies suggest that they are an extremely safe and effective method and have been well received in many countries. Approved for use in the private sector in India, priced at $42, implants were launched in the top five cities, with the cost to clients ranging between $50 and $200. Due to price constraints the product becomes inaccessible to rural and marginalized women.
India's contraceptive needs require a shift towards inclusion and choice. To meet the rising demand for modern methods, it is critical that future programmatic efforts provide methods that are both accessible and acceptable to users. Introducing implants in the public sector would improve choice as well as uptake of modern methods of contraceptives.
National surveys of several sub-Saharan African countries have revealed increased implant use as the main driver of improvement in modern contraceptive prevalence rate (mCPR), with gains in implant use alone exceeding combined gains in use of injectables, pills, and IUCDs.
In a study conducted in India to determine acceptability, efficacy, safety, and return of fertility with Implanon, a subdermal single-rod contraceptive implant, it was found that Implanon was an extremely safe, effective, well-accepted method of contraception. The study also highlighted the advantages of this contraceptive method, including independence from user-compliance, prompt return of fertility after removal, and suitability for a wide range of women.
Implants make family planning possible throughout reproductive life; it can be used to postpone a first pregnancy, to space out pregnancies, or to provide reversible, long-term contraception when the desired family size is reached. Since implants do not contain the hormone estrogen, they can also be used by women who do not want to or cannot use combined oral contraceptives. Moreover, implants are found to be 99 percent effective in terms of cost and use in comparison to other contraceptives.
India's CPR is highly dominated by sterilizations, while the unmet needs for contraception are more for the conventional reversible methods than that of terminal methods. Introducing implants in the public sector would not only improve choice and avoid discrimination but it can transform the health and lives of women. Hence, there is a need to include implants in public sector quickly to improve choice and avoid discrimination.