Iran's Membership Raises the SCO's Profile – and Expectations
After adding Tehran to its ranks, the SCO will face its biggest test yet: maintaining stability in Afghanistan.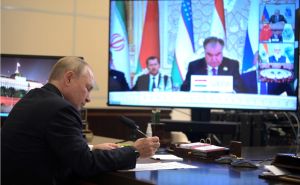 One of the highlights of last week's Shanghai Cooperation Organization (SCO) summit was when Chinese President Xi Jinping announced the commencement of procedures to grant Iran full membership in the SCO.
Iran's ascension to full SCO member was widely seen to be inevitable, considering the comprehensive strategic partnership agreement Iran signed with China last March and a similar agreement Iran subsequently signed with Russia.
As unsurprising as it is, Iran's full membership in the SCO is significant. With the admission of Iran, the SCO now has all the relevant players to address regional issues ranging from security, connectivity, and economic development.
The SCO as a Force to Reckon With
Founded in 2001, the SCO is a security bloc led by the strongest countries on the Eurasian continent, Russia and China. It aims to set a strong precedent of cooperation between the Central Asian states and other regional actors to execute key objectives like ensuring regional peace and security; eliminating extremist, separatist, and terror organizations; and facilitating economic cooperation.
The SCO has increased its membership over the years. In 2017, Pakistan and India acquired full membership. Iran's membership will cap off 16 years of effort from Tehran to upgrade its observer status. Afghanistan, Mongolia, and Turkey are currently observer states. Recently, Qatar, Egypt, and Saudi Arabia were added as dialogue partners.
Pakistan, Iran, Russia, and China (PIRC) have the incentive, interest, and opportunity to use the SCO to establish a regional order. That's why the meeting of their top diplomats on the sidelines of the SCO was seen as the making of another "Quad" to rival to Australia-India-Japan-U.S. bloc.
To a great extent, the future of the SCO largely depends on its ability to strengthen convergences and work out differences between members. Without this, the SCO will struggle to fulfill its mandates.
Counterterrorism and Regional Security
Stabilizing Afghanistan or at least minimizing the spillover effects of any conflict or civil war in the country is the SCO's top priority. Considering the history of the Taliban, Afghanistan could become a base for terror networks like Islamic State, al-Qaida, and the East Turkestan Islamic Movement to operate.
Pakistan has a 2,670-kilometer long border with Afghanistan, commonly known as the Durand Line, which has been disputed by every Afghan government. This runs adjacent to Pakistan's western tribal belt, so naturally, any negative developments in Afghanistan will create a direct impact on Pakistan's stability. Pakistan expects Afghanistan's new government to not support terror outfits like the Tehreek-e-Taliban Pakistan (TTP), Islamic State, and any al-Qaida affiliates.
Although China shares a small border with Afghanistan via the Wakhan corridor: Beijing fears ETIM could not only draw inspiration from the Taliban but also use Afghanistan as a staging area for attacks. It is for this reason China has called on Afghanistan to break ties with ETIM.
Iran and Russia have also been vocal about avoiding such a scenario. Against this backdrop, it is widely expected that PIRC would lead coordination efforts within the SCO to create regional frameworks against terrorism. Already, the SCO's Regional Anti-Terrorist Structure (RATS) has been functional since 2005. However, there's a need to develop a common strategy for a more consistent and hands-on engagement with Afghanistan, as opposed to making one-on-one deals with the Taliban-led country.
Asian Connectivity and Geoeconomics
Afghanistan is an acid test for the SCO. If it collapses into chaos, the SCO's capacity and effectiveness will be questioned. Furthermore, the potential of Afghanistan to boost regional connectivity and economic development will not be realized. This explains the enormous attention SCO members, particularly the PIRC axis, are paying to Afghanistan.
As Pakistan also hosts the China-Pakistan Economic Corridor (CPEC), a flagship project under China's Belt and Road Initiative (BRI), security and counterterrorism tops the priority list when cooperating on Afghanistan. For China, Afghanistan is not just a mercantilist client, but a test of its ability to secure stability in the region.
Beijing and Moscow both visualize Afghanistan as the missing piece in their connectivity projects all across the region. The importance of Afghanistan to China can be best understood from a statement by former Chinese ambassador Yao Jing, who famously said, "Without Afghan connectivity, there is no way to connect China with the rest of the world."
Since 2018, China has been pushing forward the merging of BRI/CPEC with Afghanistan. It wants to reap strategic benefits from Taxkorgan, Wakhan, and Gwadar along its western borders. With the Taliban voicing support for the BRI and calling China a "trustworthy friend," this is a boost to China's ambitious plan for the region. However, a stable government in Afghanistan is key for any of China's connectivity projects to be economically viable and functional. Therefore, Pakistan and China are willing to accommodate the Taliban with geoeconomic incentives and to curb the flow of extremist ideology.
The SCO offers Tehran a platform to reverse its isolation and position itself as a bridge to landlocked Central Asian states. This was evident from then-Foreign Minister Javad Zarif's visit in early 2021 to the Central Asian states. Iran is keen to advance the Iran-Afghanistan-Uzbekistan corridor, which connects cities like Mazar-i-Sharif and Herat directly to Iran's Chabahar port, which has Chinese attention as well. China has already expressed a willingness to link Iran and Pakistan.
Afghanistan's geoeconomic importance goes beyond boosting connectivity, however, given its deposit of strategic minerals and metals valued at over $1 trillion. Russia and China thus have an extra incentive to stabilize Afghanistan in order to access strategic minerals that are critical to building the high-tech products that will drive the Industrial Revolution 4.0 and the batteries that will power them.
Shared Ambition of Revisionism
The U.S. withdrawal from Afghanistan is widely seen as the formal end of the 9/11 era, during which counterterrorism was the centerpiece of the U.S. national defense strategy.
While SIGAR reports excellently explain the dynamics that caused the Afghan war fatigue, culminating in a withdrawal, the short answer is that U.S. foreign policy priorities have changed since the Trump administration. The U.S. withdrawal from Afghanistan was seen as a step to free up resources for great power competition with Russia and China.
As a candidate, Donald Trump put the threat emphasis on China, Iran, and Russia; as president he followed through with policy. He signed several executive orders sanctioning Chinese mega-companies like Huawei, including some involved in the BRI. China responded with its own sanctions on U.S. companies. To this day, China and the United States are still erecting trade and investment barriers against each other.
Russia-U.S. relations are at their lowest point since the Cold War. While President Joe Biden overturned Trump's sanctions against the Nordstream 2 pipeline, relations between Moscow and Washington have remained fraught.
Meanwhile, Trump took the United States out of the JCPOA, and levelled even more sanctions on Iran than before the nuclear deal. In response, Iran has increasingly broken its commitments to the deal. Multilateral talks in Vienna aimed at salvaging the JCPOA have failed to yield concrete results.
While it is impossible to state the full impact great power competition will have on every region of the world, in Central Asian it is incentivizing Russia, Iran, and China to deepen their cooperation. This is what makes the SCO crucial for PIRC. It provides a platform for military cooperation, and to drive regional economic cooperation with the aim of reducing PIRC dependence on Western markets and increasing resilience against Euro-American sanctions and decoupling.
Managing Competition and Rivalries Between Members
Despite these shared interests and convergences, it would be naive to ignore the divergences within the SCO, starting with the obvious rivalry between India and Pakistan. Even PIRC will be at best a marriage of convenience.
Iran and Pakistan don't have the best of relationships, especially following assumptions about Islamabad's backing of the Taliban in squashing the northern resistance in the Panjshir region of Afghanistan.
China's growing dominance in Central Asia is said to be a concern for Russia, which considers the region to be its sphere of influence.
There's a lot of ambiguity about what China really wants as a global power. This is because its closed political system and decision-making process make it difficult for other powers to gain clarity on China's real objectives. This lack of clarity creates doubt at best and suspicion at worst.
These divergences between PIRC countries are precisely why the SCO is important. It provides a high-level multilateral platform for communication and consensus-building, where the big powers can interface with one another on big issues, and perhaps discuss security guarantees.
With the SCO now featuring all the key powers in Central Asia, the SCO looks fit-for-purpose. Unlike the Australia-India-Japan-U.S. Quad, the SCO is about regional construction, not contest. But like all international organizations, areas of convergence and divergence exist among members. What is peculiar is that divergences that could paralyze the organization are mostly between members of the PIRC axis, who are more united today than they've ever been. As such they're well positioned and motivated to address the hot-button issues.