Is Nepal's Secularism Under Threat?
Growing calls for a Hindu state underline popular dissatisfaction with Nepal's long stretch of political instability.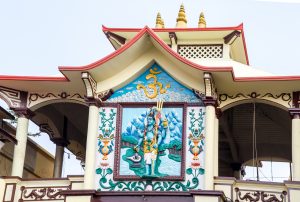 On July 26, Rabindra Mishra, a veteran and charismatic former journalist who now leads the Bibeksheel Sajha Party, proposed dismantling Nepal's federal structures and holding a referendum on maintaining Nepal's current secularism or reverting to a Hindu state. His proposal attracted fierce criticism from advocates of secularism and has been challenged by his own party colleagues.
Mishra's proposal is unlikely to have any immediate and significant impact in national politics because his party's influence is very limited. But the argument it sparked has given a fresh boost to a section of Nepali society that is pushing for a rethink of both secularism and federalism. For example, on August 19, former Nepal Army Chief Rukmangad Katwal launched a Hindu state campaign.
Fifteen years after Nepal was declared a secular republican country, there are still complaints that the decision was taken without broader consultation. There have long been some pro-Hindu forces in Nepal seeking to reverse course on secularism; now, new forces are coming out with the demand that people should be allowed to make their choice through the ballot box. The reinstated Parliament in 2007 decided to turn Nepal into a secular state, which was accepted by the new constitution that was drafted and passed in 2015. Though there has not been a specific referendum on those issues, the electoral victory gained by pro-secular parties was largely taken as the people's endorsement.
There are a few reasons behind the growing voices in favor of a Hindu state.
First, pro-Hindu forces are saying that forced conversions are taking place, mainly in far-flung areas targeting poor people, posing a threat to the Hindu religion. As soon as Nepal was made into a secular republic, pro-Hindu forces began complaining about supposedly systematic attempts to encourage forced conversions. These same voices have been continuously and consistently criticizing Nepali governments for failing to implement anti-conversion laws. Pro-Hindu forces are feeling insecure and alienated under the current political system. They are of the view that secularism has turned into a fertile ground for conversions, and for the erosion of Hinduism.
From the very beginning, when Nepal's monarchy was scrapped, some pro-Hindu forces were unhappy with the federal republican system. Among them was the Rastriya Prajatantra Party, led by Kamal Thapa, and other pro-Hindu forces. Thapa's key agenda items are the revival of both a Hindu state and the monarchy. Other Hindu organization frequently march to demand the return of Hindu state; last year, just before the dissolution of Parliament, thousands of Hindu protesters came to the street.
Second, even the mainstream parties, which are the main drivers of federalism and secularism, are seeking a popular agenda that can attract voters. Many think that Hindu nationalism could become a viable electoral agenda because more than 80 percent of Nepalis are Hindu devotees. Across parties, there are politicians who see pro-Hindu stances as an electoral benefit.
The major parties – the Nepali Congress (NC), the Communist Party of Nepal-Unified Marxist Leninist (CPN-UML), and the CPN-Maoist Center – are the champions of secularism and federalism in Nepal. Now, there are strong voices inside each of those parties calling for the constitution to be amended to restore Nepal as a Hindu state. The official positions of the parties in favor of secularism remain unwavering, but leadership is under growing pressure to abandon that stance and declare for Hinduism instead.
Although they remain formally committed to secularism, even Nepal's top leaders are using different tricks to appeal to Hindu majoritarianism. CPN-UML chairman and former Prime Minister K.P. Sharma Oli, in power from 2018 to 2021, took steps to appease the Hindu constituency, and now has emerged as a de facto leader of Hindu forces.
Inside the currently ruling NC as well, there are strong voices in favor of a Hindu state. Even top leaders are expressing displeasure over secularism. In 2018, when the NC organized its Mahasamiti meeting, half of the representatives of its 1,500 members signed a document demanding the party speak in favor of a Hindu state, although such demands were turned down by leadership. All these efforts to appease the Hindu constituency are politically motivated.
Third, there is the influence of India's Bharatiya Janata Party (BJP). The Hindu nationalist BJP has been ruling India for seven years now and is a formidable force. Looking at that example, many in Kathmandu believe that Hinduism could become a prominent agenda to bolster their own party's strength. In addition, the BJP itself and its ideological wing, Rashtriya Swayamsevak Sangh (RSS), are encouraging Hindu forces in Nepal. Like Nepal's pro-Hindu forces, they are mainly concerned over forced conversions. Even the top BJP leaders are of the view that Nepal should become a Hindu state.
Fourth, after a political sea change in 2008, Nepal's mainstream political parties have failed to steer the country toward stability and prosperity. Instead, political instability continues to plague the country, service delivery is dismal, corruption is rampant, and unemployment is rising. Due to the split in Nepal's major parties, securing political stability remains a distant dream. Faced with these disappointments, some people have started saying that Nepal's previous system was better than the current mess. Some forces want to dismantle the secular republican system altogether, and they are trying to exploit the frustrations of people.
The calls to overturn secularism are one sign of growing dissatisfaction with the political system that Nepal adopted in 2008. The federal republican system has failed to ensure political stability, control corruption, and improve service delivery – more than that, successive governments have failed to bring socioeconomic changes in the country.
There were hopes and expectations that there would be stability after the promulgation of new constitution in 2015 and subsequent national elections in 2017. A strong government led by the unified Nepal Communist Party was formed in 2018 with a five-year mandate to rule, which sprouted a hope for stability. Instead, intra-party squabbling led to the collapse of government, further stoking frustration and despair among Nepalis. Even after the next elections, the chances of a stable government appear slim, as no single party is likely to secure a majority of seats in Parliament. As Nepalis are well aware by now, a coalition government means more instability.
Pro-Hindu forces pose a serious threat to mainstream political parties, who take ownership of secularism and federalism in Nepal. If political parties fail to provide much-needed political stability to the country, ensure good governance, and improve service delivery, popular demands to reverse course will gain ground. Growing pro-Hindu voices should serve as wake-up call to mainstream political parties to mend their ways.