Philippine Boxing Champ Manny Pacquiao Enters the Presidential Ring
Pacquiao's candidacy threatens to spoil President Duterte's hopes for a smooth transition to an anointed successor.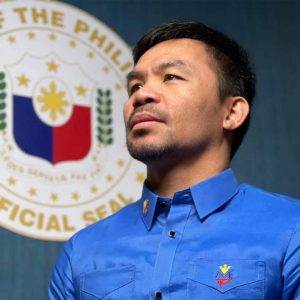 The Philippine boxing star Manny Pacquiao has officially announced that he will run for president at next year's elections, bringing to a head the split within the ruling PDP-Laban party.
The 42-year-old Pacquiao, who has been a senator since 2016, was nominated by his faction of PDP-Laban during a national assembly that it held yesterday. "I'm a fighter and will always be a fighter, inside and outside of the ring," Pacquiao said at the event. "All my life, I haven't backed down from any fight. Nothing is impossible if it's ordained by God."
The nomination took place a few days after a rival faction of the party nominated Duterte's long-time aide, Senator Christopher "Bong" Go, as its candidate for president, with Duterte as his vice presidential running mate. Critics have denounced the move as Duterte's attempt to make an end-run around the constitution's presidential term limit.
The 42-year-old boxing champion's announcement reflects the split that has opened up within the PDP-Laban party in the final year of Duterte's single six-year presidential term. Since the start of the year, Pacquiao has rapidly pivoted from a reliable ally of Duterte – both hail from the southern island of Mindanao, a region that has long been marginalized in Philippine politics – to one of his most trenchant critics.
Prior to his announcement, Pacquiao, who has served in the Senate since 2016, attacked Duterte's policy toward China, which has involving soft-pedalling disputes in the South China Sea for promises (mostly unrewarded) of Chinese infrastructure funding. He has also lambasted the corruption that has allegedly flourished under the Duterte administration, promising to launch a far-reaching corruption probe, including into the claim that more than 10 billion pesos ($200 million) in COVID-19 pandemic aid intended for poor families was unaccounted for. (However, Pacquiao has been less critical of the Duterte's deadly drug war, the virtues of which he has previously lauded, and has also called for death by firing squad for drug pushers.)
"We need progress, we need to win against poverty, we need government to serve our people with integrity, compassion, and transparency," said Pacquiao, echoing the promises of countless past presidential candidates, including Duterte himself.
Relations between Pacquiao and Duterte began to deteriorate in March when members of the party signed a resolution calling on Duterte to run as vice president in 2022, at the conclusion of his single six-year presidential term. Pacquiao, then president of PDP-Laban, subsequently attacked his party mates for the "unauthorized" suggestion, and that he "did not sanction that as acting party president."
The growing tensions resulted in Pacquiao being voted out as PDP-Laban leader in July, amid calls from Duterte called on his allies in ruling party PDP-Laban to "stand together and remain united." But the pro-Pacquiao faction has refused to recognize the move, culminating in yesterday's national assembly. The faction led by Duterte and the party's vice chairman, Energy Secretary Alfonso Cusi, has petitioned the Election Commission to declare Pacquiao and his allies illegitimate officers of the ruling party.
While Bong Go has since declined running, Pacquiao's announcement could upset the plans for a smooth transition from the still-popular Duterte to a chosen successor. By all accounts, Pacquiao will seek to rerun the same playbook that Duterte used to achieve his shock victory at the presidential elections in 2016: by depicting himself as a figure who hails from outside the charmed circles of the country's political and economic elite.
"For those asking what are my qualifications, have you ever experienced hunger?" Pacquiao asked his faction's national assembly yesterday. "Have you ever experienced having nothing to eat, to borrow money from your neighbors or to wait for leftovers at a food stall? The Manny Pacquiao that is in front of you was molded by poverty."
Despite his immense popularity as a sporting hero, however, Pacquiao trails the front-runners by a wide margin. In June the local pollster Pulse Asia found that just 8 percent of surveyed adults said that they would vote for Pacquiao as president, behind Duterte's daughter Sara Duterte-Carpio (28 percent), Manila Mayor Isko Moreno (14 percent), Ferdinand "Bongbong" Marcos Jr. (13 percent), and Senator Grace Poe (10 percent).
Even if Pacquiao doesn't win, it could spoil Duterte's plans to crown his successor at next May's election, potentially splitting the vote from Mindanao, where Duterte did well in 2016, and bolstering his opponents. The president's approval rating has slumped somewhat in recent months, in response to his administration's lethargic response to the COVID-19 pandemic. According to a recent survey from Publicus Asia, Duterte's approval rating stood 65 percent. While Western politicians would kill for such healthy numbers, this nonetheless represents a significant reduction from his past ratings, which have at times exceeded 90 percent.
All of the available evidence suggests that Pacquiao faces a long road to Malacanang, especially in the context of the present divisions within PDP-Laban. But if Duterte's 2016 campaign showed anything, it is that it is impossible to rule anything out.