How Long Will Rodrigo Duterte Remain Neutral in the Philippine Election?
So far the Philippine leader has refrained from anointing a successor. But he could just be waiting for the right moment.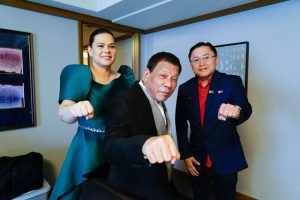 During a recent provincial election rally, Philippine President Rodrigo Duterte reiterated his decision about not endorsing any presidential candidate, despite several hints that he is poised to anoint former Senator Ferdinand Marcos Jr. as his successor. Duterte has endorsed the local and senatorial candidates of his party but he stopped short of naming his choice for president by claiming that he is neutral.
Duterte could be simply being coy but it is more likely that he is just biding his time and waiting for the right political moment before making an announcement. As a cunning veteran politician, Duterte is known for making contradictory statements intended to confuse the public, especially his rivals. This is evident not just in his remarks but also in the actions of his subordinates.
After his daughter Sara Duterte-Carpio decided to run for vice president as the running mate of Marcos, Duterte didn't hide his displeasure. Without mentioning Marcos, he said that one presidential candidate was a cocaine user as well as being a spoiled brat and a "very weak leader." The campaign started in February without a word from Duterte on whether he was referring to the son and namesake of the late dictator.
In the past month, several of Duterte's Cabinet members and loyal influencers publicly endorsed the presidential candidacies of Manila Mayor Isko Moreno and Vice President Leni Robredo. Even some leaders of the ruling PDP-Laban party came out to support Robredo, a known critic of the president. They added that it is not inconceivable that Duterte might endorse Robredo, especially when the president expressed his preference that the next president should also be a lawyer. Robredo is the only lawyer among the leading presidential candidates. Both Moreno and Robredo welcomed the prospect of being endorsed by Duterte, but the latter remained silent about his endorsement.
Duterte soon castigated another presidential candidate for allegedly colluding with the communist movement. Again, Duterte didn't mention any name nor did he present evidence to back his accusation but he could be targeting Robredo since she is the only candidate endorsed by leftist groups.
When Robredo received the backing of a party which is supporting another presidential candidate, it was suddenly announced that Duterte met Marcos in the presidential palace for a dialogue. After this, the president's son told the media that it is highly probable that Duterte will pick Marcos.
Last month, the ruling party finally announced that it was backing the candidacy of Marcos, but it immediately clarified that the president has not yet made up his mind about who to support in the election. Duterte continued to be silent and in a televised speech, he casually asked the Bureau of Internal Revenue (BIR) about its failure to collect estate taxes. Among the presidential candidates, it's only the family of Marcos who is being ordered by the BIR to settle its unpaid family estate tax.
Despite the seemingly confusing statements of Duterte and some officials of the ruling party, it is doubtful whether the president will readily and openly endorse another candidate other than Marcos. The president's daughter, his party, and his close allies like former President Gloria Arroyo have already affiliated themselves with Marcos. Marcos is the only candidate who has not publicly criticized Duterte and he vowed to continue the successful programs of the current administration. If Duterte needs a guarantee that the next government will not easily hand him over to the International Criminal Court which is investigating him for the abuses linked to the bloody "war on drugs," most observers think he can get this protection under a Marcos presidency.
What gives Duterte's stand on being neutral when everybody is expecting him to endorse Marcos? His spokesperson might say that he is merely hesitant to use the powers and influence of the office of the president for partisan electoral activities. But this is absurd since Duterte is actively campaigning for his party mates and he is even exhorting the public not to support leftist candidates and the senator who led the pandemic corruption probe against his government.
It is more plausible that Duterte is holding off in giving away his endorsement until it is certain that Marcos can manage to maintain his supposedly wide lead over Robredo and that he can survive the pending disqualification and tax cases lodged against his candidacy. Duterte might need Marcos in the future, but the perception right now is that it is Marcos who needs the backing of Duterte in overcoming the numerous political and legal obstacles for him to win and be proclaimed the next president. Duterte might be relishing this "neutral," role since it effectively distracts people from remembering that he is already a lame duck president.