Report: Putin Suggested US Use Russian Bases in Central Asia
A new Wall Street Journal report suggests that Putin offered Russian bases for the U.S. to use to monitor Afghanistan. It's not at all clear if the offer was genuine.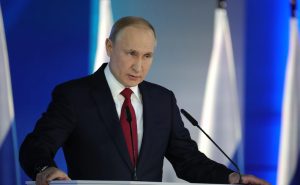 New reporting from the Wall Street Journal suggests that in June, when U.S. President Joe Biden and Russian President Vladimir Putin met in Geneva, even as Russia was cautioning Central Asian states against hosting U.S. forces the Russian president aired the possibility of hosting U.S. forces at Russian bases in the region. The problem is that it's not at all clear if it was a serious offer. 
According to a new Wall Street Journal report, last week U.S. Joint Chiefs Chairman Gen. Mark Milley discussed the offer with his Russian counterpart, Chief of General Staff Valery Gerasimov, when the two met in Helsinki.
The WSJ cites the Russian newspaper Kommersant and U.S. officials in reporting that Putin "floated the idea of hosting U.S. military personnel on Russian bases" in his June meeting with Biden. According to the WSJ, staff on the U.S. National Security Committee were not certain if the offer was genuine and asked "Milley to clarify whether Mr. Putin was simply making a debating point or was hinting at a serious offer."
Per the WSJ, Gerasimov was "noncommittal." A U.S. readout of the meeting offer no details and simply states, "In accordance with past practice, both have agreed to keep the specific details of their conversation private."
Russia has several military facilities in Central Asia dating back to the Soviet period. The most relevant in this particular discussion are the Kant Air Base located east of the Kyrgyz capital, Bishkek, and the several facilities collectively known as the 201st Military Base in Tajikistan (based mostly in Dushanbe and Bokhtar). The 201st Military Base in Tajikistan is said to be Russia's largest external military facility, with around 7,000 troops. 
In July, a month after Putin's meeting with Biden, Russian Deputy Foreign Minister Sergei Ryabkov was telling media that the Russian president had conveyed the message that Moscow did not want U.S. forces being redeployed to Central Asia.
"I would emphasize that the redeployment of the American permanent military presence to the countries neighboring Afghanistan is unacceptable," Ryabkov said. "We told the Americans in a direct and straightforward way that it would change a lot of things not only in our perceptions of what's going on in that important region, but also in our relations with the United States."

Ryabkov added that Russia had made similar warnings to Central Asia. "We cautioned them against such steps, and we also have had a frank talk on the subject with our Central Asian allies, neighbors and friends and also other countries in the region that would be directly affected."
This makes the news that Putin may have offered Russian bases instead particularly intriguing, especially as the U.S. seeks a foothold in the region following the exit from Afghanistan.
Whether Putin's suggestion was genuine or a quip is, of course, critical. But in both cases, it positions Russia as the door through which the United States must pass to access the Central Asian region — despite 30 years of Central Asian independence — even if only in jest. If anything, it reinforces a long-running cliché that projects Central Asia as little more than a "Russian backyard."
A U.S. official speaking to the WSJ seemed to confirm that. "We will pursue our own policies based on our own objectives," the official said, but then added: "The reality is Russia is an element of the equation in the region and so we are engaging with them."
One cannot dismiss Russia from the Central Asian equation, but we should also take care not to dismiss the Central Asian states themselves. Tajikistan, for example, has taken a different (although evolving) line from its neighbors with regard to the Taliban in Afghanistan, which in theory could make it a possible partner for the United States. Uzbekistan might be a technically more capable partner than Tajikistan, but has a narrower path to tread between its diplomatic acceptance of the Taliban and its continued efforts to engage with the United States on regional initiatives.