US Afghan Envoy Visits Uzbekistan, Tajikistan
As the U.S. withdrawal from Afghanistan begins, some suspect Washington is looking for nearby basing options.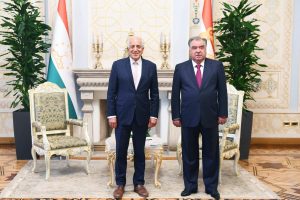 U.S. Special Representative for Afghanistan Reconciliation Zalmay Khalilzad is making early May rounds in Central Asia, with visits to Uzbekistan and Tajikistan. On May 2, Khalilzad was in Tashkent meeting with Uzbek Minister of Foreign Affairs Abdulaziz Kamilov. On May 3, he was in Kabul and on May 4, he met with Tajik President Emomali Rahmon in Dushanbe.
The trips come as the United States begins its final withdrawal from Afghanistan, planned to be completed by September 11, 2021 — the 20-year anniversary of the 9/11 attacks. 
As the withdrawal proceeds, questions remain about how the United States will, as Biden stated in his announcement on April 14, "reorganize" its "counterterrorism capabilities and the substantial assets in the region to prevent reemergence of terrorists — of the threat to our homeland from over the horizon."
Over the Afghan horizon to the north is Central Asia. At various points in the past 20 years, U.S. forces have based troops in the region.
The United States began using an old Soviet base in Uzbekistan, Karshi Khanabad (K-2), in early October 2001. In June 2005, after U.S.-Uzbekistan relations soured following the Andijan massacre, Tashkent gave the U.S. six months to leave. The final U.S. forces left Uzbekistan in November 2005. In August 2012, the Uzbek parliament approved legislation banning foreign military bases in the country and barring Uzbekistan from joining any military alliances. The law came months after Uzbekistan withdrew from the Collective Security Treaty Organization (CSTO), a Russia-led military bloc.
The United States also based forces out of Kyrgyzstan, using the Manas Transit Center, next to Manas International Airport outside the Kyrgyz capital, Bishkek, from December 2001 to June 2014. The base served as routine irritant in Kyrgyz domestic politics, a flashpoint for nationalist ire, and a bargaining chip for exacting ever higher rents as Bishkek trod the line between Washington and Moscow, which occupies several military facilities in Kyrgyzstan. Kyrgyzstan had the unique position of being the only country in the world to host both U.S. and Russian troops.
Soon after Biden's announcement that the U.S. would begin withdrawing fully from Afghanistan, the New York Times reported that U.S. officials had been in contact with Kazakh, Uzbek, and Tajik authorities regarding possible future basing arrangements. 
RFE/RL's Bruce Pannier provided an excellent rundown of the history, options, and complications of the United States again basing forces in Central Asia. Tajikistan and Uzbekistan would seem to be prime candidates. Pannier noted that both countries have borders with Taliban-controlled areas and have citizens fighting with militant groups in Afghanistan. The threat of conflict spilling over from Afghanistan into Central Asia is a worn cliche, but it remains (whether accurate or not) a convenient phrase to capture worries of local leaders that their citizens operating with foreign militant groups may return, or use Afghanistan as a base for attacks. As Pannier wrote, "allowing the United States to temporarily use [Central Asian] bases could be justified if part of the aim of these bases is to help neutralize Central Asian extremist groups in northern Afghanistan, even if that reasoning is not entirely accepted by the Taliban."
It's clear from the calls and visits made in the past month by U.S. Secretary of State Antony Blinken and Khalilzad that Washington is, indeed, in consistent conversation with regional leaders. Blinken had calls with Kazakh Foreign Minister Mukhtar Tileuberdi and Kamilov on April 22, ahead of hosting a virtual gathering of the C5+1 ministerial on April 23. It's not clear from the statements issued whether the base topic was discussed, but readouts from the Uzbek call and the C5+1 both mention Afghanistan. Following those calls, Khalilzad touching down in Tashkent and Dushanbe suggests continued discussions, possibly regarding bases, though that has not been officially stated. 
In the last two decades, there have been a number of shifts in regional politics, which may impact any U.S. aim to find new arrangements. Given Kyrgyzstan's populist turn and periodic political upheavals, a return to Manas would seem to be out of the question. 
Most critically, perhaps, a change in leadership in Uzbekistan with the death of Islam Karimov could provide an opening for some kind of arrangement, if the relevant legislation is revised or worked around. Karimov kicked the U.S. out, but President Shavkat Mirziyoyev could arguably be reasoned into allowing the U.S. back in. Where is maybe a more critical question, given recent revelations that servicemembers at K-2 may have been exposed to "radiation hazards" and other dangerous environmental factors at the old Soviet facility. 
Tajikistan also stands as a possible option. U.S. forces, Pannier writes, briefly used an airfield in Kulob, but never had the sort of consistent presence in Tajikistan as in Kyrgyzstan and Uzbekistan. The U.S. has, however, poured considerable sums and effort into training the Tajik border service. Russia maintains a notable military presence in Tajikistan, and at various points in the past has patrolled the Afghan-Tajik border. There have also been reports in recent years that China may be operating a military or police facility in Tajikistan and others that Chinese troops were patrolling the Afghan-Tajik border.
At present, there's no official word regarding whether (and where) the U.S. may be seeking to station troops "over the horizon" for potential operation in Afghanistan post-withdrawal. But there aren't many options on the map.