Rohingya Refugee Children Are Being Denied an Education
The only education accessible to children in the world's largest refugee settlement is provided by a network of unsupported community-based Rohingya schools.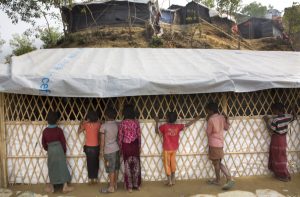 There is a saying circulating in the Rohingya refugee camps in Bangladesh: To destroy a people, it is not necessary to kill them, only to deny them an education. I am a refugee teaching in the camps in Cox's Bazar, and I know this only too well.
The only education being provided in these camps comes from an informal network of Rohingya volunteer teachers. We desperately need international support. 
Four years ago, Bangladesh opened its borders and saved hundreds of thousands of Rohingya families under attack by Myanmar's military. Since seizing power in a February 1 coup, that military has continued to commit crimes against humanity and made safe refugee return impossible. 
Bangladesh has not forced any Rohingya back to Myanmar, but it wants us to go back. To that end, Bangladesh has made it illegal for Rohingya children to attend public or private schools outside the refugee camps, which are surrounded by barbed wire. Some children managed to enroll, but were expelled. 
Inside the camps, where 400,000 children rely on aid groups to provide education, teaching Bengali or the national curriculum of Bangladesh is prohibited on the basis that such an education would enable Rohingya children to integrate into Bangladesh and send the message that they may remain rather than return. The same restrictions apply on Bhasan Char, a remote silt island where over 20,000 refugees from the camps have been relocated. Some were vaguely promised formal schooling for their children if they moved, which proved untrue.
The United Nations-led education response has tried to improve schooling without crossing the government's red lines. It took a government task force until 2019 to approve an informal learning program for Rohingya children that "chooses to be modest in its aspirations." The classes last two hours a day and aim to provide the rough equivalent of grades 1 and 2. No classes for higher levels have been   approved.
Since school buildings are prohibited, humanitarian groups built 3,000 learning centers – bamboo shelters with floor space for 40 children. They have all been closed since March 2020, when the Bangladesh authorities locked down the camps in response to COVID-19. In March 2021, even Plan B — a "home-based learning" program — was suspended.
Now, the only education accessible to children in the world's largest refugee settlement is provided by a network of community-based Rohingya schools. Like me, many teachers began as volunteers in Myanmar when the government stopped sending teachers to Rohingya villages after 2012. When we saw the education gap in the refugee camps in Bangladesh, teachers began to establish schools in 2018, using printouts of Myanmar textbooks that are available online. My two colleagues and I each teach two of the six core subjects in the Myanmar curriculum. People let us use their shelters as classrooms where we are teaching 120 students, ages 5 to 15. There are hundreds of teachers like us.  
But for unclear reasons, Rohingya schools like mine were overlooked by the donor-funded, U.N.-led education response. They were not approved by Bangladesh and have not received any international support. As another teacher said, in a message to Human Rights Watch staff, "We are teaching to develop our next generation but facing many difficulties. We have no education equipment."
Things began to change after July 2019, when a think tank reported that our community-based schools had 10,000 students. Donors and the U.N. took notice. Because these schools teach the Myanmar curriculum, Bangladesh does not view them as an integration risk. In January 2020, the government agreed to a pilot project to allow 10,000 Rohingya refugee children to study the Myanmar curriculum. But the pilot, due to begin that April, was thwarted by the COVID-19 lockdown. 
The U.N. and aid groups are preparing to roll out the pilot when the lockdown is lifted and their staff are allowed back into the camps. Yet the Rohingya teachers have been in the camps all along. There is no need to wait until the pandemic someday subsides: donor governments could ask Dhaka to let them start supporting these community-based school networks directly. Many of the same donors funded the salaries of Syrian refugee teachers in Turkey, which had responded to the influx of Syrian children by accrediting schools run by Syrian refugees and certifying a modified version of the Syrian curriculum. Hundreds of thousands of children benefited.
Donors could support stipends for Rohingya teachers, textbooks and stationery – minimal costs that some children's families cannot afford. They could fund lighting. In many shelters, the only light comes through the open door and it can be too dark to teach on overcast days. More schools could teach the upper grades of secondary school. Teachers could improve their skills and lessons. 
Direct support for Rohingya schools would also, at long last, respect the key international standard that the planning, design, implementation, and monitoring of refugee education programs should be led by refugee communities. As far as I know, no education official from any aid group has ever contacted any of my fellow teachers. Many teachers have phones. It's time to call them.
Education is a fundamental human right for every Rohingya child. All U.N. member states, including Bangladesh, endorsed the 2018 Global Refugee Compact, which calls for refugee children to be enrolled in quality education within three months. If four years of failure to provide education risks "destroying a people," as our saying goes, donors could support Rohingya children by supporting Rohingya teachers.