The Forgotten Vaccine: Russia's Sputnik V in Thailand and Southeast Asia
Despite all the hype and promises, Russia's Sputnik V vaccine has made few inroads in Southeast Asia.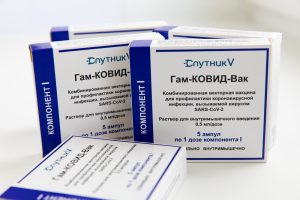 Back in late April, Thailand announced plans to purchase Russia's Sputnik V, the world's first registered COVID-19 vaccine. Given the Thai government's desperation to diversify vaccine supplies and Sputnik V's portrayal as a decent alternative to the mRNA vaccines that are difficult to manufacture and store, the announcement was much hyped. But, four months later, Sputnik V has mysteriously vanished from the public discourse.
Sputnik V's endorsement process has been moving at a very slow pace. Thailand's Food and Drug Administration (FDA) has yet to approve the Russian vaccine for import and domestic distribution. At a broader level, the Center for COVID-19 Situation Administration (CCSA) has allowed international visitors vaccinated with Sputnik V to enter Phuket and other selected destinations under the Phuket Sandbox 7+7 Extension scheme to boost tourism. Even so, this rather modest move took weeks to finalize.
Sputnik V has made better progress in Thailand's ASEAN neighbors, Vietnam, Laos, Myanmar, and the Philippines. Vietnam, for instance, has acquired the technology necessary for domestic production of Sputnik V and successfully produced the first test batch in July. Meanwhile, 380,000 doses of Sputnik V had been delivered to the Philippines as of September 13.
Still, the reality has fallen short of expectations. The Philippines has experienced a series of delivery delays. Moreover, the 380,000 Sputnik V doses received are far lower than vaccines obtained from other manufacturers. Out of the total 56,794,130 doses delivered to the Philippines as of September 13, 33 million were from China's Sinovac, with roughly 13.3 million  from U.S. suppliers. Myanmar and Laos are in a similar situation. While both countries have received Sputnik V donations, these are substantially smaller than donations made by China, Japan, and India.
Russia's vaccine diplomacy has experienced similar predicaments in Africa, Iran, and Latin America. According to experts on Russia from the Carnegie Endowment for International Peace, Sputnik V has at least three major flaws. First, the mistake of over-promising and under-delivering. Vaccine hesitancy was initially high in Russia, but the domestic demand began to outweigh the supply following the worsening COVID-19 landscape. The Russia situation parallels Thailand's failure to produce sufficient Thai-made AstraZeneca shots, resulting in shipping delays to Taiwan and Malaysia. Second is corruption claims and the fluctuating prices of Sputnik V. Third is the lack of data. In the Thai context, this seems to be the biggest issue as the FDA's constant refusal to approve Sputnik V is based on the absence of crucial data.
The fading of Sputnik V in Thailand has received little to no media coverage. Even Thaksin Shinawatra, the exiled former prime minister who offered to "personally talk to President Putin" to secure the Russian vaccines for Thailand, has remained uncharacteristically quiet. This is because, unlike China and the U.S., the Russian presence in Thailand and Southeast Asia has always been limited, which makes the politicization of Sputnik V difficult.
China's Sinovac and the U.S.-made Pfizer vaccine have been highly politicized in Thailand: Sinovac has been questioned for its alleged connections to the country's richest and politically powerful conglomerate, Charoen Pokphand (CP) Group, while Pfizer donations are suspected as being given in exchange for weapon purchases. With the ramping up of vaccine deliveries from China and the U.S., the public attention has naturally shifted to the vaccine competition between the two great powers.
Although Southeast Asia is not a high priority region for Russia, President Putin has been trying to boost bilateral ties with ASEAN nations through arms exports, energy projects, and trade. This so-called Russian pivot comes amid the global geopolitical and geoeconomic shifts to the Asia-Pacific. Putin's Russia wishes to be recognized as a major power in world affairs and therefore needs to assert its role. Western sanctions on Russia following its 2014 annexation of Crimea has further compelled Russia to look for new export markets.
For ASEAN nations, the Russian pivot has been welcomed, given that it expands the region's hedging options in an era of rising strategic uncertainty. Russia has enjoyed considerable success when it comes to arms sales, emerging as the largest arms supplier to Southeast Asia. However, its presence in other areas such as trade has remained marginal. So far, only Singapore and Vietnam have signed a free trade agreement with the Russian-led Eurasian Economic Union (EAEU).
If Russia plays its vaccine diplomacy cards right, with suitable marketing and prompt delivery, Sputnik V could boost its regional standing. As Ian Storey from Singapore's ISEAS-Yusof Ishak Institute observes, Russia had an early distribution advantage. The U.S. was slow to provide vaccine assistance while Chinese vaccines have been subject to widespread politicization. Russia, however, has missed its chance to shine. With the spread of new COVID-19 variants, talks about booster shots, and the growing production of local vaccines to achieve vaccine independence, the presence of Sputnik V in Thailand and Southeast Asia is perhaps doomed to fade away.