Why Is the Islamic State in Afghanistan's Propaganda Targeting China?
The Kunduz mosque bombing marked a potential shift in ISK's stance toward China.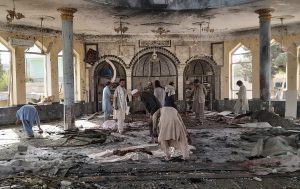 On October 8, a suicide bomber struck a Shiite mosque in Afghanistan's Kunduz province. The bombing killed more than 70 people and injured over 140 worshippers belonging to the Hazara minority community. Soon after, the Islamic State terror group's local affiliate in Afghanistan, known Islamic State Khorasan (ISK), claimed responsibility for the heinous attack via an online propaganda statement. ISK identified the bomber as "Muhammad al-Uyghuri," saying the assault targeted both "rafidites" (a derogatory term used by jihadists to refer to Shiites) and the Taliban government for its purported willingness to deport Uyghurs from Afghanistan in response to requests from China.
ISK's aggression toward religious and ethnic minority civilian populations is not uncommon. As the Taliban are working to transform themselves from a radical insurgent movement to a legitimate state structure, attacks on such minority communities are meant to foment sectarian strife while casting doubt on the unrecognized new rulers' ability to deliver appropriate security to the country's people.
However, the group's apparent attempt to justify the targeting of the Hazara minority community in Afghanistan through rhetoric about China and Uyghurs is both unusual and perplexing. An analysis of the attack indicates that ISK is potentially considering pivoting its China strategy away from what it was previously assessed to be, moving from a relatively non-provocative posture toward a more hands-on stance. Furthermore, ISK is apparently viewing the Taliban's stated incentives to deport Uyghur militants as an opportunity to position itself as a new protector of the Uyghurs, with the aim of welcoming disgruntled Uyghur militants into its ranks.
ISK and Its Uyghur Suicide Bomber
ISK emerged in 2015, when the Islamic State in Iraq and Syria announced its expansion to the historic "Khorasan" region, which encompassed parts of modern-day Afghanistan, Pakistan, Iran, and Central Asia. Initial members of the group predominantly included former hardline members of the Afghan and Pakistani Taliban, al-Qaida, and other militant groups. Since its inception, ISK has seen the Taliban as its strategic rival and ideological opponent. It has targeted Taliban positions and attempted to encourage defections from the movement. From 2015 to 2020, amid sustained military pressure by the U.S., Afghan government forces and the Taliban contained the ISK threat.
Since 2020, under a new leader, Shahab al-Muhajir, ISK has ramped up local violence as part of its resurgence campaign against the Afghan government and the Taliban. According to U.N. reporting, ISK had an estimated 500 to 1,500 fighters under its control before the fall of the Afghan government in mid-August, and it was responsible for 77 attacks across Afghanistan in the first quarter of 2021 alone. Since the Taliban takeover, the group has intensified attacks on civilian spaces, including religious institutions. Some of these and earlier attacks saw the involvement of the group's Afghan, Indian, Tajik, and Pakistani members, among others.
The Kunduz attack is the first time that ISK has publicly confirmed the mobilization of an ethnic Uyghur – while not providing any detail about his country of origin – to carry out an attack in Afghanistan on its behalf. Previously, Uyghur militants had been invisible in both the online propaganda and battlefield activities of the group.
The Uyghurs are a Turkic-speaking, mostly Sunni Muslim ethnic community native to the Xinjiang Uyghur Autonomous Region (XUAR) of China. Although the bomber's nom de guerre ("al-Uyghuri") implies he was an ethnic Uyghur, it does not necessarily mean that he was from Xinjiang. Uyghur fighters who claim to come from China usually adopt the nom de guerre of "al-Turkistani" to emphasize their separatist cause: the establishment of an independent Islamic state in Xinjiang, which they often refer to as "East Turkistan." Many foreign countries, including Turkey and Afghanistan, host varying numbers of Uyghur communities, any of which the attacker may have come from.
Regardless of the attacker's national origin, by highlighting the Uyghur involvement in the attack, ISK is sending important messages to its intended audiences: China, the Taliban, and the latter's Uyghur affiliates.
ISK's 'Indirect Enmity' Approach
By showcasing that the group now has Uyghur members who are motivated and trained to sacrifice their lives for its cause, ISK has exacerbated Beijing's existing concerns about the Uyghur militant threat deriving from Afghanistan. China first came to the attention of the Islamic State's central core in July 2014, when the group's slain leader Abu Bakr al-Baghdadi listed it among many other countries as a battlefield on which to "wage jihad." A year later, IS announced the execution of a Chinese hostage, along with a Norwegian citizen in Syria. The group also claimed responsibility for the murder of two Chinese teachers kidnapped in Pakistan in May 2017. Since then, however, Islamic State's anti-Chinese activities have been largely limited to the spread of sporadic online propaganda threats and calls for action.
While there could be various motivations, two main factors may explain the relative paucity of China- and Uyghur-focused rhetoric in IS propaganda in the past. First, as China had not participated in any anti-IS military campaigns in Afghanistan, Iraq, or Syria, IS possibly viewed Beijing as less threatening. Instead, it has prioritized fighting against the Western coalition force.
Second, both IS and ISK have so far been quite unsuccessful in recruiting Uyghurs compared to groups linked to their al-Qaida rival. More Uyghur members could imply the possible growth of more anti-China and pro-Uyghur propaganda. Given Beijing's apparent interest in engaging with the Taliban, IS and ISK are now seemingly considering including China on their list as an "immediate enemy." The framing of the Kunduz attack as retaliation for the Taliban's willingness to curb Uyghur militants at China's request is an indication of that.
ISK Hopes for the Taliban's Abandonment of TIP
The public invisibility of Uyghur fighters in ISK propaganda in the past was largely a reflection of the fact that it was losing Uyghur recruits to the Turkistan Islamic Party (TIP), which was also known as the Eastern Turkestan Islamic Movement (ETIM), a longstanding battlefield ally of the Taliban. Under the Taliban's consistent support and protection for nearly 25 years, TIP has managed not only to survive as a single monolithic entity, but also to establish unchallenged hegemony over the recruitment and control of the Uyghur jihadist network in Afghanistan.
Unlike ISK, IS in Syria had been relatively successful in recruiting Uyghur fighters. When the group was at its peak in 2014 and 2015, it had reportedly 114 Uyghur members in Syria. However, even then, this figure was 10 to 20 times less than the number of Uyghurs in TIP's Syrian division.
Before the Taliban's capture of Kabul in August, TIP had approximately 400 Uyghur fighters, gathered primarily in the Jurm district of the country's northeastern Badakhshan province, which shares a small border with Xinjiang via the mountainous Wakhan Corridor. Despite being an independent jihadist faction, TIP has performed all its activities in Afghanistan under the guidance and approval of the Taliban. Since 2019, the group has kept a relatively low profile in Afghanistan. The Taliban's capture of Kabul was an iconic moment for TIP and many other jihadist groups across the world. A few days after the fall of the Afghan government, TIP issued a statement lauding the Taliban's "victory" and the "restoration of the Islamic Emirate." A potential resurgence of TIP, which China blames for many attacks at home, has been Beijing's overriding security concern.
The Kunduz attack came at a critical moment for Taliban-TIP relations. In response to Beijing's repeated calls to sever its ties with TIP, the Taliban recently announced that many TIP members had left Afghanistan at the request of the movement. However, it did not clarify how many Uyghur fighters might have moved out or where they went. Reports surfaced in October alleging that the Taliban relocated the Uyghur fighters from Badakhshan to other areas, including in the eastern Nangarhar province, suggesting that they were still residing in Afghanistan.
While neither the Taliban's claim to have expelled Uyghur militants out of Afghanistan nor the allegation of their resettlement within the country has been verified, ISK's attempt to justify the Kunduz attack as retaliation for this unconfirmed move is creating an impression that the Taliban have abandoned their longtime jihadist ally. Any potential backlash from TIP militants against the Taliban's possible expulsion or resettlement initiative would be an ideal opportunity for ISK to recruit disgruntled fighters.
The Outlook
With the Taliban's recent takeover of Kabul, the ISK-Taliban rivalry has entered a new phase.  ISK's framing of the Kunduz attack through China and Uyghur rhetoric is a manifestation of the group's growing disappointment with Beijing's evolving diplomatic and economic engagement with the Taliban. For ISK, a stronger Taliban state means more serious challenges to its ambitions and survival in Afghanistan. Increased Chinese involvement in the post-Taliban Afghanistan will further antagonize IS and ISK.
As retribution, ISK is likely to continue to promote narratives designed to demonize and intimidate China. The group will also try to encourage defections from TIP and recruit them, especially given the Taliban's ongoing readjustment of relationship with its Uyghur allies. In the worst-case scenario, it even could attempt to attack Chinese personnel and installations in Afghanistan and Pakistan.