Japan PM Kishida's New Ministry and the Legacy of Abenomics 
While Kishida retains many of his predecessor's economic policies, his mission to reduce income disparities represents a fresh take on economic security.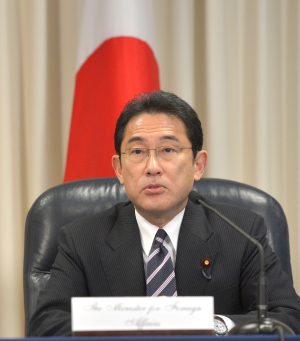 On Monday Japan's new Prime Minister Kishida Fumio unveiled a new ministerial post for economic security, which will be responsible for securing semiconductor manufacturing and diversifying supply chains away from China amid the coronavirus pandemic-induced global shortage. 
The minister for economic security is the centerpiece of Kishida's economic agenda, which seeks to address widening income inequality in Japan that he said had "worsened under Abenomics." Kishida will retain the basic tenets of Abenomics, but stressed the need to rework certain areas in order to lift wages and consumer spending  and to redistribute economic growth to the middle classes. 
The Japanese economy is struggling to emerge from the COVID-19 crisis, but even prior to the pandemic it had been plagued with the slow growth, stagnant prices and stalled wages common to advanced economies. The new ministerial post is Kishida's effort to realize a "new form of Japanese capitalism" and a "virtuous cycle of growth," highlighting that "without redistribution there will be no next stage of growth."
The ministry for economic security, headed by rookie cabinet member Kobayashi Takayuki, 46, serves as a command post function between government organizations. It emphasizes the connection between economic growth and national security and calls for the protection of Japan's economic intelligence in light of the trade dispute between the U.S. and China. 
"We are living in a world where the economy and security are truly merging. The time where we can separate security and economy is coming to an end. The connection between these two concepts came to the fore during the U.S.-China confrontation over telecommunications giant Huawei and popular video app TikTok," Kobayashi stated in a news conference on Monday.
The Kishida administration has flagged China as one of Japan's biggest concerns in all but name. Protecting Japan's reputation as a technology innovator has featured heavily in economic measures against China. Kobayashi is tasked with protecting Japan's dominance in the electronics and semiconductor sector and preventing industrial espionage. Last year the Japanese government launched an economic team within the National Security Bureau to tackle the growing concern of technology "leakage" which alludes to the alleged theft of information and technology by China. 
Semiconductors are in short supply around the world and Japanese electronics manufacturers, including the automotive industry, have been forced to scale back production as a result. Kobayashi said the government aims to formulate a law to promote economic security which will be designed to identify and protect sensitive technologies, secure the integrity of fundamental infrastructure and resolve supply chain problems that could disrupt domestic business. Kishida has also stated the need to join forces with other "like minded" countries such as the European Union, the United States, and other Asian countries to ensure the stable procurement of semiconductors.

The business community, such as the Japan Business Federation, welcomed a minister dedicated to economic security. The Kansai Association of Corporate Executives also highlighted just how little companies can control economic security and agreed on the need for the public and private sector to work together to share information.
Under former Prime Minister Abe Shinzo, Kishida played a role in establishing the normalization of diplomatic relations between Japan and China by persuading Abe to support China's Belt and Road infrastructure initiative. However, in an effort to win over support from the most conservative elites within the ruling LDP, Kishida shifted from his moderate policy on China to a more hawkish approach during the LDP presidential election. 
While Kishida is likely to keep in line with the former Suga and Abe administration's diplomatic position with China, his push for decoupling has been called a "slap in the face" to China and signals a break from Abe's "dualist" China policy which sought to foster economic relations while standing its ground on issues pertaining to military security and China's military advances.
For Kishida, defending Japan's economic power is central to realizing his ambitious economic plan to narrow income disparities and boost economic growth. But his fledgling administration will face greater challenges balancing ties with Beijing.