Philippine VP Leni Robredo Enters Crowded Presidential Ring
The May 2022 poll is shaping up as a rematch of the close-run vice presidential race of 2016.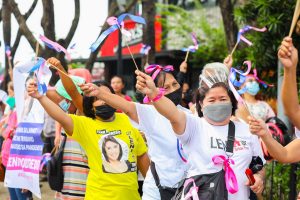 Another contender has entered the increasingly crowded presidential race in the Philippines, with Vice President Leni Robredo, an arch-rival and dogged critic of President Rodrigo Duterte, formally registering her candidacy for the May 2022 polls.
Yesterday, a spokesperson for the Office of the Vice President confirmed that Robredo had already filed her certificate of candidacy and, as widely expected, will run as an independent candidate.
In a country where the president and vice president are elected separately, and therefore  can come from different parties, Robredo has been a persistent critic of Duterte and his allies. She quit Duterte's cabinet less than six months after he entered office, after a presidential aide told her she had been barred from its meetings, and has attacked his  violently punitive campaign against illegal drugs, which has left thousands of mostly poor suspects dead.
In late 2019, Duterte appointed her as co-chair of the country's Inter-Agency Committee on Anti-Illegal Drugs, in order to "lead the Government's efforts against illegal drugs." After she pledged to use her powers to stop the killing of innocent people and hold authorities to account, Duterte fired her from the post after just three weeks. Robredo later gave his drug campaign a score of "1 out of 100" in preventing the spread of illegal narcotics.
Announcing her candidacy in a televised news conference yesterday, Robredo pledged to defeat the country's "archaic and rotten style of politics." "We need to liberate ourselves from the current situation. I will fight, we will fight," she said, according to the Associated Press. "They have the money, machinery, an entire infrastructure that can spread any story they want to project."
Robredo's decision comes after another of her nemeses, Ferdinand "Bongbong" Marcos Jr., son of the notorious autocrat Ferdinand Marcos, launched his own presidential run. Robredo narrowly defeated Marcos, an ally of Duterte's, in the vice presidential election in 2016, and has frequently lashed out at his refusal to express remorse over the thousands of people who were killed, detained, and tortured during his father's 31-year rule, particular the period of Martial Law from 1972 to 1981.
According to The Inquirer, Robredo's initial aim was to assemble a broad opposition coalition to take on Duterte and his network of supporters, by talking to other opposition figures like Manila Mayor Francisco Isko Moreno, recently retired boxer and Senator Manny Pacquiao, and Senator Panfilo Lacson. However, the talks eventually fell through, and all of these rivals have now launched their own campaigns for the presidency.
Robredo's announcement sets up a spicy and much anticipated rematch of the close-run 2016 vice presidential election. But she faces a steep uphill path to the Malacañang Palace, with a June poll by Pulse Asia putting her in a distant sixth place, trailing Pacquiao, Isko Moreno, Marcos, the politician and businessperson Grace Poe, and frontrunner Sara Duterte-Carpio, Duterte's daughter and successor as mayor of Davao City in the southern Philippines, who has yet to confirm whether she will run.
A lot can happen between now and May, but this raises the prospect of a divided opposition. In the 2016 presidential election, Duterte, a latecomer to the race who few considered a chance, prevailed over a divided and lackluster field, clinching the presidency with just 39.01 percent of the vote. (Former president Fidel Ramos did it with less than 24 percent.) The danger now is that a divided opposition might allow a pro-Duterte candidate to vault past his crowd of rivals and extend Duterte's violent, populist tenure into its second term.