The Case for Renaming TECRO
Renaming Taiwan's de facto embassy in the U.S. to "Taiwan Representative Office" would be both meaningful and consistent with U.S. foreign policy.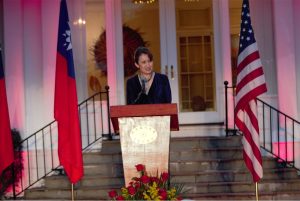 Washington is reportedly "seriously considering" a request from Taipei to change the name of its D.C. mission from "Taipei Economic and Cultural Representative Office" (TECRO) to "Taiwan Representative Office," according to the Financial Times. While the Tsai administration refrained from commenting on the story, it came as no surprise when a Chinese Foreign Ministry spokesperson later stated that Beijing "has lodged solemn representation with the US" regarding the news. Spokesperson Zhao Lijian urged Washington to abide by the China-U.S. joint communiqués and to "stop all forms of official exchanges" with Taiwan.
Thoughts on the matter are divided. Some welcome the proposed name change as better reflecting the broad scope of Taiwan-U.S. relations, as well as respecting how Taiwanese prefer to be addressed. Others are wary of provoking an adverse reaction from the infamously irritable dragon. In the latter group, David Sacks from the Council on Foreign Relations warned the Biden administration against considering calls to rename, on the grounds that it would "undermine the logic of the U.S.'s unofficial relationship with Taipei and fail to advance U.S. interests or meaningfully enhance U.S.-Taiwan ties."
Such arguments heavily rely on an overly narrow interpretation of the scope of Taiwan-U.S. relations, focusing on the three joint China-U.S. government communiqués in which Washington committed to not maintain official ties with Taipei. The contention is that removing "Economic and Cultural" from the name of Taiwan's mission would threaten the unofficial nature of the bilateral relationship.
In fact, this move would not be unprecedented. Between 1995 and 2018 Taiwan removed "Economic and Cultural" from the names of its missions in Denmark, Germany, Greece, Finland, and Poland without establishing formal diplomatic ties with these countries. These changes reflect the deepening of bilateral relationships, but by no means elevate them to official status.
The Taiwan-U.S. partnership already encompasses far more than commercial and cultural ties. Not only does the United States supply Taiwan with defensive arms, but it has signed agreements with Taipei on topics spanning energy, the environment, health, science and technology, and judicial assistance, to name just a few.
Among those opposed to the TECRO name change, there are fears that using the word "Taiwan" could be misinterpreted as U.S. support for Taiwanese independence. This assumption ignores the fact that the United States has been using the term "Taiwan" for 40 some years, since President Jimmy Carter severed official ties with the Republic of China under the Chiang Ching-kuo regime. This is evident in the titles of various pieces of U.S. legislation concerning Taiwan-U.S. relations, such as the Taiwan Relations Act, the Taiwan Travel Act, and the Taiwan Assurance Act of 2020. The de facto embassy that represents U..S interests in Taiwan is also named the American Institute in Taiwan (AIT). Scarcely any concerns were raised over whether any of these appellations implied support for Taiwanese independence, or whether they ran contrary to Washington's long-held one-China policy.
It is worth noting that revived whispers about a possible name change came on the heels of Lithuania's row with China over Taiwan. In July, Lithuania announced that a "Taiwanese Representative Office" will open in Vilnius, when other such representations in Europe usually bear the word "Taipei" to avoid aggravating Beijing. China reacted by waging economic retaliation and recalling its ambassador while asking Lithuania to do the same.
The United States has since stepped up its support to Lithuania in the face of Chinese coercion, with Secretary of State Antony Blinken saluting Vilnius for championing democracy in Taiwan. If the United States is willing to double-down on its stance and let Taiwan be Taiwan in Washington, D.C., this would not only demonstrate solidarity with its Lithuanian ally, but also set an example of resolve in the face of Chinese aggression for other countries. The Foreign Affairs Committee of the European Parliament last month approved a report that calls for changing the name of the European Economic and Trade Office in Taiwan to "European Union Office in Taiwan." With the report submitted to a vote in plenary, a show of U.S. solidarity now would align with President Joe Biden's wish to strengthen ties with European partners.
Those who contend that changing the Taiwanese office's name would be a purely symbolic move carrying no substantive effect should recall that in the world of international affairs, protocol and ceremony serve significant communicative functions. In the diplomatic realm, symbolism is often employed to achieve something substantive and meaningful. Changing the name of TECRO to "Taiwan Representative Office" would not only show support to Taiwan, a staunch promoter of democratic values, human rights, and the rule of law, but also be consistent with Washington's one-China policy and would not alter the unofficial nature of Taiwan-U.S. relations.
The pillars and principles of the United States' Taiwan policy are unwavering, but that does not mean subsidiary policies and measures cannot evolve with the times. An insistence on linguistically confining unofficial relations to the economical and the cultural imposes a disconnect with reality and exacerbates the misperception that U.S. foreign policy is shaped by lines drawn by the Chinese Communist Party.