Tianjin Port Congestion Disrupts China-Mongolia Supply Chain
Shipping delays at major Chinese ports are snarling Mongolian imports from third party countries, and costing Mongolian businesses.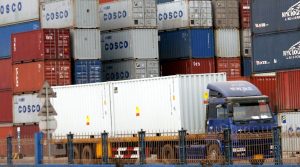 China is one of Mongolia's largest trade partners, an economic powerhouse, and the leading supplier of manufactured goods. China is also landlocked Mongolia's major transit hub – other than Russia – providing access to most of Mongolia's economic activities and trade with other countries. However, prolonged shipping congestion, particularly at Tianjin and Dalian ports and the Erenhot land port on the China-Mongolia border, is disrupting the supply chain to Mongolia, and the two sides are seeking ways to overcome this unexpected challenge.
Since late April 2021, tens of thousands of shipping containers have been congested in the South China Sea, disrupting distribution and supply chains for the global market. As a result, Mongolian shipments have been disrupted at major ports such as Tianjin, Dalian, and Erenhot. Since April, between 4,378 and 5,000 Mongolian shipping containers have been stalled at these major shipping nexuses. All three are crucial for China-Mongolia trade, and for Mongolia's imports of goods from "third neighbor" countries such as Turkey, South Korea, Japan, and the United States.
On September 16, the Mongolian delegations attended the Shanghai Cooperation Organization (SCO) 20th-year anniversary summit in Dushanbe, Tajikistan. While Mongolian President Khurelsukh Ukhnaa joined the summit online, his representative, Deputy Prime Minister Amarsaikhan Sainbuyan, took the opportunity to meet with Chinese Foreign Minister Wang Yi to discuss short-term plans for China-Mongolia trade, particularly concerning the Tianjin Port congestion and its economic impact.
During their meeting, Amarsaikhan specifically pointed out the economic challenges both countries have faced since the COVID-19 pandemic began. In response to the virus, Mongolia closed borders with both its neighbors – Russia and China – for four months. These unexpected changes brought economic disruptions between Mongolia and China. Amarsaikhan highlighted that China, as Mongolia's comprehensive strategic partner, has been assisting Mongolia's efforts to battled COVID-19 and thanked Beijing for its generous donation of vaccines in early 2021.
However, Amarsaikhan also emphasized the importance of Mongolia-China trade, particularly the 4,378 shipping containers currently jammed at the Tianjin port. The deputy prime minister called on the two sides to focus on making real progress in accelerating the flow of goods through border crossings, increasing coal exports, and reducing the congestion of containers that contain both business and personal items shipped from third neighbor countries.
In response, Wang stated that China would continue to assist Mongolia's efforts in battling COVID-19 by supplying vaccines and financial support. Also, he highlighted the Chinese government's willingness to pay attention to speed up the handling of goods at Tianjin port that are destined for Mongolia.
According to the CEO of the Mongolian Association of United Cargo and Freight, a non-governmental organization, O. Davaasuren, "The items that are currently congested in Tianjin, about 4,378 containers, require additional financial resources for container rentals and storage fees. The price of rental and storage fees has increased from $10 to $50 per day. Before shipped goods would arrive in an average of 10 days, now it is taking 40-50 days."
Moreover, the Mongolian Association of United Cargo and Freight recently released a statement that although goods are slowly moving through the Tianjin port congestion, there is only one train going toward Mongolia. Thus, the shipping containers destined for Mongolia are in motion but not fast enough to have a noticeable economic impact. Even while other containers are beginning to move, the volume and pressure at the port remain the same. The increasing price of freight, containers, rentals, and storage are beginning to weigh on import-based small businesses.
While the shipping congestion crisis will be solved at some point, there is another important logistical issue that Mongolia and China need to address. COSCO Shipping Corporation, the Chinese government-controlled transportation and logistics conglomerate, controls all the sea freight to be delivered by railway throughout China – including freight bound for Mongolia. During a July 2021 EuroChamber Mongolia webinar, the Mongolian side emphasized the increasing challenges posed by COSCO's decision to appoint an "an exclusive agent to represent its business interests in Mongolia." This created another hurdle for Mongolian shipping containers.
As news agency Montsame explained: "Prior to the appointment attempts of an exclusive agent to Mongolia, local freight forwarders were able to receive containers directly from [COSCO]. Now they will have to go through the locally appointed exclusive agent. The result is increased delivery and clearance times, plus extra costs that can be already felt by Mongolian manufacturers and the general public."
The webinar highlighted a joint survey by EuroChamber Mongolia and the Federation of the Mongolian Freight Forwarders, which showed that 20 percent of respondents were experiencing delays of 10 percent. Another 13 percent of respondents reported delays of between 50 and 75 percent. The survey, however, was undertaken in late June; those numbers have likely gone up as shipping congestion increased.
For Mongolia, the security and the openness of these maritime routes are crucial. Mongolia's landlocked geography requires it to rely on its immediate neighbors, China and Russia, as either direct sources or transit partners for Mongolian global trade.
As for China-Mongolia trade, despite the intermittent disruption of COVID-19 and China's port congestion, China remains Mongolia's leading export destination. According to the September 2021 report from Mongolian Customs, in the first nine months of 2021 Mongolia exported 88.2 percent of its goods to China while China was the largest single source of Mongolia's imports, accounting for 39.9 percent. As the global freight rates continue to plunge, Mongolia and China must accelerate economic activities to avoid additional financial burden on small businesses and the Mongolian economy at large.