Who Are Uzbekistan's Remaining Religious Prisoners?
Despite thousands reportedly released since 2016, an estimated 2,000 remain jailed in Uzbekistan for political and religious reasons.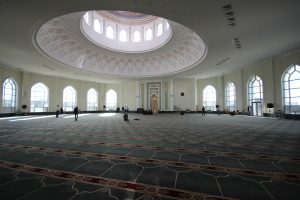 A report like the one just released by the United States Commission on International Religious Freedom (USCIRF) on political and religious prisoners in Uzbekistan would not have been possible without the greater openness of Shavkat Mirziyoyev's Uzbekistan. But at the same time, the report, authored by experienced regional human rights researcher and current professor at the University of Southern California Steve Swerdlow, estimates that more than 2,000 people remain imprisoned in Uzbekistan "for peacefully practicing their religious beliefs."
The report's very existence illustrates both the progress made and the long road to go toward greater religious freedom and transparency in Uzbekistan. It is based on 113 interviews with recently released religious and political prisoners, family members of current prisoners, human rights activists, journalists, lawyers, government officials, religious leaders, representatives of international organizations, and other experts. Of those interviews, 73 were conducted in-person in Uzbekistan from October through December 2020.
Uzbekistan, the report states, imprisons more people than the rest of the former Soviet Union combined for religious and political reasons despite the release of thousands of prisoners since 2016. Those still detained are serving sentences for "vague and overbroad charges of 'attempting to overthrow the constitutional order,' possession of banned literature, or membership in banned groups." For the vast majority, the report claims, there is no credible evidence of "the individual's participation in, or connection to, violence, threats of violence, or incitement to violence or any other criminal conduct."
The report's findings highlight ongoing abusive practices, including allegations of torture, and the arbitrary extension of prison sentences and re-sentencing on new charges while in prison. Furthermore, some prisoners are given extremely long sentences for non-violent charges, with some serving terms in excess of 15 years and a few approaching three decades in prison. Others have been released and then re-arrested on new charges. The report also makes the case that the system in place "affects entire families and is multi-generational."
Critically, the report finds that "vast numbers of Uzbekistan's remaining religious prisoners are serving lengthy criminal sentences based solely on alleged membership in banned groups, without credible evidence of involvement in or connection to violence or other criminal activity." Membership in Hizb ut-Tahrir — a fundamentalist, pan-Islamist group banned across Central Asia but not in much of the West — remains a regular reason for new detentions each year. As the report states: "[T]he government treats peaceful Muslim adherents of what might be considered a radical ideology as violent extremists solely based on their religious beliefs" rather than any actual links to violence or criminal activity. The ideas are the crime.
Finally, the report finds that Uzbekistan's laws "place abusive restrictions on the freedom of conscience and religion and freedom of expression," which are guaranteed under Uzbekistan's constitution and enshrined in international treaties to which Tashkent is a party.
The 64-page report devotes a dozen pages to outline 81 specific cases of religious prisoners in Uzbekistan, ranging from those detained in the late 1990s all the way up to those detained in the last few years. So much information remains unclear, from the whereabouts of some prisoners to the precise reasons others were arrested in the first place. A lack of transparency in the judicial process further obscures scrutiny and understanding.
The report contains a detailed breakdown of the recurring charges lobbied against religious prisoners, putting each into context. "Attempting to overthrow the constitutional order," for example, appears repeatedly as a charge, and it's useful to lay out the Uzbek government's perspective on the law because it helps in identifying precisely where the Uzbek system runs afoul of international standards. For example, Hizb ut-Tahrir advocates for the "restoration of a Caliphate," but it specifically does not endorse violence in that pursuit. Nevertheless, ipso facto, members must also have in their hearts the aim to overthrow the Uzbek government and are thus charged under the relevant law. It's thoughtcrime.
An interview with a released former religious prisoner included in the report illustrates this well. Rustam R. was a 27-year-old soccer coach in April 1999 when he was detained for alleged membership in Hizb ut-Tahrir as he returned to Uzbekistan from a visit to Osh, Kyrgyzstan. In describing to Swerdlow his interest in the group, Rustam R. said:
It was a popular ideology in the late 1990s. The group was clear in how they delivered their messages about how to construct a just society. There was a collapse of institutions all around us at that time and [President] Karimov was viewed as cruel and out of touch with the needs of the people. We gravitated toward those who were encouraging us to look deeper into the religious traditions that had been forbidden to us for so long.

… Those of us who were arrested at the time were not hardcore Hizb ut-Tahrir members and many of those who were swept up in the arrests were not even formal members of the organization… For the most part, my activity boiled down to taking part in the discussions of the group's philosophy, nothing more.
He was released in 2019, at the age of 47.