APEC 2022: Time and Momentum Are Not On Thailand's Side
In the face of mounting domestic concerns, Thailand will have a hard time trying to smoothly run APEC meetings in 2022.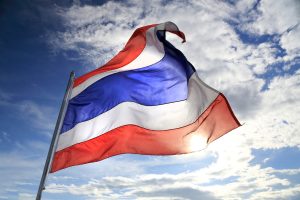 As the chair of the high-profile Asia-Pacific Economic Cooperation (APEC) next year, Thailand will have a golden opportunity to showcase itself to the international community. The Thai government aims to play the role of mediator, lower trade tensions between APEC economies, and steer the APEC ship forward under the theme "Open. Connect. Balance." The recently unveiled APEC 2022 logo is based on an interlaced Thai bamboo basket used to transport gifts and trade goods for generations, symbolizing the long-standing communication and cooperation between Pacific Rim nations.
Thailand has been working hard to set the stage for its upcoming APEC chairmanship. Prime Minister Prayut Chan-o-cha, during his trip to the COP26 climate conference earlier this month, invited U.S. President Joe Biden and other world leaders to the APEC Leaders Meeting scheduled to be held in Bangkok next November. Meanwhile, Thai officials together with private businesses are promoting the Bio-Circular-Green Economic Model (BCG) to boost Thailand's post-pandemic economic growth in a sustainable and inclusive manner. The BCG model involves the use of renewable biological resources in goods production, waste reduction, and the incorporation of green energy to meet net-zero emissions targets. These elements will be applied to four industries, namely food and agriculture, medical and wellness, bioenergy, and tourism.
Thailand — well known for its warm hospitality, accommodating nature, and generally good relations with all major regional powers — has a track record of hosting successful international summits. The kingdom's last hosting of APEC in 2003 was memorable and widely praised, with world leaders being welcomed with the grand royal barge procession. During its 2019 ASEAN chairmanship, Thailand managed to finalize key components of the Regional Comprehensive Economic Partnership (RCEP) and publish the ASEAN Outlook on the Indo-Pacific (AOIP). The AOIP release was a notable and unexpected achievement, considering ASEAN's overt disunity over security issues and the growing pressure to choose between the US-led bloc and China.
Thailand certainly has the potential to host fruitful APEC meetings, but domestic politics will be a major obstacle. Internal political turmoil has always been a hindrance to Thailand's ability to shine internationally. During Thailand's ASEAN chairmanship from mid-2008 until December 2009, Bangkok's largest airport was occupied by conservative "yellow shirt" protesters, which left thousands of tourists stranded. Further adding to the embarrassment of the Thai government, the ASEAN Summit in Pattaya resort town was disastrously interrupted by "red shirt" supporters of the ousted Prime Minister Thaksin Shinawatra.
Much to the surprise of many observers, domestic issues — including controversies surrounding the general election — did not hamper Thailand's ASEAN chairmanship in 2019. However, Thailand may not be so lucky in 2022. The increasingly unpopular Prayut government has a lot on its plate, with the unprecedented economic damage caused by the pandemic, key institutions — the monarchy, the courts, and the military — being challenged, deteriorating environmental conditions, and rising prices. Truckers nationwide, for instance, have gone on strike over the past few weeks to protest against rising fuel prices, prompting Prayut to prepare military trucks to handle cargo transport.
Another hot topic is constitutional amendment. The parliament recently rejected an amendment draft seeking to remove the appointed Senate, change the appointment method of members of the Constitutional Court and other independent political institutions, and nullify all orders issued by the junta since 2014. Essentially, the rejected draft is designed to weaken if not eliminate control mechanisms that keep Prayut and his allies in power. The outright rejection of the so-called "people's charter" draft, as agreed by a number of Thai scholars, will only exacerbate political polarization between the conservatives and liberals. It is not difficult to imagine the intensification of the youth protest movement next year. If things get out of control, this could very well lead to another coup.
Amid these challenges, there appears to be a persistent discord within the governing coalition. Members of the leading military-backed Phalang Pracharat Party (PPRP) are reportedly unhappy with Prayut, who is rumored to be building a new party of his own. The PPRP is also competing with Bhumjaithai and the Democrat Party — the second and third largest coalition parties — to gain votes in southern provinces. It remains to be seen whether the "unity dinner," scheduled to take place in early December, will ease tensions among coalition partners.
In the face of renewed and greater doubts about the government's durability, and mounting domestic priorities, Thailand will have a hard time trying to smoothly run APEC meetings in 2022. This is not to say that Thailand will not be able to manage these internal matters and succeed, but the risks for failure are simply too great. Beyond domestic troubles, there are wider regional and global concerns such as another COVID-19 outbreak or a military confrontation between the U.S. and China. Needless to say, Thailand as the 2022 APEC host will be walking on a very bumpy path next year.