Decoding Nanaia Mahuta's First Foreign Trip
New Zealand's foreign minister is on her first trip overseas: a seven-country tour of Australia, Singapore, Indonesia, the UAE, Qatar, the U.S., and Canada.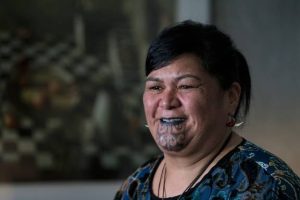 Nanaia Mahuta's first foreign trip is finally underway. New Zealand's foreign minister began a seven-country tour of Australia, Singapore, Indonesia, the UAE, Qatar, the U.S. and Canada on Thursday.
Mahuta was appointed foreign minister a year ago this month.
New Zealand's specific elimination approach to COVID-19, with isolation requirements for returning travelers, explains some of the delay in Mahuta venturing abroad – especially in the period before vaccines became widely available.
Still, Damien O'Connor, New Zealand's trade minister, managed to make his first foreign trip five months ago – to Europe in June. He has since completed a second visit to continue free trade negotiations with the EU, also visiting the United States on the way.
Mahuta's recent focus on major reforms in her other ministerial portfolio, Local Government, helps to explain why she is travelling only now.
The government's sensitivities toward overseas travel by ministers – given the inability of many New Zealanders to return home because of a shortage of spaces in managed isolation and quarantine (MIQ) hotels – are another big factor.
Whatever the reasons, the fact that the trip is now progressing is a good thing. As last week's virtual APEC events showed, video conferencing has its advantages – but also its limits. A first foreign trip is always of symbolic significance.
Mahuta's itinerary includes both expected destinations and several surprises. COVID-19 circumstances and logistical constraints will have played a role in determining the agenda. It is obvious that not every country can be visited first or at once. Nevertheless, at first glance, there are intriguing omissions.
For one, it seems surprising that Mahuta is not visiting the Pacific Islands on her first foreign trip.
Mahuta repeatedly stressed the "centrality of the Pacific" to New Zealand's foreign policy in a major speech about the region to the New Zealand Institute of International Affairs (NZIIA) in early November.
The NZIIA speech recalled the landmark policy of Mahuta's predecessor, Winston Peters. Peters' "Pacific Reset" – announced in 2018 – refocused New Zealand's foreign policy ambitions toward its immediate neighborhood, as Wellington's response to the growth of Chinese influence in the region. Mahtua's recent speech effectively marked the next chapter of this Peters doctrine – now framed as "Pacific Resilience."
The NZIIA address would have been a useful stage-setter for an in-person visit by Mahuta. Perhaps the COVID-free status of several Pacific nations – combined with New Zealand's current coronavirus outbreak – made a trip there now by Mahuta a non-starter.
Still, Fiji – which suffered a devastating Delta outbreak earlier this year, but is now reporting low case levels – would have been an option to demonstrate New Zealand's commitment to the Pacific.
China is the other obvious omission from Mahuta's itinerary, but the country's own strict, "zero-COVID" policy would explain that. Still, a trip is undoubtedly well overdue: The last time a New Zealand foreign minister visited Beijing was in May 2018. Even Prime Minister Jacinda Ardern has made only one brief visit to China – a single-day visit in 2019.
The logic might also be that China and the Pacific are so important that they warrant separate trips.
Yet Mahuta's current trip might also be designed to demonstrate diversification away from China, a view that the University of Otago's Robert Patman expressed last week.
Convention also plays a role.
Friday's first stop was in Australia – where Mahuta held the second set of annual consultations with her Australian counterpart, Marise Payne, in the Blue Mountains. Mahuta owed her Australian counterpart a return visit, after Payne visited Wellington during the short-lived travel bubble in April.
The inclusion of Singapore on the agenda – albeit only as a brief transit meeting – is also unsurprising. New Zealand enjoys a close relationship with Singapore in both trade and defense. This year marks the 50th anniversary of the Five Power Defense Arrangements (FDPA), in which New Zealand and Singapore are both members.
In the pandemic's early, panicked stages in March 2020, Singapore made a special commitment with New Zealand to keep supply chains open for essential goods. Singapore Airlines has kept flying to New Zealand throughout the pandemic, providing a crucial link for passengers and freight.
Singapore also shares some similarities with New Zealand in its position toward China. Neither Singapore nor New Zealand are members of the new AUKUS defense pact between Australia, the United Kingdom, and the United States. But neither have they been terribly hostile toward the new arrangement.
In response to a question on AUKUS at her recent NZIIA speech on the Pacific, Mahuta said "we welcome interest in our region," adding that "the overriding ambition for our region, extending across the Indo-Pacific, reflected by ASEAN [Association of Southeast Asian Nations] partners, is that a more peaceful, prosperous, stable region is in our shared interests."
Singaporean Prime Minister Lee Hsien Loong, meanwhile, recently said his country welcomed an Australian pledge that AUKUS would advance a "stable and secure" Asia-Pacific region.
Mahuta's subsequent visit to Indonesia, which, like Singapore, is also a key member of the ASEAN grouping, may bring differences over AUKUS into sharper focus. Jakarta has been one of the most critical voices on the new defense pact.
The day after the deal was announced, Indonesia's Foreign Ministry said that it was "deeply concerned over the continuing arms race and power projection in the region." Jakarta also made a thinly veiled rebuke of Australia, calling upon it to "maintain its commitment towards regional peace, stability and security."
A scheduled visit to Indonesia by Australian Prime Minister Scott Morrison in late September was cancelled.
Mahuta's visits to two Gulf countries – the United Arab Emirates (UAE) and Qatar – will be important for promoting a broader foreign policy agenda.
The foreign minister's visit to the UAE is timed to coincide with New Zealand's hosting of the Te Aratini Festival of Indigenous & Tribal Ideas at Expo 2020 Dubai. For Mahuta, who emphasizes Maori values and culture in her foreign policy, this will be an unquestionable highlight of the trip.
The UAE and Qatar stops will be useful for advancing New Zealand's general relations with the Gulf, a lucrative and growing market for New Zealand exports. Both Emirates and Qatar Airways have provided vital airlinks with New Zealand throughout the pandemic. The UAE and Qatar also played key roles in New Zealand's emergency evacuations from Afghanistan in August.
The separate visit to Doha is also an acknowledgement that Qatar is now a major regional player. It is the only country of the seven on the trip in which New Zealand does not have a diplomatic mission. Mahuta's visit to Doha may be a chance to start thinking about opening an embassy there.
The final stops on Mahuta's inaugural tour – to Washington D.C. and Ottawa – are nicely balanced.
A meeting with U.S. Secretary of State Antony Blinken will be the highest-profile engagement on the minister's two-week trip. Sensitive issues related to the new AUKUS pact and China's role in the Indo-Pacific will invariably be on the pair's agenda.
Overall, New Zealand is maintaining its approach of trying to keep both China and Western partners happy, but some more pro-U.S. signs have emerged from New Zealand in recent months. Mahuta's headline-grabbing comments in April that she was unwilling to sign New Zealand up to Five Eyes statements that criticized China have somewhat faded from view.
Most recently, Dame Annette King, New Zealand's High Commissioner to Australia, suggested that New Zealand could have some involvement in AUKUS after all, at least in cybersecurity. It seems unlikely that King's comments were made completely off-the cuff.
Meanwhile, new Canadian Foreign Minister Mélanie Joly may be interested in learning how New Zealand navigates its relationship with China. Canada's own difficult relationship with Beijing remains strained, despite a prisoner swap in September that saw Canada's "two Michaels" released in exchange for Huawei executive Meng Wanzhou.
This article was originally published by the Democracy Project, which aims to enhance New Zealand democracy and public life by promoting critical thinking, analysis, debate, and engagement on politics and society.