EU Disinformation Committee Heads to Taiwan
The official visit by INGE is the latest in a series of high-level interactions between Brussels and Taipei.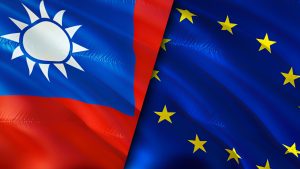 A delegation of EU lawmakers will arrive in Taiwan on Wednesday in the latest of a series of high-level interactions between Brussels and Taipei.
Led by French MEP Raphael Glucksmann, the party of seven will reportedly meet several senior Taiwanese officials during their visit, including Digital Minister Audrey Tang.
The group is travelling as a formal delegation sent by the European Parliament's special committee on foreign interference and disinformation, known by the acronym INGE.
The delegation's visit comes just days after Taiwanese Foreign Minister Joseph Wu paid a surprise visit to Brussels, meeting with members of the European and Belgian parliaments. That followed Wu's earlier trips to Slovakia and Czechia, two countries that in recent months have donated doses of COVID-19 vaccines to Taiwan.
Among those Wu met in Brussels was Swedish MEP Charlie Weimers, the lead author of the European Parliament's recent resolution on Taiwan.
The non-binding document, which passed with a resounding majority of 580 to 26 with 66 abstentions, calls on the European Commission to begin the process of securing a bilateral investment agreement with Taiwan. The report also calls for the EU to "consider learning from Taiwan's experience of fighting disinformation" from China.
The EU first took the unprecedented step of naming China as a source of disinformation in a June 2020 press release, a matter of days before Brussels formally established INGE as a special committee.
In some ways, sending an INGE delegation to Taipei is the logical next step in confronting the issue of disinformation from China.
Zsuzsa Anna Ferenczy, a Taiwan-based post-doctoral research fellow and former political adviser at the European Parliament, said the trip was far from an inevitability "given how sensitive Taiwan is." However, she added. "It's not unexpected given Taiwan's great expertise and proving itself as a democracy capable of using technology and transparency to fight disinformation."
As noted in a January report by the Washington, D.C.-based Center for Strategic and International Studies, Beijing has long sought to influence public discourse in Taiwan using all tools at its disposal. The scale of disinformation efforts has increased significantly since the election of President Tsai Ing-wen in 2016.
"Dividing our society is the ultimate goal for their actions," said Wu Ming-hsuan, co-founder of Doublethink Lab. Wu's organization is one of several Taiwan-based groups aiming to classify and counter the spread of misinformation and disinformation in Taiwanese society.
"Fortunately, I think that the resistance of the civil society of Taiwan is quite strong. There's a lot of action being taken by civil society organizations like Taiwan FactCheck Center, or other fact checking communities, volunteer groups, trying to do more," Wu said. Such groups are working on "not only fact checks, but how to disseminate those fact check results to the general public by using messenger apps, chatbots, or just going directly to the community."
Alicja Bachulska, a China analyst at the War Studies University in Warsaw, said INGE can learn a lot from Taiwan. "For both geographic and historical reasons, Taiwan's ties with the PRC can serve as a case study when it comes to understanding Beijing's approach towards both direct and indirect coercion."
In her view, INGE "should focus more on understanding Taiwan's resilience and also learn more about its anti-pandemic measures."
Taiwan's success in preventing the spread of COVID-19 has drawn admiration from many quarters. As of November 2, Taipei authorities have reported a total of fewer than 17,000 cases and under 1,000 deaths from COVID-19.
Taipei's expertise in epidemic management and donations of personal protective equipment have been a factor in growing European interest in and concern toward events in Taiwan and the Taiwan Strait. But that concern has also been driven by an increased wariness about collaboration with China.
"Firstly, many in the EU began to experience 'China fatigue' or in other words disillusionment with the lack of results of economic cooperation with China," said Bachulska.
"Secondly, some decision makers in Western European states are also getting weary of Beijing's increasingly aggressive behavior.
"Moreover, the pandemic has made many realize the risks of over-relying on China as a dominant actor in global production and value chains."
The outbreak of COVID-19 also forced the EU to acknowledge that disinformation was a threat not only to democratic governance, but also to public health. "To name China as a source of disinformation is a big shift," said Ferenczy, referring to the European Commission's June 2020 press release.
Recent months have also seen a shift in rhetoric in EU discussions of China. In a recent joint letter, EU Commission President Ursula von der Leyen and Council President Charles Michel vowed to "push back" against "threats, political pressure, and coercive measures" from China.
That came in response to Beijing's decision to recall its ambassador from Lithuania and set up barriers to trade after Lithuania announced it would set up a representative office in Taiwan.
So far, the EU has shown no sign of faltering in its support for Lithuania, and there appears to be less concern in the European Parliament about punitive actions by Beijing.
"We've reached a point in the minds of European lawmakers where they're thinking 'okay, if every time China threatens that there will be consequences, and we get scared and we don't act, then they will just be able to keep threatening us,'" said Ferenczy.
That is why if the visit by INGE is a success, and the delegation agrees on a clear research agenda, Taiwan could see other European Parliament committees making the trip to Taipei.
But for now, Taiwanese authorities should not expect to see rapid progress toward the bilateral investment agreement called for in the European Parliament's latest report.
"It's still a very long way to go and we shouldn't overemphasize this single trip," said Bachulska.
The European Commission is still "sitting on the fence," she said. "Although the general climate in the EU is getting increasingly pro-Taiwan, there are still many interest groups strongly advocating for the current status quo of Sino-European relations (such as German automakers)."
Ferenczy agrees that there is little indication of movement towards an investment agreement. "So far, the Commission has been dragging its feet," she said.
"What makes me worry, or be less optimistic, is that we haven't received a hint of a sign from the Commission that they might be moving in that direction.
"I cannot identify something that would encourage me to say that they might change their approach."
As for future visits, Ferenczy said that any further delegations are unlikely to arrive in the next year. Likewise, it may be months before the European Commission gives a full response to the Parliament's report on Taiwan.
"We have to let this report sink in a little," said Ferenczy. "We need to give them a bit of time to take it seriously and come up with some plan."
In some ways, Bachulska noted, Taiwan's hopes of an EU move toward an investment deal may hang on the results of elections in the larger member states.
"A lot depends on the shape of the new German government and what role the Greens will play in it."