Europe and the US: From Divergence to Convergence on China?
Is the U.S. moving closer to the EU's complex definition of China as a partner, competitor, and systemic rival?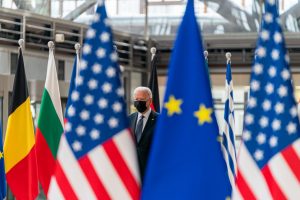 Both Europeans and Americans have been scrambling to make up their minds about how they should approach China – whether to view it as a strategic threat, a fierce competitor, or an indispensable partner in, say, addressing the climate crisis. In fact, this odd mix is exactly the definition the European Commission and the EU's external action service came up with in March 2019 in a policy paper titled EU-China Strategic Outlook, in which China was dubbed "simultaneously a cooperation partner, an economic competitor in pursuit of technological leadership, and a systemic rival promoting alternative models of governance." Back then, on the other side of the pond U.S. President Donald Trump only viewed China as an economic competitor and was busy unleashing waves of increased tariffs on Chinese imports. This ultimately led to the signing of what became known as a Phase One trade deal between Washington and Beijing in January 2020.
When the COVID-19 pandemic broke out, the stand-off between China and the West took on other dimensions. Trump's rhetoric became even harsher and went way beyond trade disputes. The EU high representative for external relations Josep Borrell spoke about a "global battle of narratives" and the European Commission's Ursula von der Leyen suggested that China was behind cyberattacks on European hospitals. Amid the spread of the coronavirus, China's image plummeted globally, particularly in the United States. China's allure in Europe also cratered, as argued in an exhaustive report released by the European Think-tank Network on China (ETNC).
As if to buck the trend, on December 30, 2020 the EU decided to sign a Comprehensive Agreement on Investment (CAI) with China, without waiting three more weeks for Joe Biden to be sworn in and thus pre-empting coordination with the new U.S. administration. The argument for the CAI, put forward mostly by Germany's Chancellor Angela Merkel, stressed the "partner" component in the EU's definition of China.
Yet last March the EU upped the ante and imposed sanctions – together with the U.S., the U.K., and Canada – on four Chinese officials for the treatment of the Uyghur community in the Xinjiang region. China was quick to hit back with sweeping countersanctions on a long list of EU institutions and individuals and, as a result, the European Parliament has frozen discussions on the ratification of the CAI deal. Lithuania has now walked out of the 17+1 format and recently welcomed a Taiwan Representative Office, defying Beijing's ire. Several European delegations have been to Taiwan since last year, while the foreign minister of the island recently paid a semi-official visit to Brussels.
Meanwhile, it took Biden's administration quite some time to formulate its China policy and even now it is being unveiled in dribs and drabs, as for instance in a recent interview of Jake Sullivan, the national security advisor. Apparently, the United States is taking a step back from Trump's belligerent rhetoric, recognizes that "China is going to be a factor in the international system," and wants to "set the terms for an effective and healthy competition with China," while leaving open the door to cooperating with Beijing on areas such as climate change. In essence, Biden's emerging China strategy seems to envisage a multifaceted approach, which seeks to formalize alliances with like-minded partners and simultaneously not to derail Beijing-Washington ties. This does not differ much from the EU's stance toward China, though Americans stress "stiff competition" more frequently than Europeans do.
All these bits and pieces suggest that, while there's continuity in America's strategic orientation toward China from Trump to Biden, Washington is wary of a headlong clash with Beijing that might get out of hand. During the recent virtual Biden-Xi summit, the American president stressed the importance of "managing strategic risks" and "the need for common-sense guardrails to ensure that competition does not veer into conflict, whether intended or unintended." On the cause célèbre of Taiwan, Biden has reiterated Washington's commitment to the island's security and has invited a delegation from Taiwan to the upcoming Summit for Democracy, but he reportedly upheld the One China policy in his phone call with Xi. Moreover, the last-minute China-U.S. deal struck at COP26 shows that the two sides can be partners, after all, even if on a limited range of issues.
So, is the U.S. moving closer to the EU's complex definition of China as a partner, competitor, and systemic rival?
How Much Are America and Europe Converging on China?
Interestingly, the United States and the EU seem to be walking in opposite directions toward each other and a meeting point. Biden's tone is much closer to the European notion of civility and his behavior is the polar opposite of Trump's Khrushchev-like demeanor or incendiary speech. In turn, the EU has become more sharp-tongued and assertive toward China. Yet, this transatlantic convergence may relate more to the language around the relationship with Beijing, with less agreement on substance.
The stance of the EU toward China will partly be determined by relations across the pond. Truth be told, the transatlantic bond is not what it used to be. It was shaken to the bone in Trump's days and Biden hasn't been able to fully restore it. Euro-American relations were seriously upset during the chaotic exit from Afghanistan last summer, when Europeans felt they were caught flat-footed by the United States. The French are fuming after the cancellation of their submarine contract with Australia and the signing of the AUKUS deal. Despite the fence-mending meeting between Biden and Macron in Rome, their dust-up won't be forgotten overnight and, in any case, the traditional bonhomie between Paris and Washington is gone. The debate on EU strategic autonomy, which is very much welcomed by Beijing, and beefing up Europe's standalone military capabilities beyond NATO has flared up. A significant new transatlantic tool is the Trade and Technology Council launched in Pittsburgh last September, but it may not be sufficient to help overcome a palpable deficit of trust between the two sides.
Furthermore, Europe doesn't have as much at stake in the Asia-Pacific as the U.S. does. Notably, France is the only European country with the status of a resident power in the Indo-Pacific. Many European capitals are still struggling to grasp the significance of strategic shifts in the Indo-Pacific and the implications of the EU's involvement in such a distant area, as they are up against considerable challenges in their own backyard. The EU's Indo-Pacific strategy is largely about cooperation, including with China, and much less about confrontation – tellingly, Taiwan is not mentioned in the EU's draft Strategic Compass.
Just as importantly, while a tough stance toward China is shored up by a bipartisan consensus in the U.S., the EU is much more fragmented in this respect. Washington appears to have endorsed Brussels' definition of China to a certain extent as well as adopting a nuanced tone, but it is still more inclined to confront China than Europe is. Biden has a limited room to maneuver with a likely hostile opposition-controlled Congress after the mid-term elections next year, and the United States may even see a Republican president again in 2024.
Conversely, the EU will probably remain ambivalent vis-à-vis China in the years to come. At present, all eyes in Europe are on Germany's new coalition government. While Merkel's predominantly economy-first approach is expected to be somewhat recalibrated and Berlin won't mince its words on human rights issues, a major overhaul is unlikely in the short run.
It is this level of complexity of the conceptual framework one needs to take into account to understand the different lenses Europeans and Americans use to look at China. Europeans have long preferred to play the middle between Washington and Beijing, and are reluctant to be squeezed between two elephants. Time will tell how deep the apparent convergence on China is and whether the transatlantic partners are talking more than walking together in the way they perceive the new rising superpower.