In Light of Evergrande, It's Time to Talk About the 'Big Four'
Evergrande's crisis once again calls into question the role of international auditing firms – and raises doubts over what other secrets their seal of approval may be hiding.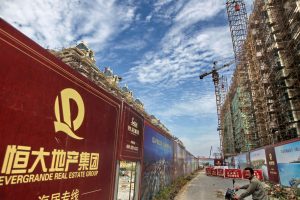 Troubled Chinese property developer Evergrande managed to scrape together the cash for a missed interest payment just days before its deadline, but the company remains in a dire state and at high risk for default. However, amid the cacophony of recriminations over how Evergrande arrived at the brink of collapse and the question of complicity on the part of the Chinese government, it would be wrong to place the blame solely at the feet of national regulators. In fact, without the help of its auditor – Big Four grandee PwC – Evergrande would not have become the bloated, debt-addled danger of 2021.
Indeed, concerns have been raised over the sustainability and long-term solvency of Evergrande's business model for years, yet its auditors gave the firm a clean bill of health as recently as this spring. While their laissez-faire attitude in the face of Evergrande's growing problems has prompted Hong Kong's accountancy regulator to open an investigation into their work, the incident should serve as a watershed moment which leads to far greater scrutiny of the "Big Four" auditing firms in general.
Evergrande on the Precipice
By submitting an $83.5 million interest payment in the nick of time, Evergrande has narrowly avoided a complicated restructuring process, which would have been the second biggest default in history, behind the collapse of Venezuela's PDVSA petroleum company in 2017. Nonetheless, the outlook is bleak for the Chinese construction behemoth. Leaked documents suggest that Evergrande has over $300 billion in liabilities, spread across 128 banks and 121 non-financial institutions.
Culpability for the company's sharp fall from grace must lie with its borrowing strategy, which has spiraled out of control in the last decade, as well as the Chinese government, which turned a blind eye to its mismanagement. However, fingers are also being pointed at the Evergrande auditors PwC. As far back as 2017, GMT Research published a report highlighting how PwC's acceptance of Evergrande's unsold car parking spaces and commercial properties as investments rather than inventory was highly irregular and distorted its balance sheets, as did its decision to capitalize all interest payments and exaggerate the value of certain assets.
At the time, GMT Research concluded that Evergrande was insolvent in all but name and asked whether its auditors were asleep on the job. Given that PwC signed off on the business's 2020 accounts without a warning over its ability to continue as a going concern – just months before Evergrande's own directors admitted the possibility of such an outcome – appears to confirm that they have yet to rise from their slumber.
Evergrande: Another Abraaj Moment for the Auditing Industry?
Evergrande's current predicament, and the role its auditor played in hiding it, is intensifying an already piercing spotlight currently cast on the auditing industry. That's because one of PwC's fellow "Big Four" members, KPMG, has also come under fire for their role in one of the biggest financial scandals in recent memory: the spectacular collapse of the Dubai-based Abraaj Group fund, which managed $14 billion in client assets at its peak. It was later revealed that Abraaj's founder, Arif Naqvi, had been misappropriating funds to plug gaps in the company's checkbook and fund his lifestyle for years – resulting in a global scandal that wiped out hundreds of millions worth of investments.
Despite the seismic scale of the fraud at play, those financial anomalies were only uncovered when a whistleblower alerted investors, rather than the auditing firm tasked with preventing them. KPMG Lower Gulf – the Middle Eastern arm of KPMG proper – exonerated Abraaj even after the story broke, casting aspersions over the quality of its own work. These only deepened when it emerged that the son of the auditing firm's CEO sat on the board of Abraaj, with other executives having worked for both companies, too. Since then, its independence and impartiality as an auditor have been seriously called into question.
Beijing's Middle Eastern Lessons 
However, the long string of failings and malpractice in which auditing firms, and especially KPMG, have found themselves in for years supports the assumption that they are being hired precisely by those who wish to hide the rot in their companies. The consequences are often dire, as Dubai's experience shows: the Dubai Financial Services Authority's (DFSA) lethargic response was by all accounts too little, too late, and it cost the market dearly, with very little capital having been raised by Gulf Cooperation Council firms since, and investments in the region currently languishing at a 10-year low.
For China, there are many important lessons to be heeded. If Evergrande has taught Beijing one thing, it's that many of its enterprises are overindebted and trying to hide it. This is partially a result of corruption, a major problem in its economy and arguably the most pressing domestic priority, as Xi Jinping's anti-corruption campaign testifies. It's no surprise that the Central Commission for Discipline Inspection announced an intensification of "'deep-level' anti-corruption investigations to 'prevent systemic financial risk'" in the wake of Evergrande in a clear sign that Beijing is trying hard to keep investor confidence in its economy high.
Because Evergrande is feared to be "too big to fail" by some observers, the government has every reason to clean house. Beijing's move to more strictly scrutinize the activities of accounting firms to crack down on fraud is symptomatic and it's not impossible that the Big Four audit companies, who also dominate China's market, could be subjected to similar treatments.
Like the Dubai Financial Services Authority (DFSA) in the Abraaj case, Beijing was similarly sluggish in responding to concerns over Evergrande, only warning local authorities of its potential downfall earlier this year. And although the Hong Kong Financial Reporting Council announced its own inquiry into Evergrande and PwC's role, marking a U-turn in the territory's approach to the company, the delay implies that a more effective system needs to be put in place if more large-scale crises are to be avoided.
Given that the FRC has also complained that almost three-quarters of auditing firms operating under its jurisdiction are turning in substandard work, it's clear that the free ride enjoyed by the "Big Four" must now come to a convulsing halt – or else China could suffer unprecedented consequences.