Kazakhstan: What Happened in Zhanaozen?
Ten years after the Zhanaozen massacre, has justice been served?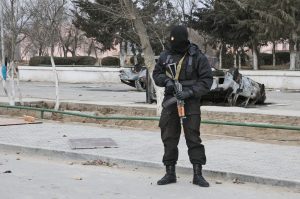 On December 16, 2011, local and special police squads opened fire on unarmed residents in Zhanaozen, a city in Kazakhstan's southwest. The residents had been standing in the city's main square for seven months, protesting to demand higher salaries and better working conditions at the nearby oil fields. According to official data, 17 people were killed; over a hundred protesters and others were injured. The Kazakh government has tried to head off future civil disobedience since 2011 in part by hushing up revelations and reporting about what many now call the Zhanaozen massacre.
Protests Led to Unrest
Zhanaozen is a city of close to 90,000 people in Mangystau province. The province is considered the most expensive and most environmentally risky in Kazakhstan, and Zhanaozen its most expensive and risky city. The population has dropped by over 10,000 since the massacre a decade ago. Recent droughts hit the livestock of hundreds of farmers hard, creating further economic hardship in the region.
The protests in 2011 were at a scale not seen before in Kazakhstan's modern history. They started in the outskirts of Aktau, Mangystau province's center. In mid-May 2011, oil workers employed by Karazhanbasmunai, a joint venture between Kazakhstan's state-owned oil company and a Chinese company, began protesting. They declared a hunger strike until company officials agreed on a salary raise.
In the span of two weeks, oil workers in Zhanaozen, most of them employed by UzenMunaiGas, a subsidiary of the Kazakhstan state-owned KazMunayGas, also went on strike, demanding an increase in wages, boosted payments for harsh working conditions, a cessation of interference in the work of labor unions, and for the company to stop pressuring labor activists.
Company officials called the workers' demands unreasonable and illegal and said negotiations would be held only if the strikes ended.
According to witnesses interviewed by RFE/RL's Kazakh Service, the number of protesters had reached 2,000 in late May and early June. Oil workers continued protesting throughout summer, while security services employed various tactics to pressure, harass, and assault the striking workers.
On May 24, a city court declared the strike illegal and special police squads interrupted the protests near UzenMunaiGas work sites, which led the striking workers to relocate to the city center.
As the summer of 2011 waned, pressure on the striking workers and supporters intensified.