Kazakhstan's Power Shortages: Crypto Miners and Geopolitics
Data centers caused a spike in electricity demand, while the country is still dependent on coal.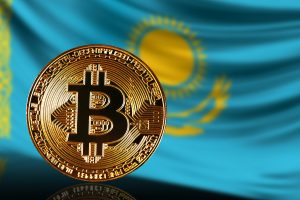 Electricity deficits have caused repeated outages across Kazakhstan, and the government has turned to Russia to meet growing demand.
Officials said that a spike in consumption has strained the country's grid. Deputy Energy Minister Murat Zhurebekov said the increase in demand was caused by both an 8 percent increase in domestic electricity consumption in 2021 and unregistered cryptocurrency miners, most of whom migrated in the past few months from China, where regulations caused a halt in cryptomining.
"We have officially registered 50 [cryptocurrency mining companies], the rest work in the shadows: These 'gray' miners have provoked the deficit," Zhurebekov said.
Kazakhstan's government has shifted its focus on cryptomining since the country became the second-largest producer of Bitcoin, the world's most renowned cryptocurrency. Increased production, they argue, has substantially increased electricity demand.
In a written response at the end of October, the Ministry of Energy told The Diplomat that crypto miners account for most of the growth in electricity demand 
"The 8 percent increase in consumption is largely due to mining data centers operating in the country. The main suppliers of electricity for mining data centers are coal and gas power plants," the note said.
Almas Chukin, a political economist, wrote in a long Facebook post that the crypto miners could have been "the straw that broke the camel's back," but they cannot carry the full blame.
"According to the estimates, they require about 7 percent of the total power consumption. As [cryptocurrency miners] came into the market, alongside accidents and repairs, they helped unveil a situation that has been difficult for a long time." 
In fact, framing cryptocurrency data centers as the problem – and calling for measures of financial monitoring or power rationing – seems to be a shortcut to sweep the real infrastructural problems under the rug.
The regions in Kazakhstan with the highest electricity demand, in fact, are the industrial zones in the north, such as Pavlodar and Karaganda.
Among other power plants that were affected by bad weather and remodeling, two of the plants in Ekibastuz, near Pavlodar, were scheduled for routine repairs in November. The downturn in production more than exceeded the estimated consumption related to cryptomining, which is not greater than 1 GW, according to KEGOC, the country's electricity company. Snowfall and frost routinely affect power generation and transmission lines during the winter in Kazakhstan.
Around 70 percent of Kazakhstan's electricity is produced by coal-powered plants. This proportion has decreased from around 81 percent in 2013, but still indicates a structural dependence on coal. There now seems to be a domestic shortage of coal, along with a geopolitical conundrum.
As coal prices have increased, there has been little incentive for Kazakhstan to reduce exports to meet domestic demand. In addition, the coal that Kazakhstan exports is of the highest quality, whereas internally the country's plants use low-grade coal. Increased demand has meant that even the least efficient coal has become rarer.
This has had an effect on consumer prices, too. When on November 18, Beibut Atamkulov, minister of industry, said at a Senate hearing that "the most expensive coal cost 5,700 tenge ($13) per ton," social media users were outraged by his outlandish take, claiming it is impossible to find coal for less than 20,000 tenge ($42) as winter approaches.
While local Kazakhstanis scramble for increasingly expensive coal, the cold weather snap across the Eurasian continent prompted the Russian government to halt coal exports to Ukraine. To meet domestic needs, Ukraine turned to Kazakhstan, which sent coal via rail through Russia. At the beginning of November, Russia decided to stop the transit of Kazakhstani coal as well, in an effort to secure supplies for its domestic market. Kazakhstan's coal is thus now at the center of yet another energy dispute between Russia and Ukraine.
Yet, Kazakhstan needs to remain on Russia's good side. The country's northern neighbor, in fact, will come to the rescue, but at a price, said Russian distributor Inter RAO, which now wants to sell electricity to Kazakhstan at market prices. Until October, unplanned distribution imbalances between the two countries, which are connected by 70 power lines, were paid out by Kazakhstan at a subsidized rate.
Going by the government's line, either a stricter regulation for crypto miners will be enforced, or the country will have to buy more electricity from Russia. 
In the long run, however, Kazakhstan might look to increase its own production. It could do so in two ways: by continuing to rely on coal or by finally striving toward its sustainability goals with concrete steps to unlock its renewable energy potential.