Taiwan to Host 1st WorldPride in East Asia: Why That's Important
Kaohsiung beat out Washington D.C. to host WorldPride 2025.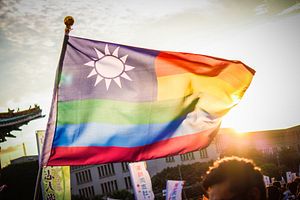 Taiwan continued to make international headlines last week — not because of growing tensions with China, but rather LGBTQ pride. Last Friday, the city of Kaohsiung in southern Taiwan won the bid to host WorldPride in 2025, which will be the first and only WorldPride event to be hosted in East Asia. The Biden administration has expressed its support for the Taiwanese government by advocating for its participation in the United Nations and its right to protect itself against a theoretical Chinese invasion, but Washington should also incorporate its support of the Taiwanese LGBTQ community within its foreign policy on Taiwan. Washington should encourage its allies in the region to view Taiwan as a model for equal human rights for all and not as an exception to the status quo.
Although not an easy win for human rights activists, Taiwan became the first jurisdiction in East Asia to legalize same-sex marriage in 2019 and the island continues to show support for its LGBTQ citizens. Over the course of five days, more than 300 member organizations worldwide met virtually through the InterPride 2021 General Meeting & World Conference to choose between two locations for WorldPride for 2025: Kaohsiung City and Washington D.C. Kaohsiung Pride won the bid over the Capital Pride Alliance of Washington D.C., marking a major milestone in global pride. Darien Chen, the spokesperson for Kaohsiung Pride, issued a statement following the results declaring that "This is the beginning of a 4-year journey that we plan to ignite change in Asia, to promote InterPride's mission, and to advance human rights in the world."
While certainly a victory for all LGBTQ persons and their allies, neighboring Beijing and Seoul will likely maintain a reticent stance against supporting LGBTQ rights.
Beijing and Seoul continue to fail their LGBTQ community by refusing to adopt legislation that recognizes their protection from discrimination. In comparison, Japan has made small but notable steps toward recognizing same-sex marriage and LGBTQ rights. Although Japan has yet to pass a nondiscrimination law that protects the rights of LGBTQ persons, certain districts in Japan have been issuing "partnership" certificates to same-sex couples since 2015 and the Sapporo District Court in northern Japan ruled the government's ban on same-sex marriage unconstitutional in March 2021. Former candidate for Japanese prime minister, Kono Taro, publicly supported legalizing same-sex marriage during his campaign but lost to Kishida Fumio, who hasn't outwardly rejected the idea, but implied his reluctance by stating that it would require "extremely careful consideration."
Seoul and Beijing, however, are still far from taking these first steps to recognizing LGBTQ rights. For example, current South Korean President Moon Jae-in denounced the LGBTQ community during his presidential campaign in 2017 by stating that he is "against homosexuality and same-sex marriage," but attempted to soften his comments years later, stating that discrimination should not be tolerated following high levels of LGBTQ-targeted hatred in South Korea. 
While right-wing Christianity often exacerbates anti-LGBTQ speech and policies in Seoul, Beijing shares a similar general opposition toward LGBTQ persons and same-sex marriage without having a strong presence of conservative religious views. Despite multiple attempts from pro-LGBTQ coalition groups in China, Beijing continues to reject supportive legislation on the protection of LGBTQ persons and Chinese President Xi Jinping himself called for a "national rejuvenation" of the Chinese youth. As a result, the Chinese National Radio and TV Administration declared that broadcasters must "resolutely put an end to sissy men" and effectively banned effeminate men from appearing on television, referring to them as niang pao (娘炮 in Chinese), a derogatory slur for effeminate men. 
Although no jurisdiction is void of discrimination, Taiwan will likely continue to serve as a haven for the LGBTQ community in East Asia. An official congratulatory message from the White House to Kaohsiung for becoming the first recipient in East Asia to host WorldPride would be a powerful message to send to U.S. allies and LGBTQ persons across the globe who continue to face discrimination and hatred simply for living their lives in truth.