What Did South Korea Promise at COP26?
South Korea is among the world's most carbon intense economies. What changes is Seoul willing to make?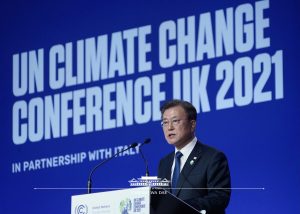 At the U.N. Climate Change Conference (COP26) in Glasgow, South Korean President Moon Jae-in said that "It is not easy, but the Korean people have decided that now is the time for action" on climate change.
With climate experts seeing COP26 as the last opportunity for the world to agree to steps that would prevent average global temperatures from rising more than 1.5 degrees Celsius by 2050, action is what the world needs. Average global temperatures are already 1.1 C higher than the pre-industrial levels, and a new assessment by the U.N. indicates that they are still on pace to significantly exceed 1.5 C despite the new pledges in Glasgow.
While much of the focus is on the United States and China, two of the world's largest carbon emitters, the world will not be successful in achieving its climate goals if countries such as South Korea are unable to cut their emissions, too.
While South Korea does not produce greenhouse gas emissions on the scale of the United States or China, it is the world's 13th largest emitter and accounts for about 1.38 percent of the world's emissions. Its industrial economy will be difficult to decarbonize. It is dependent on carbon intense industries such as steel, automobiles, and semiconductors, while relying on fossil fuels for 67 percent of the country's electricity production.
On a per capita basis the industrial nature of South Korea's economy means that it emits 11.7 tons of carbon dioxide per capita. This places it among the world's most carbon intense economies. Excluding smaller economies such as the Faroe Islands, Trinidad and Tobago, and Luxemburg, the only economies with larger per capita emissions than South Korea are the United States and Canada.
If South Korea is to reduce the carbon intensity of its economy, it will need to take significant steps. In Glasgow, Seoul pledged to reduce emissions by 40 percent from 2018 levels and signed up to the Global Methane Pledge to reduce methane emissions by 30 percent. Both are goals for 2030. Seoul also joined the Glasgow Leaders' Declaration on Forests and Land Use, with Moon touting South Korea's own successful reforestation and pledging to "actively cooperate with developing countries in their efforts for forest recovery."
South Korea hopes to achieve these reductions by reducing coal power generation from 41.9 percent to 21.8 percent of its energy mix by 2030, along with increasing renewables to 30.2 percent. South Korea is also looking to achieve 5 percent of its emissions reductions through reforestation efforts abroad, including potentially in North Korea.
In addition to the new commitments in Glasgow, prior to COP26 the Moon administration pledged to make South Korea carbon neutral by 2050. The National Assembly followed up Moon's pledge with legislation earlier this year to make South Korea the 14th country with a carbon neutrality law. The Moon administration has also taken steps to begin decommissioning coal power plants and ended financing for the construction of coal plants abroad, while investing in and promoting renewable energy through the Hydrogen Economy Roadmap, the Third Energy Plan, and the world's largest offshore windfarm.
Will these efforts be enough? The Glasgow pledge is an improvement on South Korea's earlier commitments to curb emissions. Its nationally determined contribution as part of the Paris Accords called for reductions of 37 percent from business as usual estimates for emissions of 850.6 million tons in 2030. That would have cut South Korea's emissions to 535.9 million tons in 2030, roughly South Korea's emissions levels in 2010.
The Glasgow pledge also improves on a new nationally determined contribution that South Korea submitted just last year that would have reduced emissions by 24.4 percent from 2017 levels by 2030. South Korea's COP26 commitment will reduce emissions an additional 72 million tons from the 2020 pledge.
However, South Korea still needs to take additional steps. Estimates by Climate Action Tracker suggest that to achieve the global goal of keeping temperature rise below 1.5 C and meet South Korea's own pledge of carbon neutrality by 2050, the country would need to reduce emissions by 59 percent below 2018 levels by 2030.
There were also some emissions reduction agreements that South Korea did not join at COP26. South Korea and its automotive companies declined to sign onto a pledge to transition to 100 percent sales of zero emissions vehicles in major marks by 2035. South Korea also did not sign up to an effort to reduce carbon emission from the world's health care systems.
Seoul also sent mixed signals on its own plans to phase out coal. After signing onto a statement calling for coal power to be phased out by 2030, Seoul later clarified that it had not agreed to a date to shift away from coal and Moon only pledged to eliminate coal from South Korea's energy generation by 2050.
While South Kore may not have gone far enough in its commitments in Glasgow, it has made significant progress in recent years. In 2018, South Korea's emission's peaked at 605.95 million tons. The pandemic has likely pushed those emissions down further, but only time will tell if the steps that the Moon administration has taken will result in a continued reduction in emissions or become merely a brief decline.
Other factors, though, will likely continue to push South Korea towards additional emissions reductions. Companies, such as Apple, are beginning to set their own, more ambitious carbon neutrality goals, while the United States and the EU have agreed to take steps to reduce the carbon intensity of steel and aluminum. Both of these will place pressure and provide opportunities for South Korea to further reduce emissions.
With Moon set to leave office next year, however, it is likely the policies of the next South Korean administration that will determine whether Seoul is able to meet South Korea's commitments at COP26 or build on them to take the additional steps the world needs.