Can South Korea Keep up its Momentum on Climate after the P4G Seoul Summit?
South Korea has a chance to close the gap between rhetoric and action on climate change.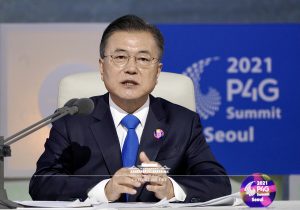 On May 31, South Korean President Moon Jae-in wrapped up two days of high-level discussions as part of the 2021 Partnering for Green Growth and the Global Goals 2030 (P4G) Seoul Summit. The virtual gathering centered on advancing public-private partnerships, particularly for developing countries, to help meet development and greenhouse gas reduction goals. For South Korea, and Moon in particular, the summit had extra value as a showcase for both its own green growth efforts and ability to help developing countries adapt similar policies. Still, even as the Moon administration took major steps leading up to this week's meetings to signal a redoubled commitment to address climate change, there are significant obstacles ahead.
Established in 2018, the P4G summit in Seoul was only the second of its kind due to COVID-related delays. South Korea is one of only 12 P4G country members, alongside Vietnam, Mexico, Denmark, and Kenya. However, more than 65 top government officials and heads of international organizations participated in the summit – including Chinese Premier Li Keqiang, U.S. special presidential envoy for climate John Kerry, and IMF Managing Director Kristalina Georgieva – further augmenting the reach and status of the meetings.
The two-day event culminated in the Seoul Declaration, outlining a wide range of areas where participants agreed to promote inclusive, global public-private partnerships to tackle the climate crisis. Many of the key points emphasized that economic and climate considerations were not mutually exclusive and that a "green recovery should steer our efforts to rebuild the economy from the COVID-19 pandemic." The declaration also emphasized the importance of developing new green technologies, finding innovative solutions to sustainable water management, increasing the share of renewables in power generation, developing green cities, and the need to pursue market-based solutions to sustainably address climate-related challenges.
As one of the earliest and most vociferous world leaders to embrace a green economic recovery from the pandemic, Moon certainly capitalized on the moment. At the opening ceremony, he announced South Korea would unveil a more ambitious emissions target at the 26th U.N. Climate Change Conference (COP26) in November. The previous pledge made last December stated South Korea would aim to cut greenhouse gas emissions 24.4 percent from 2017 levels by 2030 to help reach its goal of carbon neutrality by 2050.
Moon additionally vowed South Korea would act as "a bridge between advanced and developing countries to bolster international solidarity and cooperation" on these issues. Specifically, he stated South Korea would simultaneously work with other advanced countries on the climate crisis while helping developing countries secure eco-friendly technologies. At least part of the funding for this aid for developing countries will come from a new $5 billion Green New Deal Trust Fund – a nod to Moon's green policies at home – through the Seoul-based Global Green Growth Institute.
Senior government officials seem optimistic about this bridge role despite the intensifying great power competition. When Foreign Minister Chung Eui-yong was asked if South Korea could foster global cooperation on climate change amid the growing enmity between Seoul and Beijing, he pointed to the fact that both rivals attended the summit.
The summit came on the heels of other major announcements from South Korea to demonstrate its commitment to tackling climate change. At the Leaders Summit on Climate hosted by U.S. President Joe Biden, in which 40 world leaders participated between April 22 and 23, Moon promised to stop state-backed financing of overseas coal-fired power plants. To help fulfill this pledge, South Korea's National Pension Service – the third-largest retirement fund in the world – announced last week it would no longer fund any new projects to build coal-fired power plants abroad. This is a major step toward meeting global goals on climate change as South Korea is one of the world's largest foreign investors in coal power plants. According to the Global Coal Public Finance Tracker, South Korea's $5.75 billion in overseas financing for coal projects is only behind Japan and China.
However, it seems as if Seoul was at least somewhat pressured from Washington to do more. Just a few days before the Leaders Summit, Kerry travelled to South Korea where he reportedly surprised the Moon administration by suggesting improved greenhouse gas emissions reduction goals. Namely, Kerry suggested that South Korea take corresponding efforts to the U.S., which would mean almost doubling the planned emissions cuts by 2030.
South Korea's climate policies have also been criticized for falling short of their existing goals. A recent joint study by the Korea Advanced Institute Science and Technology and Solutions for Our Climate found that the trajectory of current energy policies will not achieve what they deemed a "highly insufficient" 2030 emissions target, let alone carbon neutrality by 2050. They cite South Korea as trailing behind other major OECD countries, including neighboring Japan which pledged to cut emissions between 46  percent to 50 percent of 2013 levels by 2030. Another study suggests South Korea's increased reliance on natural gas as a bridge from fossil fuels to renewables could delay widespread usage of renewables if additional reforms are not taken. A letter from a coalition of 11 environmental groups, including Greenpeace, also took issue with the fact that already planned but not yet constructed coal-powered plants were not subject to the moratorium on overseas coal-fired plant financing, stating "Against this backdrop, we are left in serious doubt as to whether the country will be able to lead a worthwhile discussion on green growth and sustainable development."
If South Korea wants to continue to be seen as a leader on climate issues, it will need to more proactively set ambitious goals and lay out realistic means of achieving them. In this sense, the promised updated emissions target at the upcoming COP26 in November represents a milestone opportunity for Seoul. Using the P4G as a springboard, if South Korea can show tangible results from the summit and present a bolder, attainable emissions target in November it would greatly help sustain Moon's drive for his country to be a convenor on the global climate crisis.