Bangladesh at 50: On the Path to Becoming a Middle Power
Despite the odds, Bangladesh has managed to remain neutral amid great power competition and notch rapid economic growth. But the next decade will bring even more challenges.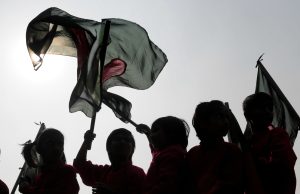 Bangladesh at 50 is a transformed Asian tiger that is looking to build on its ambition of exerting more power in regional and global politics. A string of economic successes – especially its forthcoming graduation from a Least Developed Country (LDC) status – have been at the forefront of the 50th anniversary celebrations in Dhaka, notwithstanding the thought of inevitable challenges to come. However, it should not be lost on us how Bangladesh's neat maneuvering between China, India, and the United States in an increasingly bipolar world lends more character to the country's rather dormant foreign policy of "friendship to all, malice to none." Bangladesh is showing strong signs that it aspires to be an "emerging middle power" in the world system by setting a precedent of bold geopolitical conduct.
What Is an Emerging Middle Power?
Theories about middle powers in international politics are layered in descriptions of the tenets that constitute the concept. One of the most dominating perspectives suggests that middle powers are classified either as "functional" or "behavioral": a state that wields influence by its functions in the international system, or by assuming a certain role and claiming to be a middle power. Perhaps the biggest criticism such descriptive litanies face is that all categories lend more authority to the dichotomized, neoliberal definition of traditional middle powers in the West. This means, instead of measuring relational performances in interaction with other states and negotiating for its own self-interest, the theories and frameworks assess a state's capability to linearly manage and facilitate the monolithic international order set up by a "great power."
This criticism is important since international politics, by virtue, is a comparative exercise. Any state's agential capacity to interact according to its self-interests, and influence events in the international system, provides crucial knowledge and metrics that can differentiate its true political performance and capability to construct its own identity in the international order: "the nation's character," as Hans Morgenthau put it.
I posit that an emerging middle power primarily rejects the need to base its internationalism solely on foreign policy strategies of "appeasement" and "alignment," but is still capable of deploying a variety of sources of power and uses its admittedly limited influence to achieve the best possible outcome for itself, in a system continually dominated by great power rivalries or Western hegemony.
Bangladesh is just such a middle power.
Path-defining Geopolitical Success
Bangladesh's geopolitical conduct at 50 stands out as one of the rare examples of the successful deployment of various sources of power – both through actions and criticisms – in order to change the position of big powers and defend a state's own self-interest.
Bangladesh's geographic reality of being engulfed by India has driven one of its biggest priorities: to keep New Delhi close. This, however, is not synonymous with handing over a blanket invitation to the BJP government to enact questionable domestic policies, like the Citizenship Amendment Act, without considering the costs and consequences for its neighbor (for example, by creating another refugee exodus into Bangladesh through the porous Indo-Bangla borders). In the same breath, Dhaka's constancy in maintaining "blood ties" with New Delhi continues to keep China's approaches controlled and, in some instances, thwarted.
Beijing's significant financial and security investments in Bangladesh – with over $18 billion pledged – cover a range of ambitious infrastructure projects. Many experts in India have been quick to claim that Bangladesh has stepped into a Chinese "debt trap," but the reality is far from it. Dhaka's extensive experience in dealing with development aid has carved out a robust structure whereby its financial prudence keeps successfully rooting out any opportunities for Beijing to corner the country with debt. Whether it is scrapping the Sonadia port project – allegedly at India's request – to keep the Bay of Bengal free from the Chinese military's influence, or "reprimanding" Ambassador Li Jiming's "wolf warrior" tactics of interfering with Bangladesh's foreign policy aspirations regarding the Quad, Dhaka has shown repeatedly it is comfortable standing up to China when its interests are at stake.
At a time when ASEAN countries are being implicitly forced to pick sides, Dhaka's waltz between China and India-U.S. indicates that you can sometimes have your cake and eat it too. This also shows Bangladesh's character in the region with regards to greater global politics: It is open to the best possible economic cooperation that satisfies national interests but will pursue a foreign policy of neutrality in regional peace and global rivalry.
Dhaka's recent ties with Washington have been mixed. At the height of the Sino-Indian border clashes last year at Galwan, Bangladesh agreed to a military modernization proposal by the United States worth $110 million, though this is admittedly meager compared to the $2.59 billion Bangladesh has spent on Chinese military equipment. Under Biden's administration, climate envoy John Kerry flew into Dhaka early March this year to invite Prime Minister Sheikh Hasina to the Climate Summit, underlining the importance of Bangladesh's participation as a crucial climate-vulnerable stakeholder.
However, the ideological tint of Biden's foreign policy is posing an obstacle. Bangladesh did not receive an invitation to the Summit for Democracy held on December 9 and 10, spurring Bangladesh Foreign Minister A.K. Abdul Momen to complain to local media that the U.S. chose to invite "weaker democracies." Then, on December 10, the U.S. Department of State imposed sanctions on six top officials of the local law enforcement agency Rapid Action Battalion (RAB) for human rights violations. The move was met with stern protests to the U.S. ambassador from the upper echelon of the Bangladeshi government.
Touting the sanctions as the start of a deteriorating Bangladesh-U.S. relationship, many are overlooking the relational interactions that comprise global political structures. Just last month, Biden's administration also sanctioned the Israeli spyware firm NSO Group – the makers of Pegasus and linked with the Israeli intelligence – over technology that maliciously targeted journalists, activists, and even U.S. diplomats in Uganda. Yet the United States still maintains its "ironclad commitment" and stands as Israel's biggest global ally, proving sanctions can co-exist with healthy diplomatic engagement when driven by self-interests.
In this regard, Bangladesh's conduct vis-a-vis Washington in the past month is an example of an emerging middle power marshalling its resources to defend its self-interests and stand firm.
The Economic Crossroads
Part of Bangladesh's confidence in its geopolitical conduct comes from its steady economic development. Dhaka's focus on growth has steered the country toward an economic milestone that defined the past 50 years and is set to define the next 50 as well. Bangladesh's graduation from LDC status stands both as the fuel and the flame on its quest to become an emerging middle power. It will not be a disservice to claim that Bangladesh's potential as an emerging middle power will rightfully be tested by how it deals with its post-graduation economic cooperation and transformation.
Dhaka's foreign policy over the past two decades has relied heavily on achieving International Support Measures (ISMs) and preferential trading access, so it is easy to export without tariffs and clauses promising equal access to foreign firms in the domestic market. Standing on the shoulders of the U.S. and European Union, which together comprised at least 80 percent of Bangladesh's export earnings each year for the past decade, has allowed Bangladesh to become a global powerhouse in the ready-made garment industry. Even when the United States stopped offering trade preferences to Bangladesh in 2015, and China swooped in to allow duty-free access to 97 percent of Bangladeshi goods, it was still clear that trade and cooperation would not be synonymous with allyship. For Bangladesh, economic needs can drive the wheel of geopolitical neutrality.
Post-graduation, however, the loss of ISMs will mean that Dhaka must rely on the merit of its negotiations to get into regional frameworks or bilateral agreements, with favorable terms of access, to keep the country's economic engine charging ahead. For many economists, this will necessitate a pivot toward ASEAN and East Asia – markets that have brought in a combined 8 percent of export earnings every year for the past decade. Frameworks like the Regional Comprehensive Economic Partnership (RCEP) can potentially cut through the sticky web of FTAs that complicate Asian crossborder trade with increasing transaction costs and trade protectionism, but as with all multilateral trade agreements, there are also costs to endure.
At the other end of the stick, RCEP involves clauses of aggressive trade liberalization and equal access to markets that have the potential to squash local competition in a matter of years. The rigorous cost-benefit exercise that awaits policymakers in the next five years will require them to not only play the role of a low-income country, but also to switch to the LDC graduate's tasseled cap and sometimes to assume the persona of an aspiring high-income country, to bargain the maximum possible bilateral agreements in the short run, in order to survive well without ISMs after 2026. But then what?
At the heart of this conundrum is the familiar and elusive concept of "political will" – and therein lies the rub. Are policymakers ready to make diplomatic compromises to win bigger trading arrangements? Is Dhaka ambitious enough to diversify its product basket beyond the low-hanging fruits? Is the economy robust enough to withstand exposure to foreign competition and move forward?
Although it is early days, Dhaka's aspirations to develop an automotive assembling industry by the early 2030s indicate its intention to avoid falling into the middle-income trap – unlike countries like the Philippines or Malaysia – and transform its labor-intensive economy into a capital-intensive one like South Korea did in the 1980s. Already top local companies, in collaboration with foreign technological partners, have proposed multimillion-dollar investment opportunities to set up car assembly plants. Multiple negotiations are  ongoing between the Ministry of Industries and automotive leaders like Hyundai and Mitsubishi to explore car assembly joint ventures with local state and non-state actors. The challenge, however, as the chief representative of JICA Bangladesh Hayakawa Yuho puts it, will be to make the industry export-ready before entering the highly competitive regional market. The challenge after that will be to find duty-free markets to export to.
One might suggest that the path to becoming a middle power is beset on all sides by the iniquities of bigger global powers and the challenges of bargaining for one's existence. Bangladesh at 50, despite the economic challenges ahead, possesses a unique identity in the international system, as a country that is constantly adding more color to its foreign policy of geopolitical and economic neutrality. Throughout history, the world has understood Bangladesh as a small state born out of a bloody war. Celebrating its 50th anniversary, and looking down the long, winding road toward its hundredth, Dhaka's backpack is equipped with all the tools that it requires to succeed in its quest to become an emerging middle power. The trick now is having the wisdom and will to use them.