Can Pakistan and Bangladesh Be Friends?
China and Turkey are providing the opportunity for Pakistan to sit with Bangladesh again. Islamabad must do so with sincerity and self-reflection.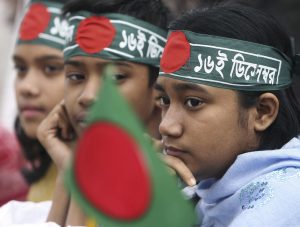 On August 14, Pakistan's Independence Day, the country's high commissioner in Dhaka, Imran Ahmed Siddiqui, lauded the role that Bengalis played in the creation of Pakistan in 1947. That was preceded by Pakistani foreign office spokesperson Aisha Farooqui saying that Islamabad was now actively working on "moving forward" with Dhaka. Before that, the two premiers, Imran Khan and Sheikh Hasina, held a July 22 telephone conversation.
While August is usually an annual reminder of what binds India and Pakistan together, this year provided a rare opportunity for Islamabad and Dhaka to reminisce about their own fractured past. This was duly felt in New Delhi as well, with Foreign Secretary Harsh V. Shringla rushing to meet Hasina and Bangladesh Foreign Minister A.K. Abdul Momen last week.
Pakistan's recent overtures toward Bangladesh have overlapped with growing disputes between New Delhi and Dhaka, largely centering around the growing anti-Muslim tilt of the ruling Bharatiya Janata Party (BJP) in India. In the recent past, differences over the Rohingya refugee crisis, the Citizenship Amendment Act, and the construction of Ram Mandir in Ayodha have sparked a diverse array of skepticism from Dhaka.
Meanwhile, where the India-Bangladesh drift has largely remained under the radar, Pakistan has visibly undergone a diplomatic metamorphosis over the past three weeks. Three senior diplomats interviewed for this piece discussed the recent foreign policy reshuffle in Islamabad.
Pakistan's unprecedented, and previously unthinkable, move to call out the inaction of Saudi Arabia and the Organization of Islamic Cooperation (OIC) over Kashmir earlier this month has firmly placed the country in the Chinese and Turkish camps. While Army Chief General Qamar Javed Bajwa's visit to Riyadh last week was aimed at salvaging Saudi-Pakistan military ties, Islamabad is now openly backing Turkish and Chinese bids for Muslim and global leaderships respectively.
One diplomat informed The Diplomat that with both China and Turkey wholeheartedly backing Islamabad's Kashmir narrative, much of Pakistan's recent diplomatic engagement with Bangladesh has been with regard to this fast-growing alliance.
With China more invested in Kashmir because of its growing rivalry with India, and its bid to involve itself in conflicts as the global superpower, Dhaka's interest in being a part of the China-Pakistan-Turkey nexus could also be piqued by Beijing's investments in Bangladesh. With over $10 billion worth of Chinese infrastructure projects already there, Bangladesh is now seeking another $6.4 billion for new projects, and $1 billion for Teesta river management.
"Under the Turkey-led Muslim bloc, both Pakistan and Bangladesh can get more prominence as compared to what we have under the Gulf states, who have not only failed to provide support for Kashmir, they've actively enhanced their defense and energy cooperation with India, and even Israel," said a senior diplomat.
The UAE-Israel deal epitomizes the rapid splintering into a new cold war reality, with the Gulf states firmly in the U.S.-Saudi camp. This opened the possibility for South Asian Muslim countries to back the potential China-Turkey bloc. Thus Pakistan's efforts to woo Bangladesh, backed by China and Turkey, are rooted in global, and regional, realignments more so than any bilateral efforts to reconcile with a tumultuous past.
Therefore, while Pakistan and Bangladesh might find common interests in coexisting in the same bloc, for the two to actually become friends requires an honest discussion on what transpired in 1971 – and the events leading up to it. That mandates Pakistan self-reflecting about its own past, wherein it could find roots of many of its present predicaments, and in turn the pathway toward a progressive, pluralistic future.
Much of what ails Pakistan today can be traced to country's mistreatment of the Bengalis from 1947 to 1971, resulting in the two wings that fought together for Partition of India separating from one another within 24 years. That bloody divide in 1971 delineated many of Pakistan's paradoxes that have been rooted in the country's existence, but remain, unaddressed, in the national ethos.
The 1971 war helps explain why a majority launched a separatist movement, and why despite losing an entire wing Pakistan never had to alter its name. It reminds us how the two epicenters of the Pakistan movement, Uttar Pradesh and Bengal – the latter where the Muslim League was founded in 1906 – are no longer in Pakistan. It underlines how the 1940s separatist movement that claimed that the Muslims of the Indian subcontinent are "one nation" has since divided them almost equally into three separate states.
More critically for Pakistan, its divorce from Bangladesh unveiled the implosive fault lines that have only deepened since 1971. For instance, the military's dominance in Pakistan – and then in Bangladesh – is rooted in efforts to deny the democratic principle of "one person one vote," because it was feared that it would result in the Bengali majority ruling over the two wings of Pakistan.
As a result, civilian leaders in the then-West Pakistan were more keen on enjoying certain perks under military hegemony than letting East Pakistan have the majority say in running of the country. Zulfikar Ali Bhutto had collaborated with the military to reject the 1970 elections, in turn orchestrating the separation of Bangladesh; Pakistan's continued history of civilian leaders undermining democracy to gain proximity to power has since included Nawaz Sharif, Benazir Bhutto, and now Imran Khan.
Similarly, Pakistan's paranoid, jihadist, and India-centric security policy is also rooted in events leading up to 1971. The 1965 Operation Gibraltar incorporated two military strategies that have been engraved in Rawalpindi's General Headquarters: the use of non-state mujahideen and a focus on strategic depth.
Leaving its eastern wing open as bait in the build up to the 1965 war, Bhutto, then foreign minister, hoped to lure India to the east, while it was to be forced to fight on two fronts near Assam if China moved in. While India counterattacked on the western wing instead, and China never moved in across multiple Indo-Pak military engagements, the alienation of Bengalis and Pakistan's obsession with strategic depth were permanently etched. The fixation with strategic depth has since evolved into Pakistan's regional security policy, exemplified by its support for jihad in Afghanistan and Kashmir.
Pakistan's usurpation of Balochistan's resources, its labeling of Pashtun nationalism as "treason," the military's occupation of territory, and its undermining of democracy are all reminiscent of the state's marginalization of Bengalis. The growing number of Baloch missing persons and extrajudicial killings are a similar throwback to the violence that eventually led to the Bengali genocide of 1971 – one that Pakistan is yet to recognize.
"Bangladeshis across the board feel that Pakistan needs admit its mistakes of the past, acknowledge that its army had perpetrated a genocide and apologize for the atrocities committed," Ali Riaz, professor of political science at Illinois State University and nonresident senior fellow at Atlantic Council, said while talking to The Diplomat.
"With emerging global dynamics, there are various possibilities. But without the acknowledgement and apology of Pakistan for its heinous crimes in 1971, the road leads to nowhere," he added.
While military dictators like Zia-ul-Haq and Pervez Musharraf have acknowledged the events of 1971, Pakistan's leaders as a whole, and the state officially, has failed to accept the gravity of its crimes. In recent years, the death sentences issued by Bangladesh's International Crimes Tribunal for 1971 war crimes have sparked condemnation from Pakistan. This in turn is seen as Pakistan's resistance to accept the war crimes from 1971, let alone apologize for them.
"Indeed an apology is long overdue. I think the SAARC Charter should be implemented in letter and spirit," said historian Ishtiaq Ahmed, the author of "Pakistan: The Garrison State, Origins, Evolution, Consequences (1947–2011)," while talking to The Diplomat.
Where China and Turkey might be providing the opportunity for Pakistan to sit with Bangladesh again, it must do so with sincerity and self-reflection. That will not only help Islamabad formulate progressive bilateral ties, it might also ring a timely reminder to undo many of the same errors of the past.
For while opportunistic alliances can be temporarily beneficial, Pakistan is currently at a crossroads that could lead to formulation of a more durable unity based on mutual respect and inclusivity. The failure to embrace such a self-identity in 1947 led to South Asia's goriest post-Partition crimes in 1971.
Collective self-reflection might also help undo the contrasting, but tangible, Islamization damaging the two states. Indeed, the divisive ideology that couldn't keep the east and west wing together is now separately impairing Bangladesh and Pakistan.