How Will South Korea and the US Rewrite Their Operational Plan?
The future of the ROK-U.S. alliance is about to be negotiated, and this will likely mean significant changes.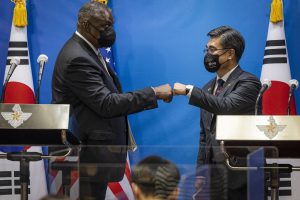 The 53th Security Consultative Meeting between South Korea and the United States, held in Seoul on December 2, committed to updating the two nations' current Operational Plan (OPLAN) 5015. This is necessary to deal with new kinds of threats from North Korea, which now possesses enhanced nuclear and missile capabilities, and also to adapt to changes in the regional strategic environment. The key task is to integrate the combined defense postures of the Republic of Korea (ROK) military and U.S. Forces Korea (USFK).
This decision to rewrite OPLAN 5015 comes at a busy time on the Korean Peninsula. North Korea continues to show off new types of missiles and extend its nuclear capability; the transfer of Wartime Operational Control from USFK to the ROK military is still unresolved; it is becoming ever harder for South Korea to sustain its strategic balancing act between the U.S. and China; and a presidential election is due in South Korea next March.
The new OPLAN will be implemented by Future Combined Forces Command ROK-US (F-CFC) at Camp Humphreys, near Pyeongtaek. How will the ROK military and USFK go about writing a new OPLAN?
The current OPLAN 5015 was adopted in 2015. It mostly focuses on scenarios involving various North Korean military threats, but with the recent progress of North Korean conventional and nuclear weapons, and especially the development of missiles, including submarine-launched ballistic missiles (SLBMs) and even apparently hypersonic ballistic missiles, OPLAN 5015 is no longer fit for purpose.
The Security Consultative Meeting in December recognized the increased scale and lethality of North Korean threats, and the need for the South Korea-U.S. alliance to develop new countermeasures to deal with the changed situation. It is now possible that North Korea will use its conventional, nuclear, and missile capabilities simultaneously, which is a very different threat from the traditional thinking, in which individual provocations can be countered one by one. To maintain "Fight Tonight" readiness, the combined defense posture obviously needs to change in response to the changed environment.
Several different versions of the alliance OPLAN existed before their consolidation into OPLAN 5015. OPLAN 5026 assumes an all-out attack by North Korea, against which ROK-U.S. combined forces would conduct defense-oriented counter-attacks, reaching out to the so-called Hwarang line between Kaesong and Songaksan, beyond the current Demilitarized Zone (DMZ). Joint forces in South Korea would then wait for substantial reinforcements from U.S. Indo-Pacific Command, for up to 90 days.
OPLAN 5027 provides for a three-phase operational plan: first, to intercept a North Korean military invasion crossing the DMZ; second, to mount a counter-defense to prevent troops from crossing the DMZ; and third, for ROK-U.S. combined forces to cross the DMZ in a counter-attack to annihilate the North Korean forces. This last effort is to be supported by reinforcements within two to three months.
OPLAN 5029 was a conceptual OPLAN intended to address a situation in which North Korea is facing a political or military crisis, such as a military coup or a sudden economic collapse. South Korea might then provide some humanitarian assistance, primarily to deter Chinese intrusion beyond the northern part of the DMZ, but this OPLAN was never fully articulated.
In 2015 these OPLANs were combined and enhanced, establishing OPLAN 5015, which contains both defensive and offensive postures, unlike OPLANs 5026/5027/5029, which were purely defensive. It covers both ROK forces and USFK, and assumes U.S. reinforcements will arrive within two to three months of the initial engagement. Early warning of North Korean military deployments is provided by ISRT assets, such as E-737 and JSTAR. OPLAN 5015 also encompasses preemptive strike operations against North Korean military command and control posts and other critical facilities near Pyongyang: more than 700 targets are identified, including nuclear arsenals and missile sites inside North Korea. This OPLAN also anticipates support from U.S. Carrier Strike Groups and strategic weapons such as F-22s, B-2s, B-52s, and nuclear-powered submarines. CFC's operational responsibility terminates in the event of a Chinese intervention.
The Security Consultative Meeting in December approved new Strategic Planning Guidance (SPG) to reflect changes to the strategic environment and to guide the creation of new OPLANs that will more effectively deter and deal with North Korean threats. This raises several important questions regarding the necessary changes to OPLAN 5015. Who will lead the efforts to implement the SPG to update the plan? How will the SPG be implemented? What are the Strategic Planning Directions (SPDs) for the new OPLAN? What strategic goals will be included? Will this include a fully integrated F-CFC defense posture? To what extent is China a relevant, or even a crucial factor, in completing the implementation of the New OPLAN?
The role of the ROK military in updating OPLAN 5015 is critically dependent on whether it has Wartime Operational Control (OPCON) authority in the new command and control chain of F-CFC. The earliest that this transition can occur is now the second half of next year, but even this now looks unlikely, due to the failure to verify Final Operational Capability (FOC) and Full Mission Capability (FMC), as stipulated by the December meeting. Whichever administration is in place after next year's South Korean presidential election, the second half of 2022 will be a crucial time for OPCON transfer, and thus for the revised OPLAN.
Given the current state of progress for OPCON transfer, the new OPLAN may reflect U.S. security priorities by including outreach beyond the Korean Peninsula to other theaters of the Indo-Pacific region. If this is the SPD proposed by the United States, then South Korea will face some difficult negotiations before a new OPLAN can be agreed.
The geographic situation of F-CFC will also likely impact the process of rewriting OPLAN 5015. The latest Security Consultative Meeting finalized the relocation of all headquarters to Camp Humphreys near Pyeongtaek by early next year. Camp Humphreys will therefore host the new headquarters of F-CFC, UNC, and USFK, the current commander of all three being Gen. Paul LaCamera of the U.S. Army.
But Camp Humphreys may not be the optimal place for South Korea's F-CFC staff to redefine their roles and functions for an updated OPLAN. F-CFC facilities at Camp Humphreys are separated into two buildings: one for U.S. staff of F-CFC, and the other for the South Korean staff responsible for the ROK military command and control system, known as KJCCS. There will surely be substantial hurdles obstructing the formulation of the new OPLAN, since the staff in these two buildings rarely interact in person. The lack of frequent contact between ROK and USFK personnel may well slow down the rewriting process. The separation of staff into two different buildings also means that ROK staff lack easy access to U.S. intelligence about the North Korean military.
Although North Korean nuclear and missile capabilities are certainly worrying, on a regional or even global scale, some commentators see another motivation behind the U.S. desire to rewrite OPLAN 5015. Despite South Korea's efforts to mitigate military tensions, including the anticipated end-of-war declaration, the United States wants to use F-CFC to deter and restrain Chinese military activities near the Korean Peninsula. In this context, the U.S. Department of Defense's annual report on China's military emphasized a rapid build-up of its nuclear arsenal.
The implementation of a new OPLAN will rely heavily upon U.S. ISRT assets. Although the current CFC structure makes use of some ROK Air Force assets, Global Hawk UAVs, and Paekdu ISR aircraft, this data is not integrated into the U.S.-led worldwide military intelligence network, which keeps track of Chinese military activities. And since it is USFK which have so far been monitoring North Korean military activities beyond the DMZ and in the seas around the Korean Peninsula, USFK are likely to play a dominant role in deciding and specifying the shape of the new OPLAN, for example by broadening the scope of ROK forces to address regional security issues, as outlined at the May summit between President Moon Jae-in and Joe Biden.
Indeed, the latest Security Consultative Meeting has already revealed some evidence of differing emphases. South Korea's Minister of National Defense Suh Wook referred to changing ROK military postures and capabilities in response to the Defense Reform 2.0 initiative, and to changing the CFC structure as needed for OPCON transfer. U.S. Secretary of Defense Lloyd Austin gave different reasons for updating OPLAN 5015. He expressed concerns about North Korean progress in developing new and sophisticated missiles, speculating about the possibility of miniaturized nuclear warheads being mounted on SLBMs and launched from mini-submarines. These differences between South Korean and U.S. priorities will need to be reconciled in the new OPLAN, and U.S. interests will likely dominate the rewriting process.
To what extent the U.S. desire to contain China will feature in the updating of OPLAN 5015 is as yet unclear, but the December meeting did not release the details of the new SPG, which suggests that the two sides failed to reach consensus on a common version. Besides the China factor, there are many other issues relevant to the update of OPLAN 5015, including the recently published U.S. Global Posture Review, South Korea's Defense Reform 2.0, and preparations for OPCON transfer in accordance with the Conditions-based Operational Control Transition Plan. The latter will require enhancement of South Korea's ISRT capabilities, the reorganization of some ground units to make the ROK Army more agile, flexible and powerful, and also the adoption of 4th Industrial Revolution technologies.
To summarize the outstanding questions about the rewriting of OPLAN 5015: Who will be the dominant partner in the update? What kind of offensive postures be added in to the existing defense posture? At present the CFC has a dual role, with South Korea involved in conventional deterrence and the U.S. providing extended and nuclear deterrence. Will this be changed? How much focus will there be upon China, especially the potential deployment of F-CFC in theaters beyond the Korean Peninsula?
The future of the ROK-U.S. alliance is about to be negotiated, and this will likely mean significant changes. The current OPLAN is essentially concerned with deterring and dealing with North Korean conventional, nuclear, and missile threats, but the new OPLAN will also encompass threats from China. It is far from certain that South Korea and the United States will be able to reach a common position on the stance their military alliance should take toward the country that is both South Korea's primary trading partner and the United States' primary geopolitical rival.