New ASEAN Chair Cambodia to Push Engagement With Myanmar Junta
Following a meeting with the junta's foreign minister today, Prime Minister Hun Sen said he would visit Myanmar next month.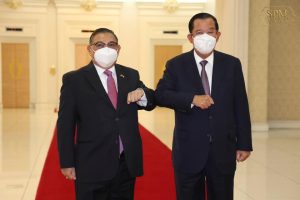 Cambodia will push to engage directly with Myanmar's military government during its upcoming chairmanship of the Association of Southeast Asian Nations (ASEAN), the country's Prime Minister Hun Sen said yesterday, six weeks after the junta was excluded from the bloc's biannual summit.
As chair of ASEAN for 2022, Cambodia's approach to Myanmar will set the tone for the bloc's efforts to address the spiraling political and humanitarian crisis that has ravaged the country since the the military's February coup.
In a speech during an inauguration ceremony for a highway in Prey Veng province, Hun Sen said that Myanmar's military-appointed foreign minister Wunna Maung Lwin would visit Cambodia today, and that Hun Sen would likely travel to Myanmar soon for talks with its military rulers. "There is a strong possibility I will visit Naypyidaw to meet General Min Aung Hlaing to work with him," Hun Sen said. "If I don't work with the leadership, whom can I work with?"
As promised, Hun Sen met with Wunna Maung Lwin in Phnom Penh today, talks that reportedly centered around "seeking ways to restore good cooperation and solidarity in ASEAN." After the meeting, the Cambodian leader confirmed that he would travel to Myanmar on January 7-8 in order to to engage in "quiet diplomacy" with the junta.
In his speech yesterday, the long-ruling Cambodian leader also argued that junta officials should be invited to meetings of the Southeast Asian bloc, and that he would press for their inclusion. "It's a family member of ASEAN, they must have the rights to attend meetings," he said, referring to ASEAN's founding principle of "non-interference" in the affairs of member states. "We won't try to apply the U.N. formula to ASEAN, they aren't the same thing," he added.
Hun Sen's comments came after Myanmar's junta was excluded from attending the ASEAN Summit and its associated meetings in late October. The move came after months of growing frustration at the junta's sluggish implementation of the Five-Point Consensus agreed by ASEAN at a special summit in April. The Consensus called for dialogue to solve the crisis involving "all parties," an end to violence, and granting an ASEAN special envoy full access to the country – none of which the junta showed any real interest in implementing.
In comments made during the summit, Hun Sen took a surprisingly robust line, claiming that Myanmar's military had only itself to blame for its exclusion from the summit and its clutch of associated meetings. "At the time Cambodia becomes chair of ASEAN next year, I do not know if Myanmar will continue this issue," he said. "Now we are in the situation of ASEAN-minus-one. That is not because of ASEAN but because of Myanmar herself."
These remarks seemed to suggest that Cambodia would maintain ASEAN's more robust line on Myanmar if the junta didn't alter course. But yesterday's comments point to a softening of Hun Sen's view, and suggest that engagement, principled or otherwise, will be the keynote of Cambodia's approach to Myanmar during its ASEAN chairmanship.
This makes it unlikely that ASEAN will over the next year take stronger steps to isolate the junta and recognize the opposition National Unity Government (NUG). It could also open up fissures within the Southeast Asian grouping, particularly with the maritime nations that have been advocated a firmer ASEAN line – Indonesia, Singapore, Malaysia, and the Philippines – and those mainland nations that have centered the bloc's "non-interference" principle.
More widely, many will view Hun Sen's overtures as a unilateral recognition of the military regime as Myanmar's legitimate government. In a statement, Kasit Piromya, a former Thai foreign minister and board member of the advocacy group ASEAN Parliamentarians for Human Rights, said that Hun Sen's comments risked squandering the diplomatic progress that ASEAN has made over the past few months.
"Hun Sen's reckless comments on recognizing the junta risk wasting ASEAN's hard-won diplomatic progress since the coup took place," he said. "It makes no sense that Cambodian PM Hun Sen is discussing plans to visit Myanmar, thereby legitimizing the junta, before progress has been made on the Five-Point Consensus. This was the very reason ASEAN excluded junta leader Min Aung Hlaing from its Summit in October."
In recent years there has been a tendency of Western observers to view Cambodia's government and its motives in the worst possible light, which is perhaps understandable in light of the events that unfolded during the country's last chairmanship of ASEAN in 2012. That year, Cambodia intervened to scuttle criticism of China's actions in the South China Sea, preventing the bloc from issuing its joint communique for the first time in its history and earning it an international reputation as China's proxy within ASEAN.
Hun Sen's willingness to work with the Myanmar junta obviously reflects his own long-standing distaste for external pressure aimed at bringing about political change, something from which he has spent years attempting to free himself in his own country. But it also reflects the leader's genuine perception of himself as a seasoned peacemaker, who helped engineer the final collapse of the Khmer Rouge insurgency in the late 1990s and bring to a close decades of civil war, and whose intercession could help resolve Myanmar's metastasizing crisis. As Hun Sen put it yesterday, "Nobody needs to criticize Cambodia right now because Cambodia knows how to work on this."
For all these caveats, however, there is little reason to believe that Cambodia's approach to engagement will succeed where Brunei's has failed. Since the February coup, the junta has demonstrated its obduracy and its willingness to violate both the spirit and the letter of the Five-Point Consensus – to say nothing of bedrock principles of human rights – in its bid to defend and consolidate the coup. The Tatmadaw is also well seasoned in playing for time, bogging ASEAN and other international actors down in endless negotiations around the minutiae of engagement while offering no meaningful concessions.
While Hun Sen's vanquishing of the Khmer Rouge through amnesties and military offensives remains a genuine achievement, he was largely pushing at an open door given that by the mid-1990s the insurgency was isolated and worn down, with no international and few domestic friends. Moreover, it is unclear whether Cambodia's experience in the 1990s bears any meaningful relation to the situation inside Myanmar at present, which pits a hardened and besieged military establishment against an increasingly broad coalition of ethnic armed groups, civilian militias, and opposition politicians, backed by a significant portion of the country's population.
Any fruit that sprouts from Hun Sen's engagement in Myanmar's crisis will therefore reflect the evolution of the situation inside the country rather than the skills or intentions of the Cambodian leader.