ASEAN Summit Opens Via Video Link, Minus Myanmar
Myanmar chose not to send a delegate to the summit after the bloc voted to take coup leader Min Aung Hlaing off the guest list.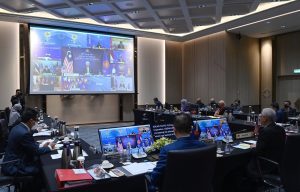 Today, leaders from the Association of Southeast Asian Nations (ASEAN) convened their twice-yearly summit via video link, kicking off a string of diplomatic meetings that will unfold in a flurry over the next three days.
The meetings, which will also include wider regional discussions and talks with individual partners such as United States, Japan, China, and India, take place under the shadow of the political crisis in Myanmar and increasing superpower competition, both of which are testing the Southeast Asian bloc's cohesion and credibility.
As Hassanal Bolkiah opened this morning's 38th ASEAN Summit, there was a notable and striking absence, as the place that was supposed to be occupied by Myanmar's representative in the now-customary grid of video feeds was replaced with a blank blue background.
The no-show followed ASEAN's October 15 decision to exclude junta leader Sen. Gen. Min Aung Hlaing from the summit and invite only a "non-political representative" in his place.
The drastic (for ASEAN) step was taken in response to the junta's lack of cooperation on the implementation of the Five-Point Consensus agreed at a special ASEAN summit in April. The consensus included ending violence, initiating dialogue with "all parties," and granting a special envoy full access to the country.
Last week, Myanmar's military junta denounced ASEAN's decision as contrary to the bloc's founding principles, and subsequently added that it would only accept the participation of Min Aung Hlaing or its foreign minister, Wunna Maung Lwin. Hence the blank square. According to media reports, current ASEAN chair Brunei had invited Myanmar's highest-ranking veteran diplomat, Chan Aye, as a "non-political" representative but the military administration opted to skip the meeting altogether.
ASEAN's decision to exclude Min Aung Hlaing from attending the event represented an unusually robust action by the Southeast Asian bloc, which is generally known for downplaying conflicts in the pursuit of an often etiolated consensus. Indeed, ASEAN's weak response to the crisis in Myanmar has led many observers, including Southeast Asian politicians and policymakers, to claim that the crisis has put the bloc's credibility on the line.
According to a draft chairman's statement seen and reported by Nikkei Asia, leaders expressed their "concern" over Myanmar's situation, calling on "all parties concerned in Myanmar to implement their commitment to the Five-Point Consensus." It also called on Myanmar's junta to permit a visit to the country by ASEAN's special envoy "with full access to all parties concerned." A previous visit by envoy Erywan Yusof, Brunei's second minister for foreign affairs, was canceled after the military refused him a meeting with ousted civilian leader Aung San Suu Kyi.
This fairly anodyne sentiment was backed up at the summit by Prime Minister Lee Hsien Loong of Singapore, who urged the Myanmar military to cooperate with ASEAN's special envoy "fully and expeditiously." Thailand's Prime Minister Prayut Chan-o-cha, who similarly came to power in a coup in 2014, said that his country "would like to see peace and stability in Myanmar and supports the implementation of the Five-Point Consensus for the benefit of the Myanmar people and the region as a whole."
Whether or not the summit produces anything beyond these calls for Myanmar to support a peace process that it has shown little interest in respecting, Min Aung Hlaing's absence from this week's meetings will no doubt have come as welcome news to foreign leaders who might have balked at appearing on a Zoom call with the Tatmadaw leader. Chief among them is U.S. President Joe Biden, who, it was confirmed yesterday, will attend this week's virtual meetings, the first president do so in four years.
According to a White House statement, Biden will discuss the "enduring" U.S. commitment to "ASEAN centrality" – its axial role in regional diplomacy. It added that he would also discuss new initiatives to strengthen the U.S. strategic partnership with the bloc, "as we work together to end the COVID-19 pandemic, address the climate crisis, promote economic growth, and address a range of other regional challenges and opportunities."
This came after several years in which his predecessor Donald Trump was a no-show at ASEAN's end-of-year diplomatic jamborees, dispatching relatively junior officials to attend the annual East Asia Summit and other ASEAN meetings. During a U.S.-ASEAN Summit in 2019, the apparent American indifference even prompted several Southeast Asian nations to downgrade their own delegations in response.
Biden's attendance, which will see him speak directly to ASEAN leaders for the first time, is not a surprise, especially given the fact that he doesn't have to physically travel to attend the meeting. It is also consistent with his administration's efforts to engage the region in its attempt to push back against China's growing power. This, too, has contributed to the strain on ASEAN, with several of its member states expressing misgivings about the recently announced AUKUS partnership between the U.S., United Kingdom, and Australia.
While there are many concerns in the region about the trajectory of U.S. policy toward Southeast – from its overly militarized approach to the challenges posed by China to its lack of a meaningful economic strategy for its engagement with the region – Biden's attendance clears a low but important hurdle to success with ASEAN engagement: turning up.