'Sarawak First' Triumphs as GPS Dominates in Malaysian State Polls
While Sarawakians want more autonomy to govern, they are willing to live with Putrajaya for now.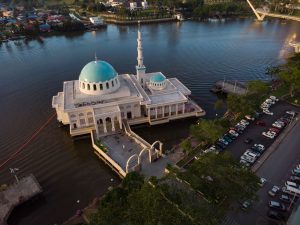 Gabungan Parti Sarawak (GPS)'s recent landslide win in the Sarawak state election offers a number of key insights into the ongoing shifts in Malaysian politics.
While the election was GPS's to lose as the incumbent amid growing calls for more autonomy, the scale of the coalition's 76-seat win also made the case for the opposition's waning influence and "voter flight to safety" in times of uncertainty, according to Dr. Bridget Welsh, a longtime observer of Malaysian politics.
Like the previous two coronavirus state elections in Sabah and Melaka, lower voter turnout was to be expected with only 60 percent of eligible voters casting their ballot in Sarawak.
Welsh, in her analysis of the state campaign in Between The Lines, noted that many voters made a conscious decision not to vote as was the case in Melaka, with opposition parties having little to offer.
"There was a real disappointment with the Democratic Action Party's (DAP) leadership locally, which was seen not to deliver on promises for Sarawak when (Pakatan) Harapan was in the federal government," said Welsh, who is an honorary research associate at the University of Nottingham Malaysia's Asia Research Institute.
"The result is that Harapan has lost its position as leading the opposition in Sarawak, a development that foreshadows changes taking place with the opposition nationally. Unless Harapan opts to make substantive leadership changes and readapt its messages to new current realities," Welsh added.
Livelihood issues also continued to be the main source of frustration for most people as the emergence of Omicron now threatens to further delay the country's economic recovery.
Welsh said "an electorate focused on survival puts economic realities first" and that coronavirus aid packages announced by Abang Johari Tun Openg's incumbent GPS government and Prime Minister Ismail Sabri's federal administration are "arguably even more powerful" in the current economic crisis than they did previously.
"The results show GPS strengthened its appeal among voters feeling the economic insecurities of COVID, as occurred in Sabah and Melaka. Those voting for security should not be condemned for doing so," Welsh said.
Commenting on what GPS's thumping win means to Sarawak's demand for autonomy, Prof. James Chin, director of the Asia Institute at the University of Tasmania, said the results send a clear message to Putrajaya that the "GPS non-confrontation approach to unhappiness with federal-state relations" is the "acceptable path" for most Sarawakians.
"Most Sarawakians are not willing to shed blood for independence yet. They obviously want self-determination but are willing to live with Putrajaya for now. Meeting halfway with Putrajaya, like what GPS is doing, is far more preferable to what is happening to the recent experiences of Catalonia and the Balkans," Chin wrote in an article for Asialink.
For Ismail, whose government relies on GPS to stay in power, Chin said the federal administration is powerless to do anything against its ally's "Sarawak First" agenda at present.