Japan in Turmoil Over Omicron
Japan has put two-thirds of the country under quasi-emergency measures as it struggles to curb the latest explosion of COVID-19 infections.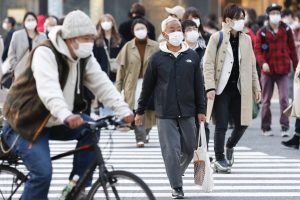 Japan is in the grip of its worst COVID-19 wave of infections, driven by the Omicron variant. In less than two months the number of coronavirus infections across Japan has surged more than 1,000-fold, with daily cases nationwide topping 70,000 for the first time. Japan has expanded its quasi-emergency measures to 34 prefectures in an effort to bring the latest outbreak of COVID-19 under control.
The number of severely ill patients has jumped roughly eight-fold since the start of the new year. Infections among children and the elderly have also spiked and there is growing concern hospital beds could reach capacity before the "sixth wave" reaches its peak.
The Tokyo Metropolitan government has raised the COVID-19 alert to the highest possible level, warning residents of the large-scale spread of coronavirus. The alert for the local medical system has also been raised to the second highest level, indicating that medical services are partially restricted.
Currently, Tokyo and Osaka, the two worst affected cities, have a rapidly increasing hospitalization rate for people with mild to moderate symptoms. In Tokyo, hospital beds designated for COVID-19 are being taken up at a rate of 200 beds per day. The bed utilization rate in Tokyo has reached approximately 43 percent and 48 percent in Osaka. The government is mulling whether to introduce a state of emergency in the capital as the hospital bed utilization rate approaches 50 percent.
With the number of infections rising, so are the number of people deemed close contacts of a confirmed case, which requires a self-isolation period of 10 days. There are concerns over how businesses and essential services will be able function with so many staff absent. Prime Minister Kishida Fumio said authorities would consider shortening the isolation period but did not give a deadline for the decision.
In Osaka prefecture there have been incidents where people needing urgent medical attention are not able to be treated at local hospitals due to a shortage of staff or the limited scope of medical services. People showing COVID-19 symptoms or deemed close contacts to an infected person have also been turned away. Some hospitals and public health services are running low on coronavirus testing kits and have been unable to provide an official diagnosis.
Local governments are being allowed to adopt flexible measures based on the varying levels of strain facing local public health services. In Osaka, authorities decided to relax mandatory isolation at a private facility for people deemed close contacts due to the risk that the facilities would reach 50 percent capacity in under three weeks. The government is also encouraging phone or online consultations, and it has approved treatment for people with symptoms of coronavirus without a positive test.
In Japan the number of COVID-19 patients recuperating at home exceeded 30,000 for the first time on Monday. The switch to home care has led to greater strain on outpatient appointments and doctors undertaking home visits. In Osaka prefecture there have been some 2,000 calls each day to the telephone counseling service from home care patients concerned about their condition.
Last month the government announced that antigen and PCR tests would be made free to those without symptoms. But Japan's test capacity remains one of the lowest in the developed world. Currently, capacity stands at approximately 380,000 per day but Japan is testing well below its capacity with some 110,000 PCR tests conducted on January 24. Globally, Japan's current rate of PCR testing per one million is ranked below Malaysia, Peru, Argentina, Colombia, India, Iran, Ukraine, South Africa, and Brazil.
The quasi-emergency measures in place for three weeks have focused on curbing the number of people dining out rather than banning outdoor social outings entirely. The Tokyo Metropolitan government is allowing some restaurants and bars to choose to serve alcohol if they have been certified for COVID-19 prevention measures. But restaurants are being encouraged to take alcohol off the menu or stop serving alcohol by 8 p.m. and close at 9 p.m. The government's subsidy for cooperating eateries starts at approximately $260 per day.
Japan is getting ready to administer booster shots to the general population aged 18 and over where six months have passed since their second dose. At this stage roughly 20 percent of the population have received a booster shot, which has been prioritized for medical workers and the elderly.