Kazakhstan's Tokayev Orders Troops to 'Shoot to Kill Without Warning'
Tokayev called international urging for the government to negotiate with protesters "idiocy."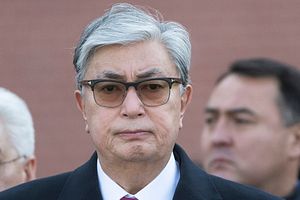 On January 7, Kazakh President Kassym-Jomart Tokayev dismissed calls from the international community to pursue a peaceful solution to the current unrest in Kazakhstan.
"Abroad there are calls for the two sides to hold negotiations for a peaceful resolution. What idiocy. What kind of negotiations can you have with criminals? We were dealing with armed and well-prepared bandits, both local and foreign. Bandits and terrorists, who should be destroyed. This will happen in the nearest time."
Tokayev said security forces would "shoot to kill without warning." He added: "Those who don't surrender will be eliminated."
The statement marks yet another dark twist in the unfolding drama in Kazakhstan, which began on January 2 with protests in western Kazakhstan's oil regions over gas price hikes. What happened after is telling: First, the government attempted to address the original demands. In Mangystau, where the protests began, on January 4 the authorities slashed LPG (liquefied petroleum gas) prices to below where they'd been before the price hike. Then the government in Nur-Sultan, headed by technocratic Prime Minister Askar Mamin, resigned. While that sounds dramatic, cabinet reshuffling is a fairly common reaction to public discontent in Kazakhstan, but rarely brings with it significant change given the country's authoritarian character.
That character came out in full force by January 5 as protests continued, most chaotically in Almaty. Almaty, once Kazakhstan's capital, is the country's largest city, with a population of 1.8 million. It has also been the heart of Kazakhstan's activist and independent media communities. Government efforts on the evening of January 4 to disburse protesters in Almaty with stun grenades and tear gas gave way to reports of an eerie absence of security forces and police on the evening of January 5.
Understanding what happened in Almaty is exceptionally difficult in part because the authorities cut off communication and internet in the city for extended periods of time this week. The vacuum is filled with conspiracies and fear.
Another complicating factor is the leaderless nature of the protests, which contributes to chaotic and sudden shifts: Some people looting and burning buildings while many others express confusion and horror at the turn of events. 
Amid all this confusion, Tokayev clung to a familiar script. After attempts to placate the initial protests failed, as noted above, Tokayev began speaking of an "elaborate" plan "perpetrated by financially motivated conspirators." Then he pushed it further, blaming terrorists and bandits, and inviting the Russia-led Collective Security Treaty Organization (CSTO) to intervene.
My colleague Paolo Sorbello noted that Tokayev's summoning of the CSTO and his dismissal of the head of the KNB (the domestic intelligence agency that replaced the Soviet-era KGB when Kazakhstan became independent in 1991) "could only mean one of two things":

Either Tokayev is "cleaning house" and getting rid of Nazarbayev loyalists so as to build his own elite circle to run the country — a move that would also entail a recalibration of the military and security elites in his favor — or Tokayev has partially or completely lost control of Kazakhstan's own military and materially needs external help to maintain public order.
Reports on January 7 that Kazakh officials had stopped referring to the capital as Nur-Sultan, and additional unconfirmed reports that former President Nursultan Nazarbayev has left the country, suggest the former. Nur-Sultan, previously Astana, was renamed by Tokayev on his first day as acting president following Nazarbayev's March 2019 resignation. The decision sparked protests, which the government easily subdued.
There are several complex layers tangled up in the unrest in Kazakhstan. There's the domestic aspects: the initial complaints that led to protests and what those grievances tell us about state-society relations; the opaque elite politics behind the scenes. And now, with the CSTO intervention, and foreign troops on Kazakh soil, there's a international element. That international element is troubling for a variety of reasons. First, some see it as a ceding of sovereignty, and Kazakhs are unhappy with the decision. Second, the decision internationalized an internal conflict. Tokayev, of course, framed the protests themselves as something foreign, providing a basis for the intervention. 
Either way, it's an international problem now and opens a huge potential can of worms. What will happen in Bishkek, for example, if a Kyrgyz solider is killed in Kazakhstan? Kyrgyz citizens protested against contributing to the CSTO mission, but the Kyrgyz parliament approved doing so on January 7.
Kazakhstan's president has allies in his efforts, most importantly Russia and China.
The Russian foreign ministry said in a statement: "We regard the recent events in a friendly country as an attempt, inspired from the outside, to undermine the security and integrity of the state by force, using trained and organised armed formations."
And China's President Xi Jinping reportedly chimed in with a message to Tokayev: "China opposes any foreign forces to plot 'color revolution' in Kazakhstan." 
Reactions in the West have been lackluster. U.S. Secretary of State Antony Blinken spoke to Kazakh Foreign Minister Mukhtar Tileuberdi on January 6. The readout is bland: "The Secretary reiterated the United States' full support for Kazakhstan's constitutional institutions and media freedom and advocated for a peaceful, rights-respecting resolution to the crisis."
In his January 7 statement, Tokayev blamed "so-called free media outlets" for fanning the unrest. At least one journalist has been reported killed in the unrest.