UN Envoy Calls on Thailand to Step Up on Myanmar Crisis
Noeleen Heyzer said that Thailand "has an important role in preventing further deterioration of the crisis in Myanmar."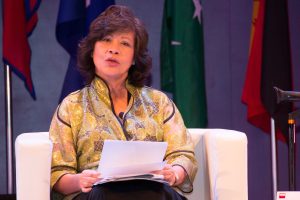 On Monday, during a visit to Thailand, Noeleen Heyzer, the U.N. secretary-general's special envoy on Myanmar, called on the country's government to play a more active role in resolving the crisis afflicting its neighbor.
In a statement issued after a meeting with Thai Prime Minister Prayut Chan-o-cha, Heyzer said that the Thai leader should press Myanmar's junta to commit to an Association of Southeast Asian Nations (ASEAN) peace plan. The Five-Point Consensus, as it is known, calls for the cessation of violence and inclusive political dialogue aimed at ending the crisis that has gripped Myanmar since last February's coup.
"The prime minister has an important role in preventing further deterioration of the crisis in Myanmar, where an implosion would bring further instability to an already volatile border area," Heyzer said in her statement, The Irrawaddy reported.
In principle, Heyzer should be pushing at an open door: Thailand is the country most likely to be impacted directly by the deteriorating situation inside Myanmar. For decades, the latter's chronic civil conflicts have produced a steady stream of refugees across the two nations' porous 2,416-kilometer shared border. With its neighbor now skating along the brink of an all-in, nationwide civil war, Thailand is likely to be burdened with countless numbers of displaced civilians.
But despite its clear interest in what happens in Myanmar, Thailand's response to the coup in Myanmar has been anemic. While claiming the be engaging in "quiet diplomacy," the Thai government has remained muted in the face of the Myanmar military's brutal crackdowns on anti-coup protesters, and the destabilization of regions directly bordering Thailand.
What explains this reluctance? First, it's hard to avoid the conclusion that Prayut, for fear of his own legitimacy,  is eager to avoid establishing a norm that military interventions in politics are illegitimate. After all, he also seized power in a coup in 2014. Shortly after his own seizure of power last year, Min Aung Hlaing wrote to Prayut asking his help to "support democracy" in Myanmar, and some have viewed the Myanmar's coup was an attempted replay of Prayut's own bloodless coup and its subsequent laundering via a deeply flawed election in 2019. ASEAN's operating norm of "non-interference" in the affairs of member states gives Bangkok a handy pretext for taking a hands-off approach to the situation in Myanmar.
The second factor is the close relationship between the Tatmadaw and the Royal Thai Army. The two militaries have long cooperated on a range of fronts, including on halting crossborder flows of illicit drugs and other contraband, and for all the official historiography that emphasizes the traditional enmity between the two nations, the leadership remains on cozy terms. These ties also extend to the personal level: Myanmar's coup leader, Senior Gen. Min Aung Hlaing, reportedly considers himself an adopted son of the late Gen. Prem Tinsulanonda, a former Thai prime minister and president of the Privy Council, which advises the country's powerful monarchy.
Seen from a certain angle, these close relations put Bangkok in a good place to mediate Myanmar's crisis. In a recent article for Fulcrum, the house publication of Singapore's ISEAS-Yusof Ishak Institute, Vongthep Arthakaivalvatee argued that this very "special relationship" with Myanmar put Thailand "in a position to advance the peace dialogue." Indeed, the Thai government's cooperation is a necessary, if not sufficient, precondition of any attempt to resolve Myanmar's complex of interlocking crises and alleviate the deteriorating humanitarian conditions inside the country.
For the moment, however, a robust Thai role seems unlikely. In a separate statement issued following his meeting with Heyzer, Prayut said that Myanmar's problems were complex and its situation should be addressed "gradually with understanding and through building trust with Myanmar's leader" – an approach that, for better or worse, amounts to an acceptance of the new status quo next door. (Indeed, this very question – whether or not to condition direct engagement with the junta on its implementation of the Five-Point Consensus – has emerged as a key dividing line within the Southeast Asian bloc.)
Ultimately, Thailand's diplomatic initiative has been undermined by the cyclical crises dating back to the removal of former Prime Minister Thaksin Shinawatra in the coup-before-last in 2006, which have prompted the military to tighten its control over Thai politics. For all the expectations that Thailand might play a more active role on Myanmar, a weak government, lacking broad popular legitimacy and operating in perpetual crisis mode, is never going to be in a position to lead creative diplomacy on an issue of such complexity.