50 Years of Japan-Bangladesh Ties: From Economic to Strategic Partnership
This often-overlooked partnership figures prominently in the strategic and economic goals of both countries.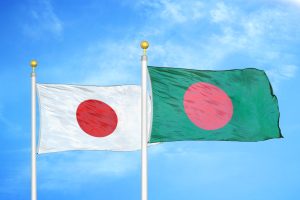 Half a century ago, on February 10, 1972, Japan officially recognized Bangladesh as a sovereign nation-state. Since then, the two countries have maintained a warm relationship, which can be dubbed as a "good model" of development partnership. On the golden jubilee of their bilateral relationship, it is time to analyze the strengths, problems, and prospects of their five-decade-long journey to take Bangladesh-Japan ties to a new plane of bilateral engagement.
The United States, the most intimate ally of Japan, supported Pakistan during the 1971 Liberation War, so Japan had to be tactful in establishing its links with newly born Bangladesh. Still, Japan was one of the very few countries that extended a helping hand for reconstructing war-torn Bangladesh during the post-independence era. Since then, Japan has actively participated in the development endeavors of Bangladesh.
Japan has generously donated through Official Development Assistance (ODA) to Bangladesh since 1972 and became Bangladesh's single largest bilateral donor. Bangladesh is the largest recipient of Japan's ODA, according to Ito Naoki, Japan's ambassador in Dhaka. Financial assistance from Japan saw a boost after initiating a Comprehensive Partnership with Bangladesh in 2014. In fiscal year 2020-2021, Japan provided more aid to Bangladesh than any other country, amounting to $2.63 billion. Since Bangladesh's independence, Japan has provided a total of $24.72 billion, almost evenly split between grants and loans. Japan's development assistance to Bangladesh covers a wide range of areas, from social and economic development to energy and power generation to tangible and intangible infrastructure development. Japan's ODA to Bangladesh has been proved mutually beneficial for both countries rather than being exploitative in nature.
In Asia, Bangladesh's largest export destination is Japan. In the last decade, Bangladesh's exports to Japan have almost doubled, but there is still huge untapped trade potential for Bangladesh. Bangladesh mainly exports ready-made garments and leather goods, but Ito, the Japanese ambassador, sees "high potential" for exporting "pharmaceuticals, agricultural and fishery products" to Japan. Bangladesh's main imports from Japan, meanwhile, include iron and steel, vehicles, machinery, etc. In FY 2018-19, Bangladesh's export to Japan was worth $1.3 billion while imports were worth $1.8 billion. The existing trade deficit in their bilateral trade could be addressed by signing a free trade agreement (FTA).
The geographical setting and meteorological characteristics have made Bangladesh extremely vulnerable to natural disasters. According to the 2015 Climate Change Vulnerability Index, Bangladesh was the most climate-change vulnerable country in the world. Likewise, Japan has long been affected by natural disasters, mainly because of its location along the Pacific Ring of Fire. These two disaster-prone countries can cooperate with each other on natural disaster management and raise their voice in different global platforms on climate change. Dhaka could learn to minimize the impact of disasters, especially earthquakes, from the experience of Tokyo. Also, Japan could train Bangladeshi personnel, share its expertise, and transfer relevant technology to help to mitigate risks posed by natural disasters.
Bangladesh is one of the most pro-Japanese countries in Asia, with 71 percent of Bangladeshis holding a favorable view of Japan as of a 2014 Pew Research survey. In 2014, Bangladesh withdrew its candidacy for non-permanent membership in the U.N. Security Council (UNSC) in favor of Japan. Undoubtedly, Japan will also have Bangladesh's support for its aspiration of becoming a permanent member of the UNSC. As Bangladesh perceives Japan to be its all-weather ally, Dhaka will also expect Japan to advocate with the international community and Myanmar for safe and sustainable repatriation of the 1.2 million Rohingya refugees currently trapped in Bangladesh.
The Indian Ocean is considered a lifeline for Japan, as almost 80 percent of its maritime trade passes through the region. Any disturbance in the Indian Ocean will complicate Japan's international trade scenario. Bangladesh, with growing economic and political influence on the world stage, is important in Japan's strategic calculus not simply because of its unique location in between South Asia and Southeast Asia but also because of its direct access to the Indian Ocean. On the other hand, sound diplomatic ties with Japan will help Bangladesh in successfully implementing its "Look East" Policy.
Japan's Bay of Bengal Industrial Growth Belt (BIG-B), an initiative for changing South Asia's economic outlook, can play a key role in transforming Bangladesh into the heart of the regional economy by creating a gateway between South Asia and Southeast Asia, ensuring closer interregional cooperation, and incorporating Bangladesh into regional and global value chains. The major projects being implemented under BIG-B in Bangladesh are the MRT line in Dhaka, the deep-sea port at Matarbari, terminal three of the Dhaka airport, and the economic zone at Araihazar. Once implemented, these projects are expected to reshape Bangladesh's infrastructure landscape, boost industrial agglomeration, ensure energy security, and enhance regional connectivity. Japan's BIG-B can help Bangladesh to transcend national borders in becoming South Asia's industrial hub with a congenial economic environment.
In South Asia, Bangladesh is a crucial factor in the strategic-diplomatic agenda of Japan. Bangladesh is one of the most free-market, trade-oriented economies in South Asia, and is gradually emerging as one of the most potentially lucrative markets in this region. From an economic perspective, a market of 164 million consumers with a growing middle-class, higher purchasing power, domestic demand, cheap labor, and rapid pace of economic development will make Japan keep Bangladesh in its geostrategic orbit. Meanwhile, Bangladesh can make itself an attractive alternative destination for those Japanese companies seeking to pivot away from China, due to concerns about overreliance and supply chain disruptions amid the pandemic.
Bangladesh is potentially one of the most attractive investment destinations for Japan. But Bangladesh needs to create a better investment climate, for example, by implementing fast-track projects, to convert itself into an investment-friendly hub for Japan. On the part of Japan, it should provide duty-free access to Bangladeshi products to create a level playing field. Coordinated efforts from both sides are required to eradicate existing bottlenecks, such as cumbersome customs clearance procedures, double taxation, and foreign exchange issues, that are acting as a major stumbling block in their bilateral relations.
Apart from economic benefits, stronger relations with Dhaka will help Tokyo to redesign its power equation to have greater influence in South Asia beyond New Delhi. On the other hand, a close connection with Japan will help Bangladesh to exploit its full economic potential, confront challenges arising after its graduation from Least Developed Country status, to be effective in 2026, and diversify its diplomatic relations with great powers. Both sides can elevate ties to a higher level by exploring new avenues of cooperation in vaccine production, healthcare, the blue economy, high-tech industries, automobile manufacturing, shipbuilding, etc.
Standing at this important juncture of their relationship, Bangladesh and Japan should work together, with pragmatic steps, to cement their partnership with a clear vision for economic cooperation in the year to come.